What 'bad' might happen to this porch floor left over winter?
Dear GWers, you have always given me great advice in the other areas (kitchen reno, painting), and I'm hoping to get some about this situation.
My story:
- My house is in Massachusetts, it's the end of October, and I am a newbie DIYer.
- The floor part of my front porch is (was) basic wood boards: stained and and covered with a clear coat.
- Because the stain was really faded (no idea when it was last taken care of), and I didn't know enough to take care of it myself, I arranged with a guy to "refresh" it. The plan: powerwash to get the dirt off, sand, and then stain and coat of poly. He said he could do it before it got too cold.
- Last month, he did the powerwash. But now due to various weather delays, he's behind on his other more lucrative ventures, and would like to bow out.
While this split is amicable (no hard feelings, I understand, etc), given that accuweather predicts lots of upcoming rainy days, I am now concerned that there is no time left between now and the start of winter to have anyone complete the work on the floor boards.
What bad things might happen to the floorboards if I simply leave it over the winter? A winter that is likely to have rain, freezing rain, snow, etc, etc?
What sort of things would I be facing in the spring then? Will the boards rot out? Freeze/thaw cycling in the cracks--would that make them break apart and have to be replaced by then?
Is it better for me to rush and put down a coat of something (poly, varnish) to protect it from the elements, and plan to have it stripped off and done right in the spring?
With night temps in the 40s, is it already too late?
Thanks in advance for any opinions you have (even if it's to simply tell me "You dope!")
Here's a pic of the floor: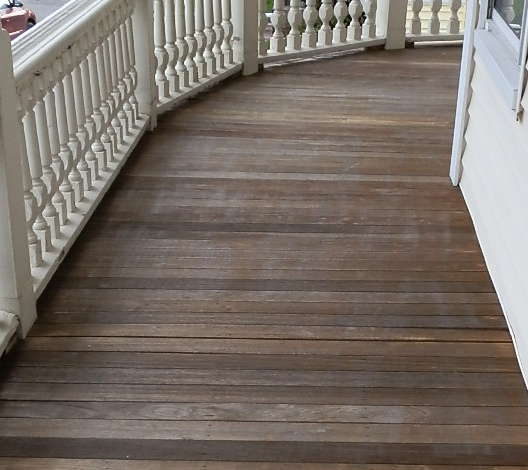 --Lee