Prep to stain cedar garage door?
sanfranman12
October 24, 2013
Hello, helpful forum people!
I'm not sure it is completely appropriate to be posting this on the "Porches and Decks" forum, but based on my reading of previous posts, I expect that I will find the most expert advice for my job here.
I have a large, custom garage door that I am refinishing. It is made from cedar siding that had horizontal grooves milled into it that are about 1/4 inch wide and 3/8 inch deep. It produced a horizontal-slat appearance on the face of the door. When the door was originally installed, it was stained and then sealed with two coats of polyurethane. At that time, it was a beautiful door. Many people complimented me on it and some even stopped to ask how it was constructed. Within 6 months to a year, it was showing serious wear and the compliments stopped! Now, 1 1/2 years later, I am refinishing it and am hoping to come up with a longer-lasting finish.
I've had the old finish sanded off -- a trick in itself because it was very labor intensive to sand the groves. It appears that the original stain did not penetrate deep into the wood, because it now looks like new wood.
Based on information on this forum and others, I intend to use TWP 1500 -- one of the darker colors like Black Walnut or Dark Oak. I suspect that the workers used a fine grit sandpaper, so my plan is to have them go over it again lightly with 80 grit to better prepare the wood to absorb the stain.
My question is, do I need to do any further preparation before I apply the stain?
1. Can I simply brush the dust off the surface, or perhaps used compressed air?
2. Since it looks like new wood and has been sanded, I don't need to use the cleaner and brightener such as Restore-A-Deck, do I?
3. I see that some people talk about wiping the surface with a solvent saturated rag to wipe up any dust before applying the stain. Is that a good idea?
4. And lastly, do I have a good plan in general? Anything that I should consider doing differently.....or, heaven forbid, that I should have done differently already?!
Thanks for the information that many of you have already provided in helping to educate me and many others. And thanks in advance for any advice on my particular project!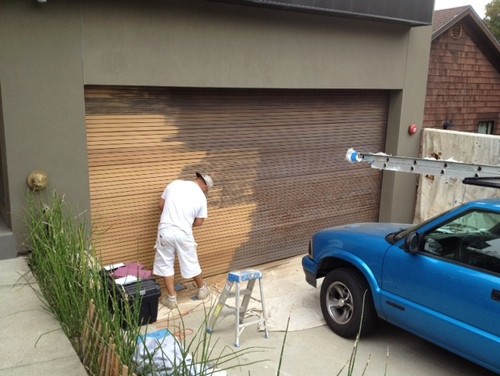 This post was edited by sanfranman12 on Thu, Oct 24, 13 at 15:35