Our Pool Process - Pics
Hello,
I have used this forum a lot for different things through the years. My user name reflects a time that we were selling a house -- that was 5+ years ago. We built a custom home in 2010. Now, we have contracted for a swimming pool. I'm nervous and excited both! Nervous -- because our yard is nicely landscaped and I really love my plants!! And of course, a bit nervous for the excavation process and mess soon to be in our yard! Excited, because it's really hot in Texas summers and of course, a pool will be fun!!
We interviewed / got bids from 2 different pool companies. We felt both were very reputable, but one had many more referrals in our area. The other company has more of a presence in other parts of Texas and has just recently opened an office 30 miles away.
We are complete pool newbies - neither of us grew up with pools. I'm not sure what other details are pertinent now. Feel free to let us know what else we need to consider prior to dig -- it has been moved up!! Now scheduled for 6/6/2013!
Here are a few of the specs of our project, we had some minor changes after signing our contract so some things are approx:
Rectangle Pool with automatic pool cover (brand still to be determined - we are looking at 2 companies)
17'x32.5'
Area of Pool 553 sq Ft
Perimeter of Waterline - 100 ft
Depth at Steps - 3.5 feet
Depth at Center - 5 feet
Depth at End - 4 feet
one set of steps (off Tanning Ledge)
Approx Gallons 17,531
2.0 HP Jandy E-Pump
1 Jandy Pool LED
Pneumatically Applied Concrete Gunite
Quartz - Aruba Sky color w 2 bags Abaloni
Colored Bull Nose Pre-Cast Coping, ,6" waterline tile
Polaris 3900 w Pump Pool Cleaner
Fusion-Chlorine
Aqualink w PDA P4
Pool Miser Autofill
2 skimmers
685 SqFt Colored Salt Texture Decking (plans to do concrete overlay to existing patio this fall)
2 bubblers 2 deck jets
1 free standing Arbor
I will also post some pics of the design and our current yard.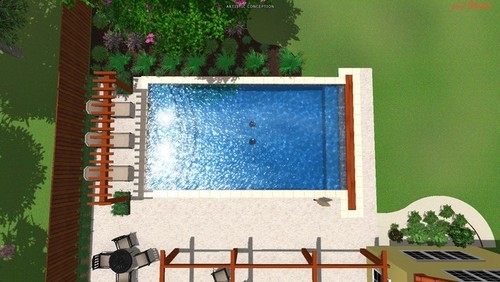 This post was edited by home4sale on Thu, Jun 6, 13 at 12:14