A couple layout quandries
We're slowly remodeling our kitchen, and since I'm building the cabinets we have the luxury of making it up as we go. :-) There are 2 "problem spots" that I'm trying to figure out what to build for.
First of all, here's the floorplan as it currently exists:

and a view of the RH side cabinets:

Spot #1: In front of the chimney. What do I put there as a base cabinet? Options include:
--15" wide x 11" deep base, to be even with the other base cabinets
--15" wide x 23" deep base, facing the same way as the other base cabinets, to be even with the upper above, and wrap the counter around the chimney
--A blind corner cabinet (not thrilled about that option)
--Some kind of creative storage that I haven't thought of.
Spot #2: The pantry area beyond the main kitchen. Here's a shot of the floor area in question.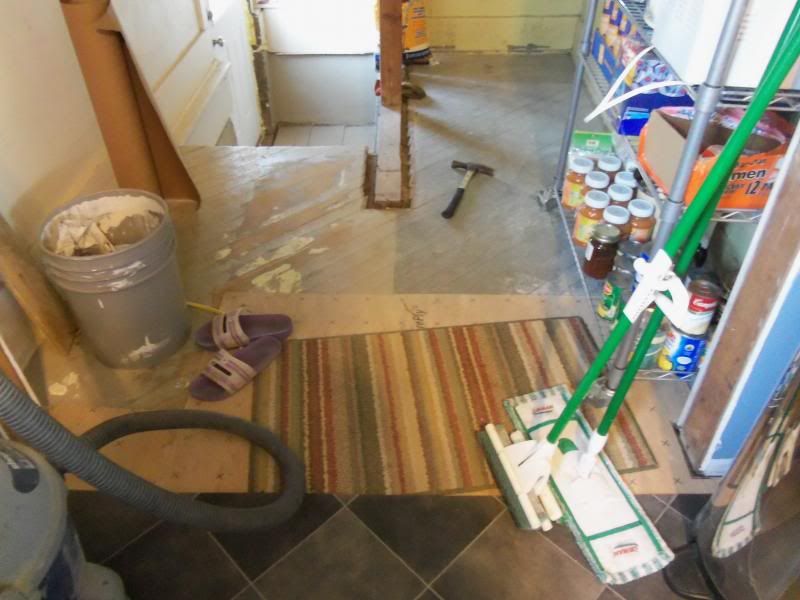 If it were all open I'd just put floor-to-ceiling 12" pantry cabinets. But the far end needs to be enclosed a bit so we don't fall off the edge onto the stairs. So if I put something on the end we've got the blind corner again.
The stuff that will go in this space includes appliances (crock pot, rice cooker, bread machine) and food (cans, boxes, bottles, jars) and we also need a space for brooms & mops, though that could eventually go into the laundry/mud room when we get it rebuilt.
Any ideas? I'm game for going creative and custom to maximize the utility of the space.