Help! Stuck with a white tile floor!
Suzi AKA DesertDance
March 11, 2013
We got an incredible deal on a short sale. Beautiful home! First owner builder built a custom home and kitchen, then lost it to Foreclosure. Evidently they wrecked it prior to foreclosure.
Second owner did their best to fix, lived there for 15 years, and lost it on a short sale.
It came to us, seriously neglected and in terrible outdated shape. The bill from our contractor is almost $100K, and that does not include appliances, irrigation, landscaping or anything but basics like paint, carpet, and he isn't even including the bathrooms!!
Due to the high price, I'm stuck with a white tile floor! It flows through many rooms, and no way to stop it. So the kitchen is here [IMG]http://i49.tinypic.com/ssr8.jpg[/IMG] and here [IMG]http://i49.tinypic.com/10ds1og.jpg[/IMG]
I'd like cheap builder grade cabinets that look good and function. I need ideas for counter tops. This how desperate I am... I'm considering porcelain floor tiles for the counter tops! Tough, impervious to stains.........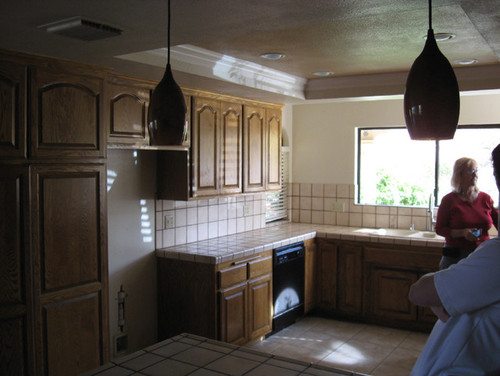 This post was edited by desertdance on Mon, Mar 11, 13 at 19:35