more countertop/backsplash conundrums- mixing quartz w/ marble bs
We'd really like to use honed calacatta gold subway tiles for backsplash and a dark quartz or granite for the perimeter with white painted cabinets.
For the island the cabinetry will be a cherry stained brown and we wanted a light colored countertop. My husband loves the LG Viatera brand Minuet color- which is along the lines of Silestone Lagoon, Torquay, etc. here is what it looks like on the website:
[img]
[/img]
here is an example of the calacatta backsplash, of course it could vary because it is natural stone.
[img]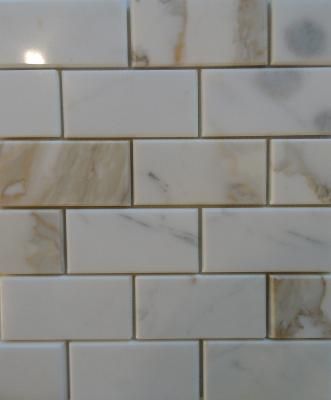 [/img]
my question is can this type of quartz work in the same space as a real marble backsplash because they will not be right next to each other? We are not really trying to imitate marble on our island, it's just a quartz pattern that we both like.
I was hoping it will still look good together because the island is separated visually from the backsplash across the aisles. What do you think?
If it won't work I'm considering something more solid on the island like Ceasarstone Organic White (Color Quartz brand called Fiji White but almost identical in color).
What do you think please?