Beautifying window exteriors on a bland basic house
melle_sacto
April 22, 2014
Since I asked about green paint for the exterior and got some excellent feedback (and am planning to pick up and test samples tomorrow), I'd also like to ask about windows.
Our windows have mitered board trim around them, and the front window that faces the street has faux white plastic shutters in addition to the trim. We are painting, and that's probably a good time to address these windows. I wondered if we could do anything to enhance/beautify the windows you can see from the street (we're on a corner).
This window faces North and I can't imagine why we would need real functioning shutters where we live. The shutters were in place when we bought the house, and were taken down once when we had new windows installed. I think they look better than the houses that do not have shutters, but I'm not sure I would agree they look "good":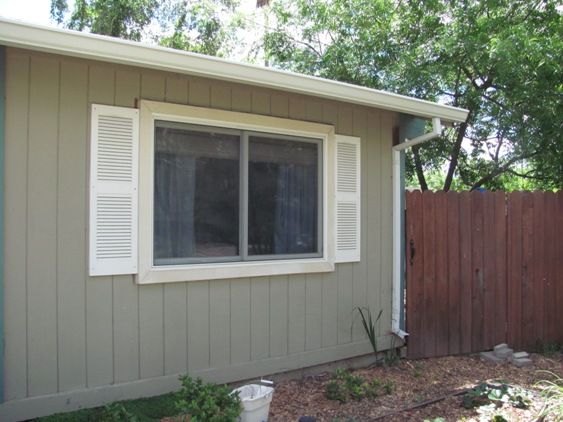 The house is pretty plain and small. I like "transitional" decor but nothing too fancy. If we keep the shutters, can the plastic be painted something other than white? And if we keep/paint, should we add a second set of faux shutters to the other window that can be seen from the street?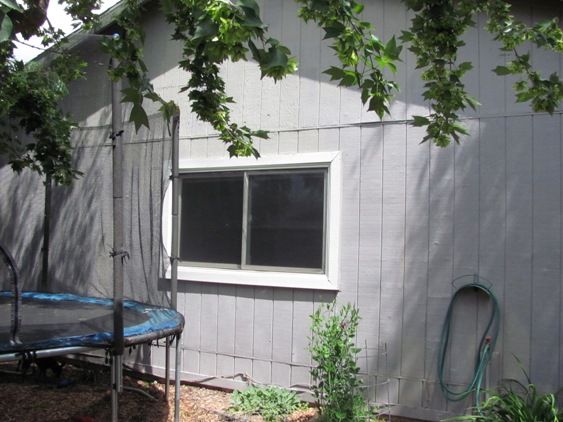 Sometimes it's embarrassing to post these pics, but the whole point is to help it look nicer, right? ;-)