I did it! I did it! Hawaiian project finished! (pic)
toolgranny
January 28, 2012
It's been a long one, and my echo quilting won't ever win any prizes, but I finally got it finished and hung. Our trip to the islands last year was the inspiration for this and since I couldn't see myself doing a whole-cloth one, I thought I could handle sampler blocks. I could have trimmed them a bit smaller now that I see it done. Oh well.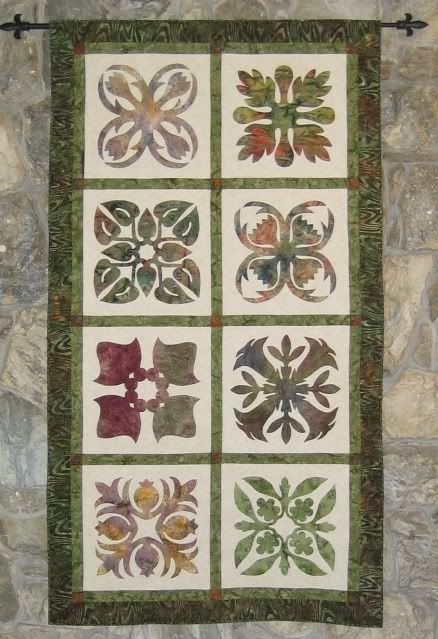 I have an old book I found in a thrift store with 25 patterns and used some of those. I used this specific size to fill a space that badly needed it. It is 43" wide by 80" long. Note, that means one width of fabric worked for the backing. I do have my moments of brilliance.
This is all needle turn applique using various bright, multi color batiks. That seems to be the fad thing with Hawaiian quilts these days. It was hard to choose fabrics as there are so many wonderful ones. I had to line them up and let my quilting friends vote.
Boy, am I glad that is finished. But, now I have nothing to applique. Boo hoo!