This Quilt is Done!
dan_the_mailman
January 30, 2012
A while back I made my first mystery quilt, and here was the result..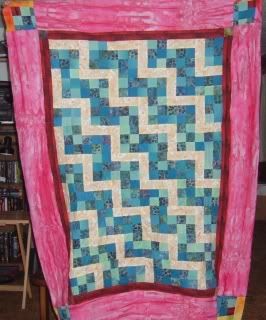 I prefer my quilts to be big enough to cuddle up in, whether I'm on the couch or in bed, so that means they've got to be at least 90"x90", and that meant I was going to have to make this one bigger. I added more framing pieces, and this was the result...
I've been wanting to do an Amish quilt, and I also wanted to make this one reversible, so I combined the two ideas and made a 2nd quilt top, as modelled here with the "help" of my oldest, Bump...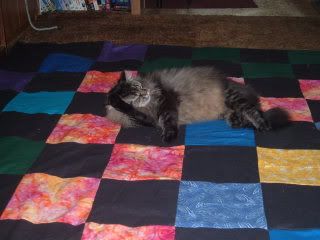 He believes he was helping me lay it all out on the living room floor to line up both tops and make sure their sizes were right, and I've decided to let him keep believing that.
Here's what it looks like when reversed on the bed...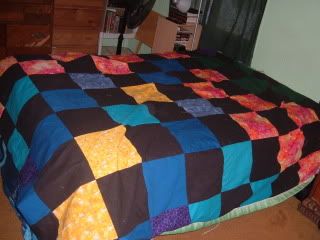 I used a whole piece of 108" wide fabric as the batting, and will be using embroidery thread to tie it off once I get back over to joanns. I can ALSO tell you that I've already had a good nights sleep beneath it, and it was well worth it!