Need layout help - on my own now
We were struggling for a long time as to where to put the fridge
We have also decided not to use our KD Friend - he did a kitchen for a friend and I thought it was very expensive for what she got, did not like some of the workmanship and he took over 3 months to complete.
So now I am on my own, trying to decide on the final layout. So this is my floor plan (the kitchen is somewhat to scale, the rest is not as it was after-thought to draw it in).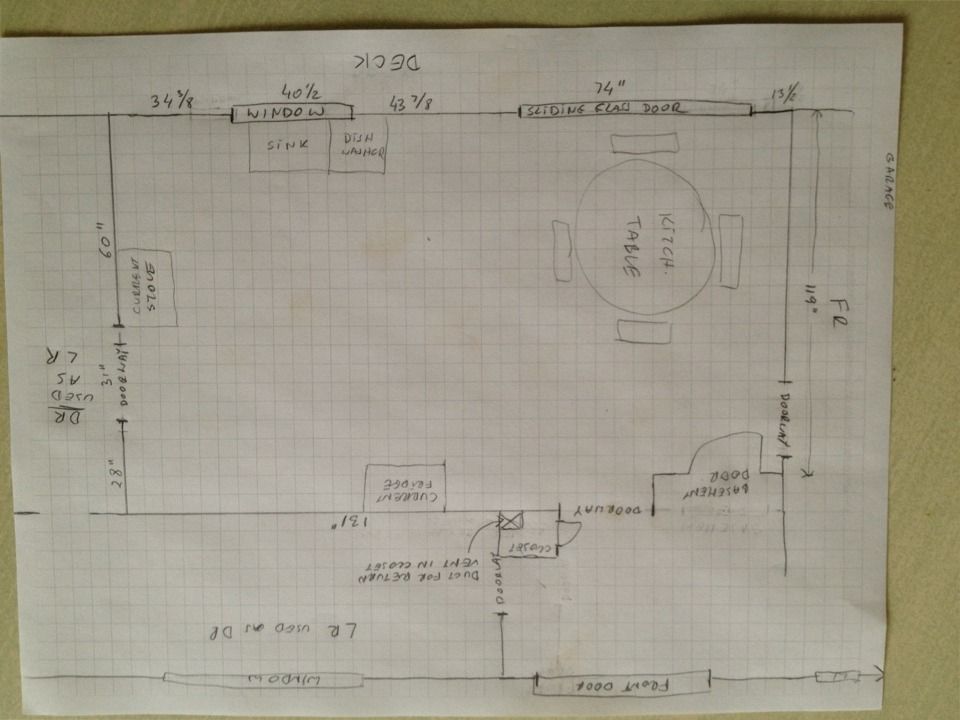 I thought it only made sense to move the stove since there is no landing space to the left of it in a current location and it is by the entryway and I get blind corner to the right of it.
I like the sink under the window so dishwasher would stay as well.
There were only 2 options I saw for the fridge, at either end of the cabinet run - we decided by the doorway to the hallway since it seemed cramped by the Lr/Dr doorway for opening doors and maintenance. WeâÂÂve decided on CD fridge since we thought regular depth will close in the kitchen more and make it too cramped by the table (can not recess fridge here, return vent in the closet). A little worried that freezer space will not be sufficient but I guess weâÂÂll have to deal with it. Right now by the hall doorway we have a 12 inch shallow cabinet under the phone and someone also suggested that maybe put in 12â base and wall cabinet, than fridge. ThatâÂÂs where we keep all our mail and âÂÂjunkâ right now.
HereâÂÂs a possible layout with cabinet options that Costco did for me - chose to use blind corner in upper because otherwise I would have only 9â left for an upper cabinet to the left of the window (using standard cabinets) and I did not think it would look good.


Not sure what/where I will get cabinets yet - online (including possibly custom or semi custom RTA), IKEA, big box etc but want to have general layout finalized so I can compare apples to apples.
I was thinking if available to put 15â uppers on fridge side so I wonâÂÂt see the sides of the microwave. I was also debating if I should bump out the sink cabinet. Do you see any major problems with what I have right now? Is there something I am missing?