Scrappy Maverick AKA What Not To Do!
geezerfolks_SharonG_FL
November 15, 2007
In one of her posts, Teresa mentioned a maverick block and this quilt is filled with them. I had most of the 6" blocks already made up from fabric from when I belonged to Mr B's, and also from my scrap bin so I just incorporated them into 12 1/2" (unfinished) blocks. I started this before Teresa started the class so there are things here that probably shouldn't be done. My saving grace is that I kept all the blocks with a 3" grid so sewing them together was easier than if I used various grids. I'd like to put on borders, but am at a loss of what to do.......any thoughts?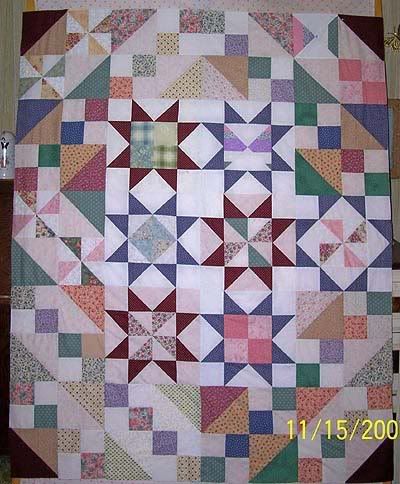 The corner fabric is the same fabric as the wine color in the center flying geese (gooses?).
SharonG/FL