Kitchen Paint Color-let's add in some life!
kellienoelle
March 26, 2013
I am leaving my remodeled kitchen (courtesy of the help of GW) at the end of the week when I move to a new house. The kitchen there is fine (except for a misplaced sink that I am trying to get over), but is blander than bland. Way too beige for me. My plan was to live in it and eventually paint it along with the adjoining hearth type room at some point down the road. However, my mother is coming out to help me move and mentioned something about hoping to get that kitchen painted too while she is here. Now who am I to pass up some cheap labor, so am now scrambling to come up with some paint colors to spice it up a bit. Here are the pics from the listing ....the furniture is the previous homeowners. We'll be getting new furniture eventually so don't need to worry about matching current furnishings. The only adjoining room with color is the dining room which is red (and visible on the connecting wall).
So help me breath life into this "fine" kitchen.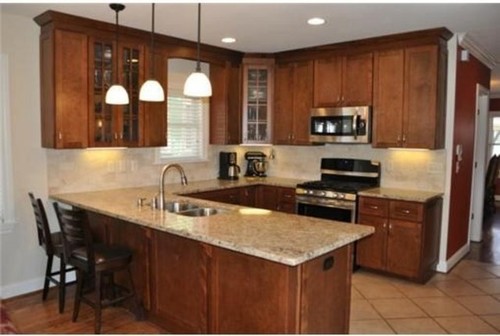 This post was edited by kellienoelle on Tue, Mar 26, 13 at 21:27