All cream and white quilt
biwako_of_abi
May 21, 2010
The recipient said she wanted it all white, so I used WOW, COW (cream on white), solid white, and solid cream to get some variety for the traditional blocks.
I made this as a present for a dear friend who made special meals and for several months drove about 1&1/2 hours each way to bring them to us for DH when he was first ill, or sent them by FedEx when she couldn't come. Now she and her husband are going back to Japan permanently, and I wanted to show our appreciation. She and her son came to see us yesterday and I just managed to finish the quilt in time.
Wouldn't you know?--I thought I had all Tuesday to finish binding the last two sides and making the label, but had to make some special food for DH in the morning and then ended up wasting a large part of the rest of the day getting a leaky radiator in his car fixed.
I had to do a certain amount of piecing, but the back is a pretty Moda(?) batik that I had saved for something special. In the middle of the back of each block, I used a Pigma pen to write the name of each pattern on the front.
The label quotes Proverbs 17:17, about a companion sticking closer than a brother in times of distress, which is what she was for us over the past couple of years. She teared up when she read it.
Front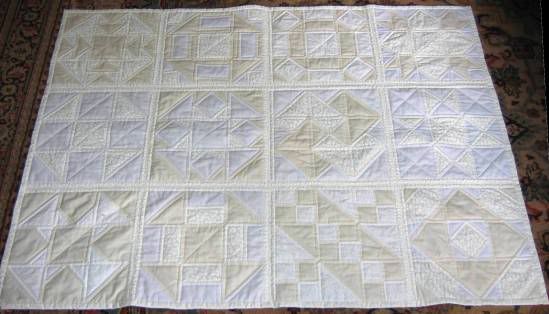 Back