More Pix, Old & New Quilts
pirate_girl
March 14, 2007
Here's a variety of stuff:
After workshop w/ Kaffee Fassett in Oct. '05 (pls. ignore blue edges, which are from another quilt lying underneath on my design wall) called "Harvest Gold"

Small piece w/ HSTs of complementary scraps called "Complementary HSTs" (12" x 12")
2 Early Studies in solids observing the workings of value placement:
Peach/Salmon Value Study
Blue/Green Value Study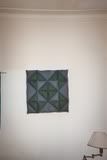 "Banners on Point" my first work w/ blocks set on point (w/ "Complementary HSTs" hanging off its bottom, lack of space)
"Floral Mozaic" pieced blocks on point w/ quilting extending beyond the inner border into the outer border
2 Pillow cases done in Seminole technique (one pillow in actual use)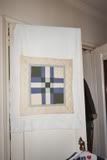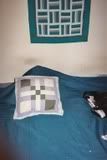 I'm Sorry the pix are small, they're old pix, taken one w/ a disposable camera. While I'm still using a disposable camera, am trying to take current pix better & more close up. Part of the learning curve I guess.