Vertical Backsplash? A Backsplash Regret?
Decided to go bold with a vertical glass/stone stick mosaic backsplash behind the range. For those of you with vertical backsplashes, what did you do for the rest of your space? Interestingly, I find people have a visceral reaction to running tile vertically. I think your eye naturally feels like the tile should be horizontal and I was reluctant to go through with it. But after seeing it behind the range hood, it actually feels quite right to me given our space with such high ceilings and windows. With all the windows it actually complements the exterior view of trees outside (hard to tell with plastic over the windows) as it looks like the birch bark and tree trunks outside. It also matches the vertical grain of the rift oak stained cabinets. The outlets are also vertically placed.
It's just that the rest of it doesn't quite feel right. I feel it's too overwhelming but I don't have a good solution for something else. But maybe I should't second guess it and perhaps it will look fine once the space is finished with appliances, range hood, paint and most importantly pendant lighting over the island.
One thing that was overlooked is that when you enter the house you see "the half wall" (see pictures). I suppose putting a piece of art there may help and also once pendants are in you won't notice it as much. Here are some pictures.
The range hood will be an island style with a 6" rectangular base and chimney - yes, the duct is not quite center, but the hood will be. We chose an island style to make it feel floating and to provide some dimension to the space. Thought it would be too flat to mount directly to the wall.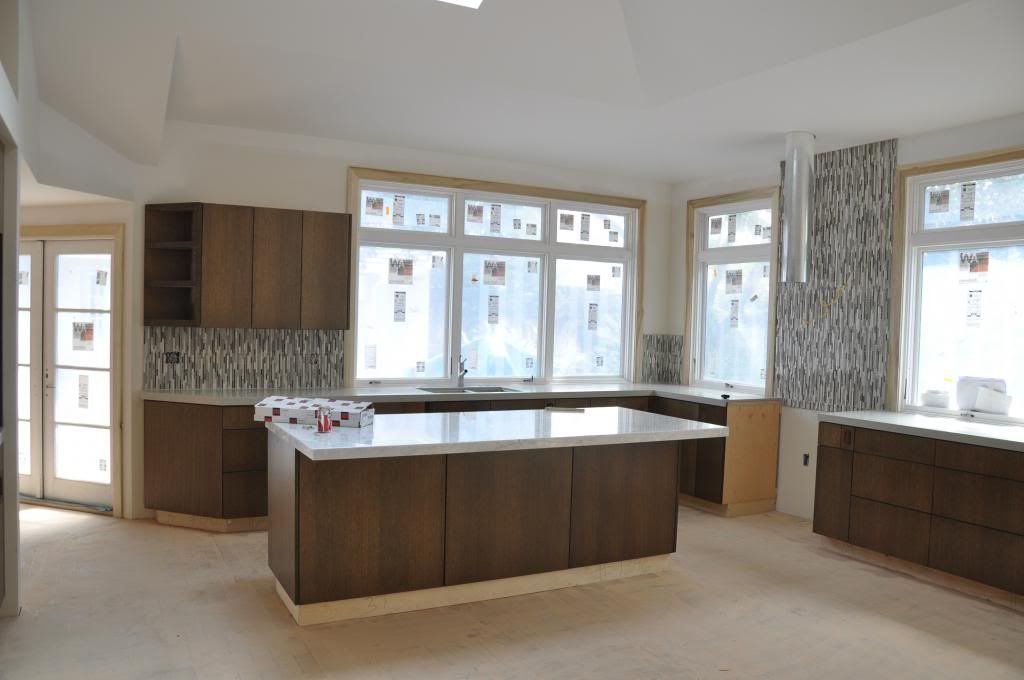 From the front door - you can see the wall next to the range:

Here are some ideas:
1) rip it out - Interestingly, my initial thought was to not have ANY backsplash other than what is behind the range hood because it is such a focal point. It would be least expensive to do this. I could rip it out myself and then pay to have the dry wall patched and repaired. I would then paint the walls. It's only about 10sqft of tile that I am ripping out. Also, I got a great deal on the tile (2) cut it down - Alternatively, the tile contractor said he could cut it down to whatever height I would like. Right now it is full backsplash height at 18". I could cut it down to just below or just above the outlets. The down side to this is that it introduces a horizontal element under the few upper cabinets that might seem odd.
3) Ceasarstone - I could rip it out and replace it Ceasarstone. The counters are a color called Cinder which is a green/grey. I still think there is a height issue. How high should I make it? Above/below outlets or full height at 18"?
4) open shelves - I could keep the backsplash as is and add an open/floating shelf to finish off the wall next to the right of the range. I could put an art piece on it or vases, etc.
5) leave it as is - The designer I have been working with came by said that once the window casings are painted and the hood and appliances are in and I have the pendants over the island, and a piece of art to the right of the range, that the backsplash would start to fade. Right now all you see is BACKSPLASH.
Thoughts? And thanks in advance for your help!! I couldn't have done any of this without you GWers!