Support for open Kitchen wall required?
Hello,
I am quite a newbie at this whole kitchen design/home owning and handyman concept. I have been actively lurking this site for about a month and was luckily introduced to ikeafans through it when I thought Ikea would be the best option for my kitchen (now I am looking at customs as some people have gotten them very close in price).
I have two questions that I am hoping can be answered as I am at a loss and donâÂÂt even know where to turn to for the answer.
1) I have a basic kitchen cabinet construction question
2) What type of professionals would be best to ask/consult about what changes I can make for kitchen?
To explain my first question: I currently have a 9âÂÂx8â U-shaped cabinet which I have included a photo of a rendering from Ikea (this shows the size and appliances but edited cabinets). In that image I have a red circle, this is a 40â tall 7â wide âÂÂwallâ behind my cabinets that holds a bar that goes into my open living room. My plans involve removing this to give me a solid slab counter that I can create a normal height bar. I want to remove this bar completely so I can push my counters 7â out but I donâÂÂt know if that is even possible. My question is, for open kitchen sections do they need to be attached to some type of 2x4 for support or would I be able to remove it fully to gain space?
The other part of the question is that I know my sink plumbing goes through this, could I instead of having it, just shorten a drawer and have it sneak behind that?
For my second question: You will see a yellow circle, it appears to be a support wall but from what I have heard from a contractor (for a different job) it is most likely the water pipes for the vertical condo units in my area. I donâÂÂt know who I would hire to confirm this type of information as well as the type of question I had asked earlier. Would these type of questions be asked for a general contractor, a designer or some other person? Also my project is so small I am not looking at hiring a GC for it so are there alternatives?
Thank you so much for any help provided, I know this message seems convoluted as I wasnâÂÂt exactly sure what kind of information is required or the terminology to ask it.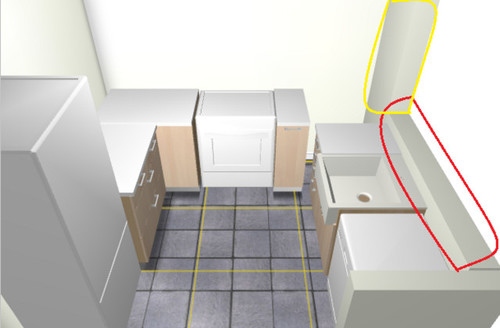 This post was edited by lothia on Tue, Mar 5, 13 at 17:15