Feedback on our Floorplan, please! (60's ranch with open concept)
We are buying a 60's ranch and will do a gut remodel, resulting in a 1,000 sq ft open living space. The yard is an acre and backs to a sweet little creek, so we have great views along the back of the house.
We are a family of 4 who frequently have a house full of kids. We live casually and comfortably, but I do love beautiful spaces! We are planning a budget white kitchen, possibly from IKEA.
I would love feedback on our floorplan, especially the kitchen space. Please excuse the erasure marks! The scale is 1 sq = 1 ft. I've spent hours browsing and reading here and other sites and have learned so much!
Any questions, please ask. Thank you so much for your time and input!!!
((Note: We are trying to work with a lot of our existing furniture to keep costs down. The 40 inch round table pictured on the right will NOT be there, however, so the chairs can move over to make the walkway wide enough. The door in the bottom right of the picture is the front door. The slanted line on the bottom left represents the existing fireplace, which we do not have $$ to change or remove.))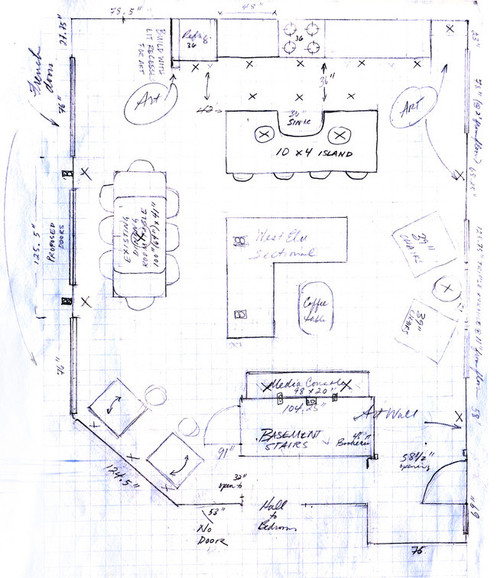 This post was edited by buildinva on Fri, Mar 29, 13 at 18:18