Builder Patio Error - Now What?
We're doing a new build of a custom home in the Greenville, SC. There a patio accessed by the lower level rec room that is under an Ipe deck accessed from the great room, above it. The patio was supposed to have concrete pavers & we have a budget for those. Because of the terrain, a stem wall was needed at the perimeter of the patio.
Unfortunately, when they poured the stem wall, is wasn't really a wall & now we have a concrete patio underneath our still to be built deck. Even worse, it is a gray concrete patio when all of our other flatwork is supposed to be colored. We can't do the pavers without removing the concrete & we don't want the concrete, as is, so what are our options?
Here is a picture of the area taken by our neighbor whose camera has the wrong time/date. (We are doing a remote build while living in TX).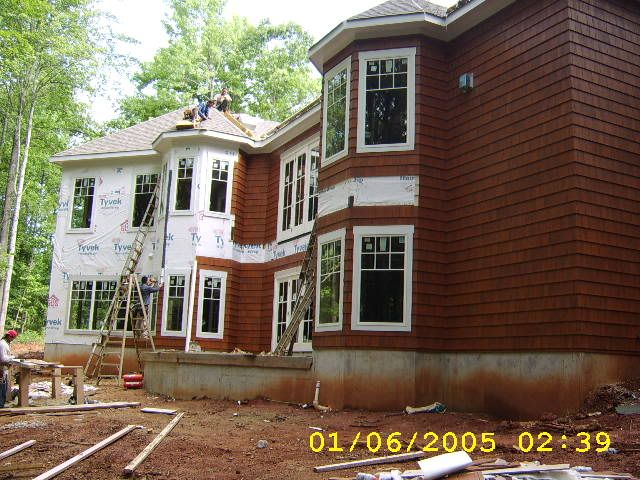 I guess one option is to accept it & just try to "tart" it up with a stain. However, we've been told that to look good, the staining process needs to be done when the concrete goes in. It has also been suggested that we look at concrete resurfacing, but some others have said those look good from a distance but not up close. DH is looking at thin pavers where the perimeter gets locked down and the rest are set in sand.
We thought of using the same TN flagstone that will be on the front terrace. I got very strong advice from the new home forum to have the builder rip it out & do it right because flagstone (or anything else) sitting on an impermeable surface and the covered with a deck could "sweat, become slick, grow mold".
We would really appreciate any suggestions you might have. We certainly don't want it as it currently is and we don't want to be buying into future problems with alternative solutions. If the builder really needs to tear it out, we will have him do it, but we want to spend "silver bullets" judiciously.
Thanks for the help - Jo Ann
Thanks for your suggestions - Jo Ann