stack n whack questions answered
First off I took a two day class The first night we cut and the second day we sewed.. It seems pretty easy now but I was very intimidated at first.. Seemed so complicated.
I have the book Magic stack n whack quilts. I got it off ebay for like 8.00. It is very self explanatory. I did a large lap size.
What you do is figure out your repeat on your fabric. cut out 8 strips of duplicate repeat (lot easier than I thought it would be) stack them up perfect pinning every little bit.
We stuck a pin through all layers at one point starting in the middle and working out. If the pattern has less than a 13 inch repeat we had to cut two stacks.. Then you cut 6 1/4 strips from that then make your 6 1/4 squares and cut diagonally... then put them together... etc...
Choosing the fabric was the hardest for me but after going to the class the ladies used lots of different things... One lady even used the necked policemen like the construction workers we found in Oklahoma.. Very nice looking pin wheels..
Now that I have finished one can't wait to get the time to do one where I can kind of pick out my centers.. I did stop and pick up fabric for two more right after the class but they will wait till later... hope this answers some questions... grace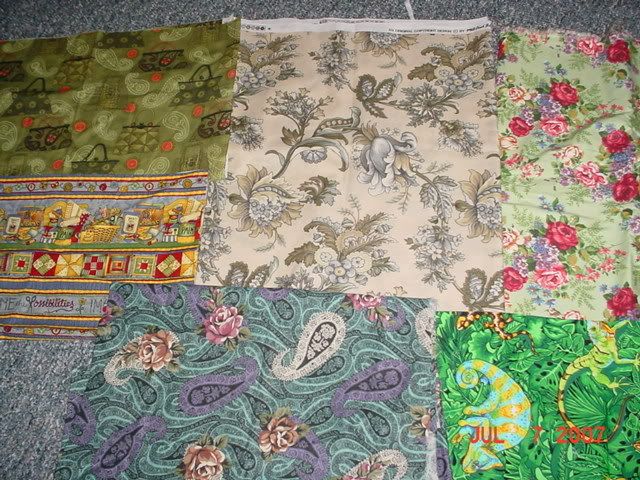 These would be good examples of stack n whack fabrics but there are so many more ideas out there...