Cabinet color question & salvaging old cabinets for reno
We just purchased a home with the intent to renovate part, including the kitchen, which will require removal of some cabinets and installation of new ones.
The existing cabinets are pretty nice actually and we want to salvage as much cabinetry as we can, since we'll be using the same design/build firm that did an original redo several years ago and the cabinet styles are still in stock. The cabinets are Hagerstown, cherry frames with maple beadboard doors.
The 'problem' is that the cabinet doors have been painted a teal color while the frames remain natural cherry w/ finish. We just don't like the look of a painted door with natural wood frames, so at a minimum we will be changing the doors to match the frames.
One option we've considered is painting the upper cabinets all white and leaving the lower cabinets with the existing cherry colors and getting new doors to match. We kind of hate to paint over cherry uppers but the alternative would be discarding the existing doors and getting entirely new ones on both top and bottom, which will start to add up. Plus the white upper / cherry lowers might look cool (but this is why I'm asking here!)
What do you think of a dual-tone look with white painted upper cabinets mixed with cherry under counters?
We are going to have an island too - should we match the cabinets there to the upper (white) or lower (cherry)?
Any thoughts on what color counter surface if we've got light up top and cherry below?
Any other thoughts? I.e., should we just keep the cherry frames and get new doors to match for an all-cherry cabinet look and get a contrasting island?
Separately, has anyone ever seen the painted door / natural frame look before? For the life of me I can't find any pics online. Our architect (who did the initial work) seems to think that painting just the upper doors white/cream and leaving the cherry frames is the best option, but I can't picture it and I don't like the teal/cherry combo in place now.
Many thanks for any thoughts!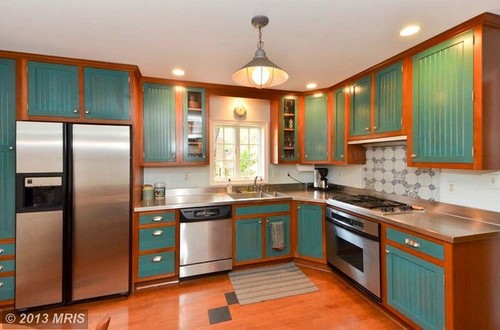 This post was edited by renorooki on Wed, Mar 12, 14 at 16:57