Small kitchen
I've have posted questions a few times over the past several months and have received very helpful, gracious responses. So thanks for that. :)
A while back I posted for help on the decorating end of things. I think the floor plan is pretty well set, but choosing colors/finishes is going to be the death of me. I have a really hard time picturing things in my head! When I did ask for help previously, it was recommended that I post some photos, so I'm doing that now.
Our home was built in 1937 and has nearly all the original woodwork and floors. My uncle, who is a design-type, visited and classified it as "arts & crafts-y," IIRC. Our kitchen is quite small and knocking out walls is not an option. I would love some ideas for what to do as far as cabinet finishes, countertops, floors, etc. What I do know is that we'll get all white appliances and a stainless steel sink. I am leaning toward quartersawn oak cabinets (though not sure how light/dark) and quartz countertops. My main concerns are:
1. make the kitchen look like it fits in the house
3. I lean toward a traditional look, but not outdated. (Though, does anyone actually say they want something outdated? ;))
2. don't make it look smaller than it is!
The kitchen will be joined to the dining room through an archway (currently a doorway, which we will be widening). The dining room has French doors to a porch, with very dark wood trim, matching the rest of the door and window frames throughout the house. The dining room also has a light wood floor (oak?), and then the living room, which is on the opposite end of the dining room from the kitchen, has medium wood floors (in need of refinishing, though that is neither here nor there...).
This first image is standing in the space between the kitchen and the dining room, looking into the dining room (with living room beyond). Dark-framed French doors are on your left. The table/chairs will be replaced relatively soon because all the chairs are falling apart. (!) So we are not planning around them in the least. The arch between the kitchen and dining room will mimic the one between DR and LR, but a bit narrower. You can see the light floors, dark trim (including baseboards) in DR and in the LR beyond, stone fireplace (with dark trim), etc.

These next two images are of the current kitchen. In the first one you can see the door from the kitchen into the hall. In the second, the one and only window. The placement of everything will stay more or less the same.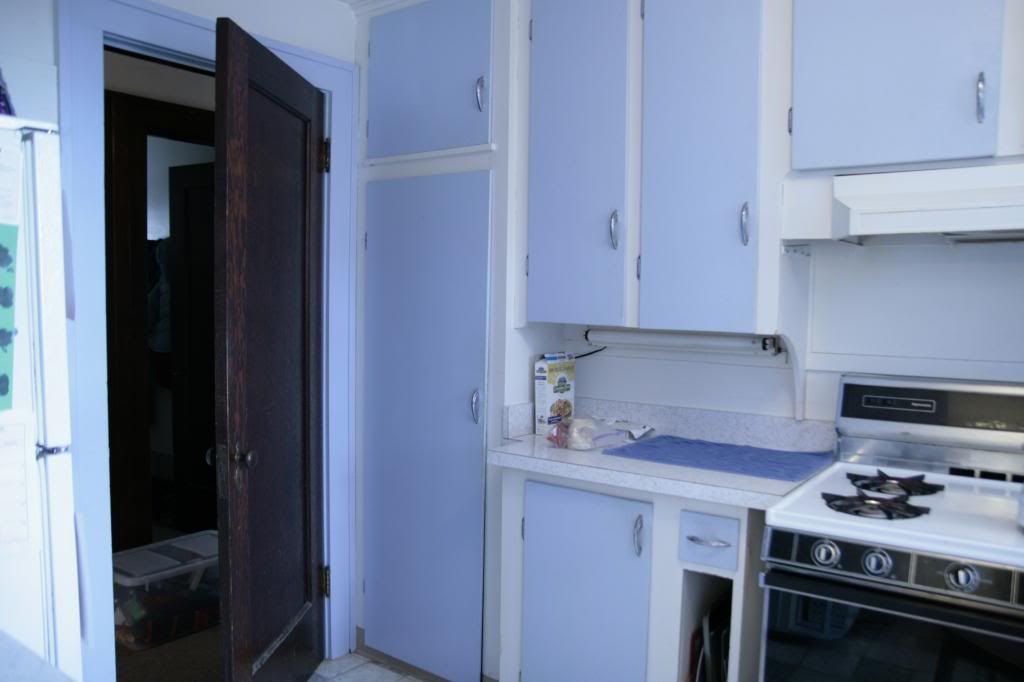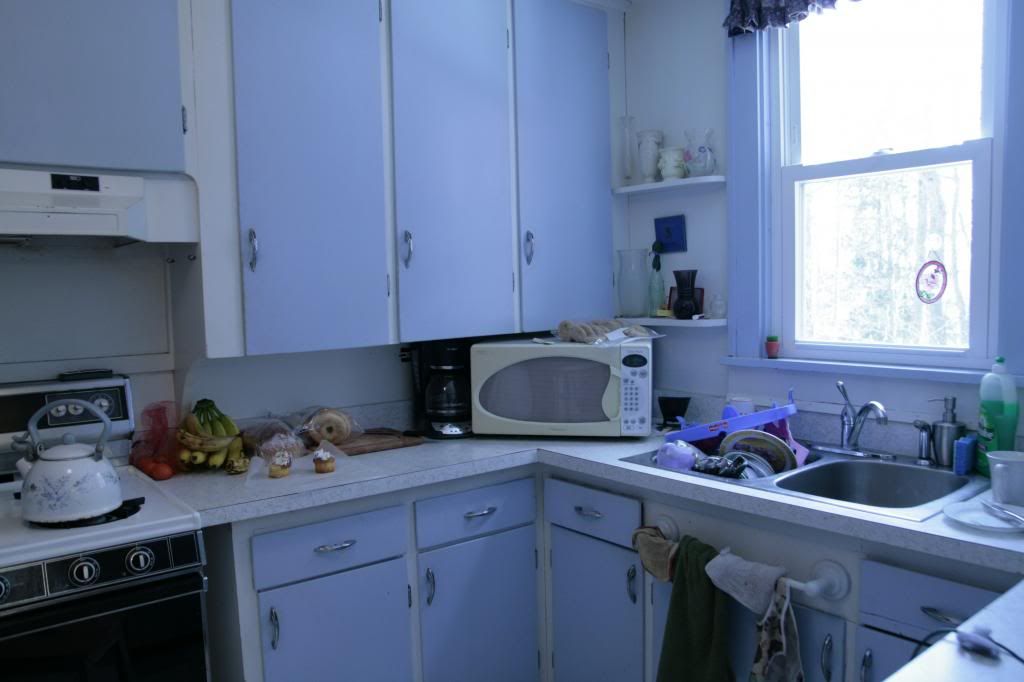 If I can figure out how to post a jpg of the floorplan for the remodel, I will come back and do that.
Thanks so much for any help or suggestions that you have for me!