Need Initial Guidance on Shower Drain (PIC)
TheoryOfGravity
December 22, 2012
I have a horror show for a shower in a tiny bathroom. The shower is short & narrow 32"x32"x73" (1" taller than the shower liner in the HD link). The shower was tacked onto this SoCal, inland valley 1922 house and to take a shower, you have to climb up a foot to get into the shower. The drain leads to the waste pipe outside as seen in the pic and is at ground level.
I'm just beginning to think about lowering the shower drain by a foot. That would entail lowering the cast iron wye by a foot, too, breaking into the patio concrete. Though the house is over a crawlspace, the shower is over solid ground. The house sits on a semi-steep road--the patio area our POV is on is uphill, therefore solid ground.
And as you can see from the pic, the toilet is right there. That waste pipe shoots up into the air about 12 feet. I think it's safe to say the toilet shares that pipe.
GOAL:
I want to de-ghetto the bathroom by tiling with budget cash and a lot of natural talent, dexterity and patience for doing things correctly--but only intermediate skill/low labor plumbing work myself. I have to decide if this is something I can afford to hire a plumber for now, or tile the rest of the bathroom and deal with the horrific shower in a future year.
I'm handy, but have zero interest in attempting work on cast iron pipes, bracing all that weight above, breaking concrete, renting tools, grinding below ground-level, back and forth trips for pipe fittings, worry about cracking other waste pipes... And then there's the permit hassle... Not my wish to do personally.
QUESTIONS:
1. Not code/bad idea to wye drain shower *below* the toilet wye? I'm guessing lowering the shower wye would cause it to go below the toilet's wye.
2. Any ballpark guess on what a plumber would charge for this? Only ballpark. Not expecting accurate numbers.
I have a closer pic of the drain union, I'll follow up with.
I certainly do appreciate your input on this. I don't want to waste any plumber's time if I can rule it out now. And maybe someone in the future reading this can benefit.
Thanks!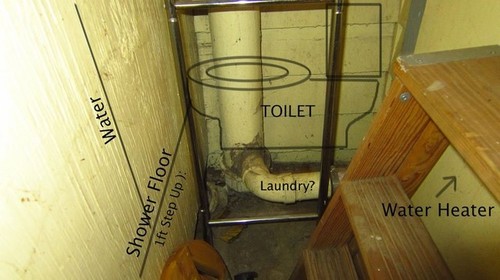 Here is a link that might be useful: Aquatic 32 in. x 32 in. x 72 in. Gelcoat Shower in White
This post was edited by TheoryOfGravity on Sat, Dec 22, 12 at 0:38