Rooftop Deck: Ipe vs. Massaranduba and advice on painting cedar
scotter1975
February 19, 2012
I'm planning on having a 480 sq. ft. rooftop deck & pergola built on top of my South Philly row home (in Philly, the only option is it to build "up," - can't build "out" in most cases). Reading through these threads have given me a wealth of information, and have given me the ability to "talk turkey" with contractors. I'm definitely sold on going with the South American tropical hardwoods for the decking material on my project-or I won't do it at all. I'm planning on utilizing Red Cedar for the pergola and much of the railing material - and then have the cedar painted white to allow for a nice color contrast between the SA decking and the railing/pergola. While most of the railing structure would be cedar, painted white, I would still likely go with the Ipe or Massaranduba for the handrail.
My questions are as follows:
-Does this sound like a good setup: SA deck boards, and then red cedar painted white for the railing and pergola? If I'm going to paint the cedar white, then am I better off just going with pressure treated to save some $$?
-Ipe vs. Massaranduba? Mass. is far more economical than Ipe at about 40% cheaper. I like the dark, rich look of both woods. Is there any downside in going with Mass.? If I decide on Mass., then is it advised to go with 5/4 thick wood instead of 4/4?
-Any thoughts on 4" wide vs. 6" wide decking? Is one width preferable over the other if ventilation will be minimal (as much as 30" and as little as 16" of ventilation)?
-Fasteners. One contractor told me that s/s screws would be an issue if down the road I need remove some of the boards (this could be necessary to do maintenance on the roof). He explained that s/s screws are "soft" and that you only get one pass at them, and that they could easily strip at a later date if I tried removing them. He recommended a composite/ceramic screw instead. Does this sound legit?
-Any other suggestions on how to save a few greenbacks, without losing any integrity in the structure/aesthetic?
In case you can't tell, finances are an issue with this deck and I'm looking for the most economically responsible strategy possible, but Ipe or Mass is a must.
Here are some pictures of where the deck will be installed. We'll call these the "before." The "after" will be forthcoming in future weeks/months.
View from the end of the roof facing the 3rd floor:
A view of the cinder block wall that is about 5' below the roof surface. The deck will be built out to this wall in order to pick up an extra 4' of width.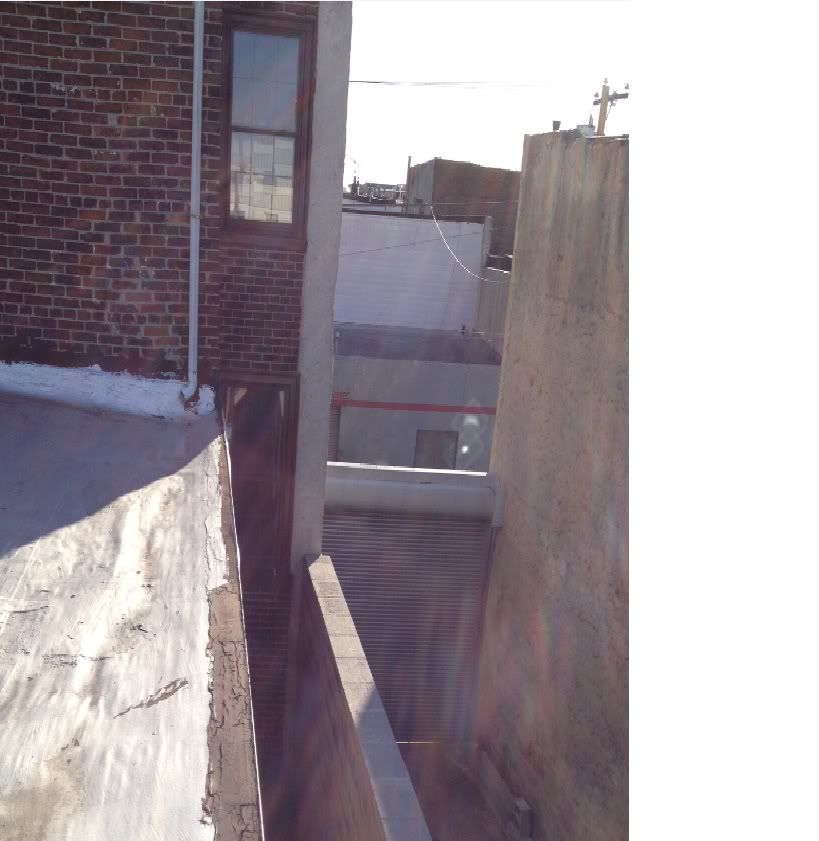 The view from the 3rd floor brick wall out to the end of the roof.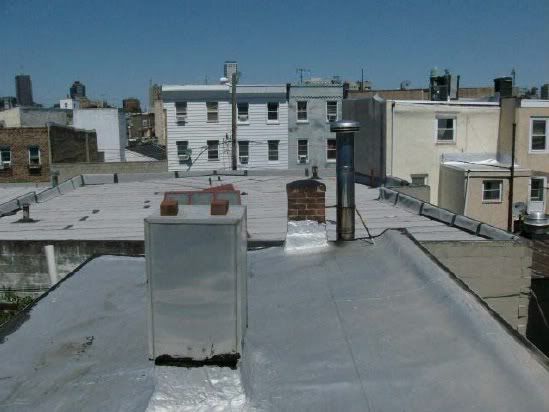 A view of Center City Philadelphia!