Redesigned layout without banquette? Help!
We are in limbo right now because our cabinet maker cannot have the cabinets ready until mid May. While we are happy to wait, it has, unfortunately, given DH too much time to think more about the banquette I was planning in the space. DH didn't really want the banquette in the first place and while I have been trying to convince him otherwise, he is now thinking we should eliminate the eat in space all together.
We have a dining room to the left of the kitchen that we can use for all of our meals. The family room is to the right. However, I would like to have at least two seats somewhere in the kitchen for the kids to have breakfast or for helpers or visitors while I am cooking.
DH has asked for some alternative options without the banquette. The latest layout we have come up with adds a peninsula to the mix and allows us to have a hutch (bottom right in picture), instead of the banquette. This reduces the doorwall to the deck from 60" down to a single 30 or 32" door. I am not sure how I feel about this new layout.
What else could we do with the space? Any feedback is appreciated. Thank you to everyone who has provided input on previous threads as well.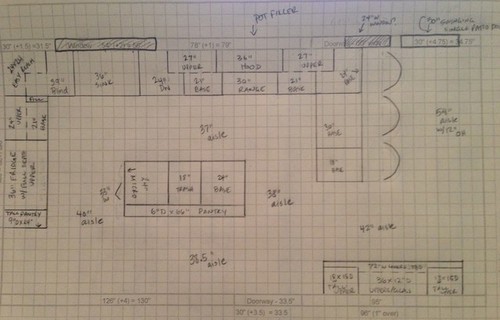 Here is a link that might be useful: Previous thread