Mini Reveal of Site Painted Barker Cabinets
Are y'all getting sick of these "mini reveals"? Anyway, suffice to say that the Kobe chimney vent hood isn't in and yes, I'll have to move my John Besh autograph when it's installed tomorrow.
As you know, we have site painted Barker Cabinets (BM Vellum). Slab drawers, basic shaker doors. I was trying to re-establish a vintage vibe in my 1920's Little Rock cottage.
This is the run with the prep sink and the range. The prep sink used to be the main sink but I found the lack of space to the left of the sink *disturbing*. As a prep sink, it's great. Umm, it has no doors because we site modified the sink cabinet to 20 7/8" to make up for a math boo-boo (or an uneven wall...since it was my boo-boo, I vote for crooked wall). The navy blue striped linen skirt is growing on me though.
For everyone that has considered Barker Cabinets, the only fiddle-dee-dee part of the construction is lining up the drawer fronts. That might be because mine are slab, but I found it *torture* and finally cried "uncle" and let my contractor do it the way he always does (read: ignoring the predrilled holes).
I have 47" of prep space between the sink and the range and the fridge is just off Stage Left (it's in the same place it was in the "before," it's just no longer a SZ).
Eventually, we'll have a center work table where the Crazy Island once lived but the production time on it is 14-16 weeks. I just finished the design specs with the builder today since the one I originally ordered from NapaStyle is utter garbage. NS handled it gracefully after a little social networking shaming.
So without further ado....
BEFORE: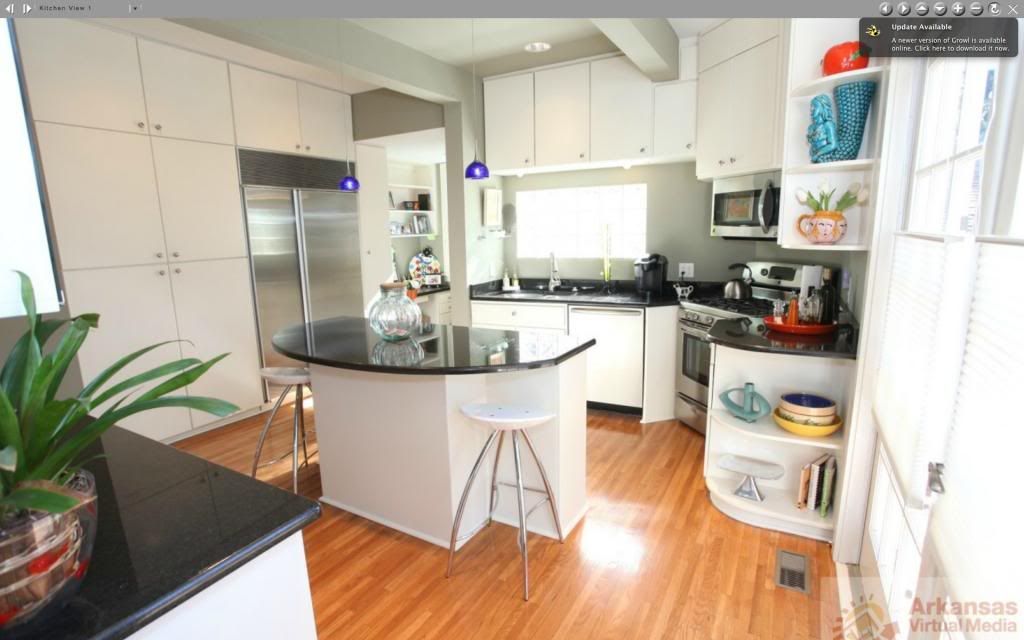 (generally same view) AFTER:

The kitchen really isn't dark now, but the original listing photo is really over-exposed or otherwise brightened by Photoshop or the like. Also, it's a screen shot from a video of the house.
I can't wait to give you a full view! I'm really quite happy with the result.