Closets' doors; match walls, trim, or other color?
caroline94535
April 8, 2008
There's one closet in my bedroom. It has a 3' wide bifold door. There's a pocket door for the room entry;it's normally closed.
The walls are sage; the trim is buttercream; the ceiling is white. The room is 11x14 with an 8' ceiling and medium oak floors.
Should I paint the doors the sage wall color, the buttercream trim color, or a different color altogether? The room has no "style." There's a beige wool area rug with sage and purple leaves by the bed; blinds on the windows (I plan to sew sage/purple panels); and a khaki bedspread.
What could I do to improve these doors?
Excuse the mess; it's a work in progress. Paint cans outside the pocket door and remodel supplies all over the mud room.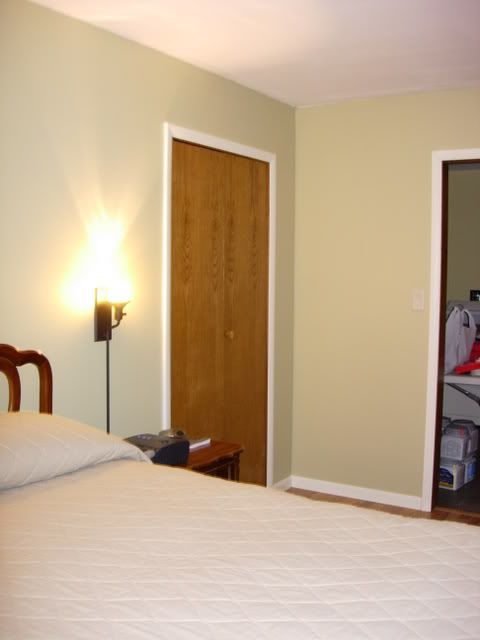 The wall color is too pale in the photo above; the one below shows them too bright. The real color is somewhere inbetween the two. The headboard will be replaced with something tall and dark, and the sconces will be replaced with bolder ones in black and nickle.