16 vs. 18 gauge Stainless Steel sink? Ticor or Universal?
After reading messages in this forum, I know that 16 gauge SS is stronger and better than 18 gauge....but will I notice the difference? I like this Ticor 16 gauge sink a lot :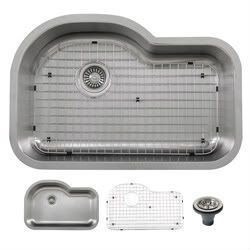 The one the granite fabricator is "throwing in" is only an 18 gauge.... Similar shape, but no grid. Should I try to get an allowance from the fabricator to put in the Ticor one I want, or will the 18 gauge "freebie" be ok? I guess I could buy a grid elsewhere???