Designing Around Existing Cherry Cabinets
We originally thought we would move our kitchen into an existing dining room, make our current kitchen a family/mud room, and make our current sun room a dining room. The more we investigated, the harder and more expensive that route looks.
So now we want to update our current kitchen by:
1. Replacing the island with a new island with micro drawer, but no sink and no ice maker, and add overhang for 3 small stools
2. Replace appliances (likely with SS)
3. Replace counter top with engineered stone
4. replace CARPET (who ever put carpet in a kitchen) with either wood or tile. We are leaning towards tile, and thinking we would do a nod to the history of our home (built 1927) by using hexagonal floor tiles.
5. Remove wall paper and paint walls and molding
6. Build a banquette in the breakfast nook (also looks to be 1920s appropriate
7. Add a subway tile back splash and re-tile existing decorative tile areas with a more 20s looking tile (yet to be determined)
8. Replace ceiling fan with new light fixture. Leave recessed can lights. Add under cabinet lights.
9. Change hardware
Here are some pics of the kitchen as it stands today:
View Of Kitchen from Butler's Pantry, nook at far end of picture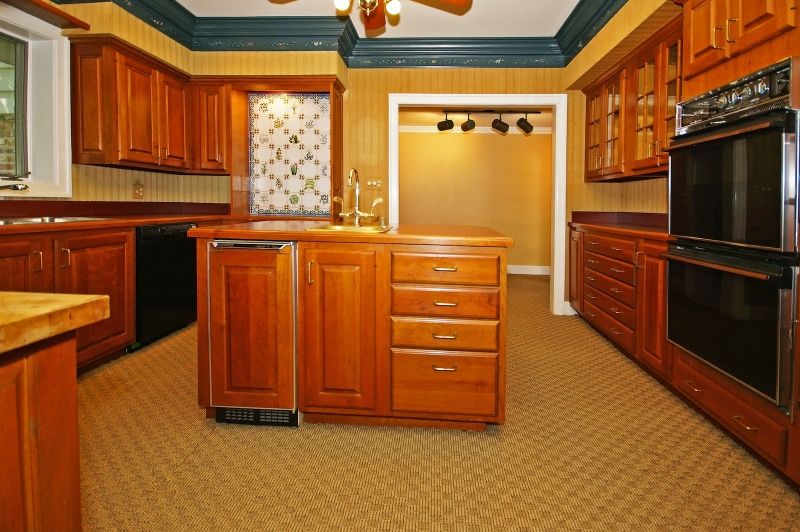 View From Breakfast nook

KITCHEN FROM BULTER'S PANTRY (pantry to stay, but get a face lift too)

So, are we crazy to keep these old cherry cabinets? They are all wood and in good shape but are probably 25 years old. Can we design something pretty around these?
Thanks!