Table vs. Island
Hello - newbie here - I have tried searching, sorry if this is repetitive, but it is hard to wade through all the great information on this site! We are just starting to think about renovating the small kitchen in our new house. The current layout allows for a small 4-person breakfast table (conveniently, we are a family of four!) but does not offer the best work environment for the chef (DH) and is not really a place for guests to congregate. I've not had a kitchen table before, and I love it! As we begin to think about this, we are looking at three options:
1) renovate in the existing footprint (plan attached - what you can't see is that we are reorienting a closet so the eating area is gaining 3 feet of wall space next to the pantry even if we just do this, so it is a reasonable improvement)
2) 3' cantilevered bumpout to the right (range wall), add center island and replace current eating area with 12" deep pantry/storage wall to the left (42" btw. range and island and 48" btw. island and pantry wall, 36" DW/sink to island - island approx. 68"x36" with 48"x24" of cabinetry so 10" overhang on each end and 12" overhang on pantry wall side). In this option the fridge would move to the start of the range run - in/near corner by door from dining room
3) breakfast room addition (approx 9x11) off the back (sink/DW wall) creating approx. 5' peninsula where sink/DW are and also the pantry wall, but 24" deep
For both 2 & 3 we would likely open the door from the dining room (wall oposite sink) for better flow.
We are leaning to Option 2, so my question is, will I miss having a kitchen table terribly? Option 2 is the chef's favorite - I think he misses our smaller kitchens where he could turn around from the stove to his prep area, and pull up a stool for a nice perch while slicing and dicing - we have no stools in our current kitchen. Budget is also definitely a consideration and that is the more budget-friendly addition. We do want a place where people will feel comfortable hanging out. I'm also including a picture of my inspiration kitchen for Option 2. Oh, and kitchen is currently approx. 11' by 14'
Many thanks for your honest feedback - I am afraid of making a mistake and always longing for my table back! That said, I kind of think of the island option as a fixed counter-height table with a couple of cabs...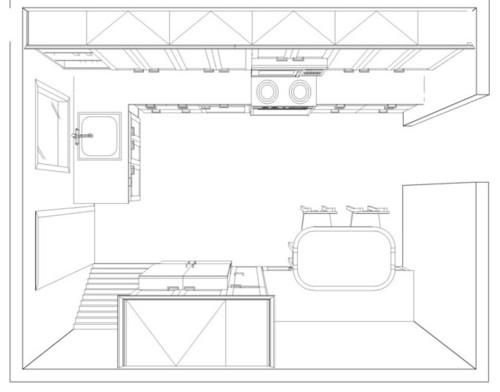 This post was edited by LizPel12 on Thu, Mar 7, 13 at 15:58