What can I do for my depressed cat
kashka_kat
October 17, 2013
Im down to one cat now - Orange's buddy went missing and while I'm continuing to search its been a month and I cant say I'm all that optimistic.
Meanwhile, Orange is on lockdown - used to let him out for a couple hours before dinnertime, but I cannot do that anymore, not knowing what happened to Figgy and having some uncertainty about the safety of this neighborhood. Orange obviously misses his buddies - was looking for him for a while in cabinets and closets, now he sleeps about twenty hours a day - just sits and sleeps, not interested in toys. (Yes I got some new ones.) Occasionally meows like I might change my mind and let him out, but seems to have mostly given up on that idea.
I could cry thinking of how alive and alert he was just last summer back in the garden, his obvious joy running down the stairs each afternoon to greet the new day. Just wish I knew what to do for him - I hold him and love him and he is always so sweet but seems to have lost some of his old spunk.
Figgy was the one who loved toys and chasing superballs and he and Orange would play a daily game of chasing each other around the house - can't think about getting another cat now but when I do.... how can you even guess about whether they would get along or not?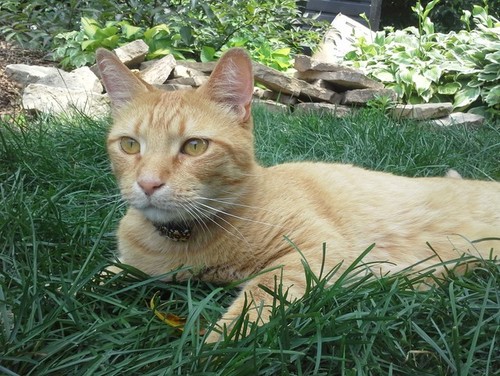 This post was edited by kashka_kat on Thu, Oct 17, 13 at 15:13