Need help planning kitchen in small, old, cheap house
We're buying a small 940 sf house in a small town 100 miles away from where we live now (have a business in the small town), to fix up and use as a crash pad until our house sells. We are paying $14,000 for it, and fixed up it'll be worth $60K. It needs $10K to stabilize basement walls, and we're budgeting $10K for the rest, with about $5K for the kitchen.
It needs to be functional, clean, and look decent, because I've got to live here for a while. It's a 1920 built "worker's cottage" and the good folks over in the Old House forum have encouraged me to preserve that look and not change much. I've never lived in an old house, so I'm trying to get educated. I'd like to maintain "visual harmony and consistency" in the design, so it's got some 100-year-old feel without sacrificing functionality or costing too much.
We've got solid DIY skills, so all we need to buy is materials. I need your help both with layout suggestions and ideas on how to do this on the cheap.
Here's the current condition and tentative plans. I welcome all input.
Current layout:

Photos: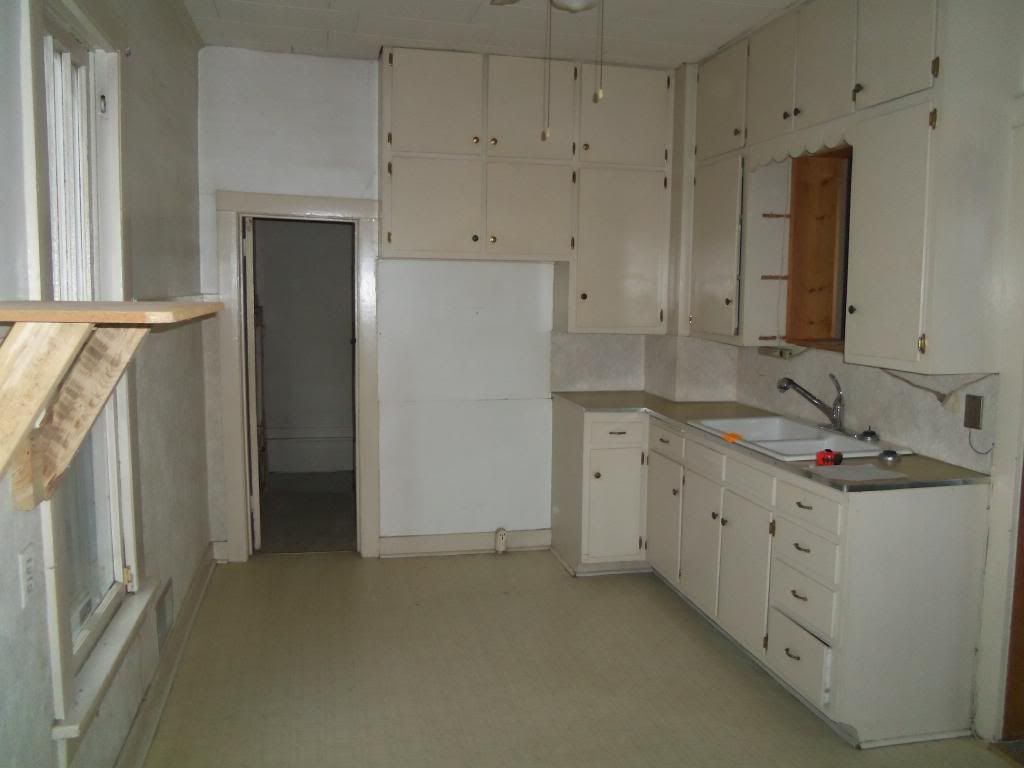 It's got a decent footprint (9'x13') and 8.5' ceilings, but problems are:
Workspace and storage are abysmal
Tiny doorway that goes to basement stairs
Inefficient pantry space (walk-in but narrow)
Tentative new floorplan would:
Make the kitchen a galley
Move doorways to center of side walls
Replace window with shorter one
Reconfigure pantry/hall/stairs area
Remove chimney in corner (that's the bump-out in the photo)
Close up "window" to dining room
Here's a tentative layout I had a Lowe's KD draw up to use as a starting point.

Of course, that's $9K worth of cabinets, so I need to find a cheaper solution. One is to keep the existing ones. They're somewhat grungy but solidly built. And given the layout changes, I'd need to re-arrange them. Then I could either build or buy new boxes for the additional ones needed. We have Amish in the area, don't know their prices or skills. And my carpentry skills are probably sufficient to build new boxes as well, it would just increase the reno time. Do you see a way to re-arrange/piece together?
Cabinet close-ups: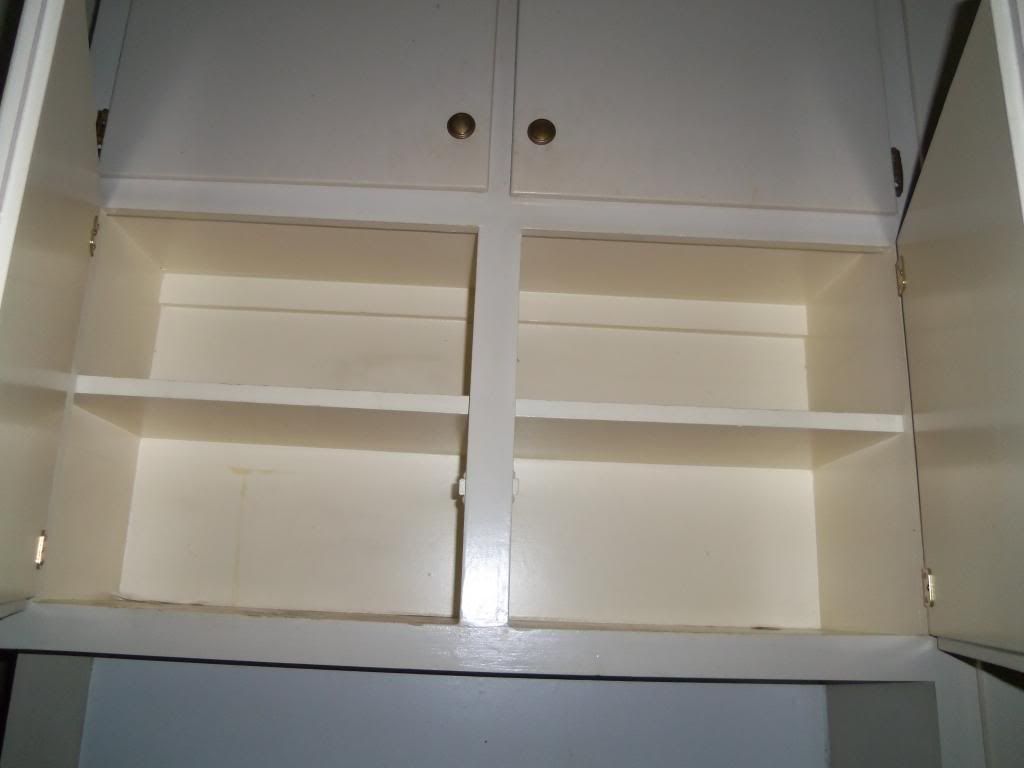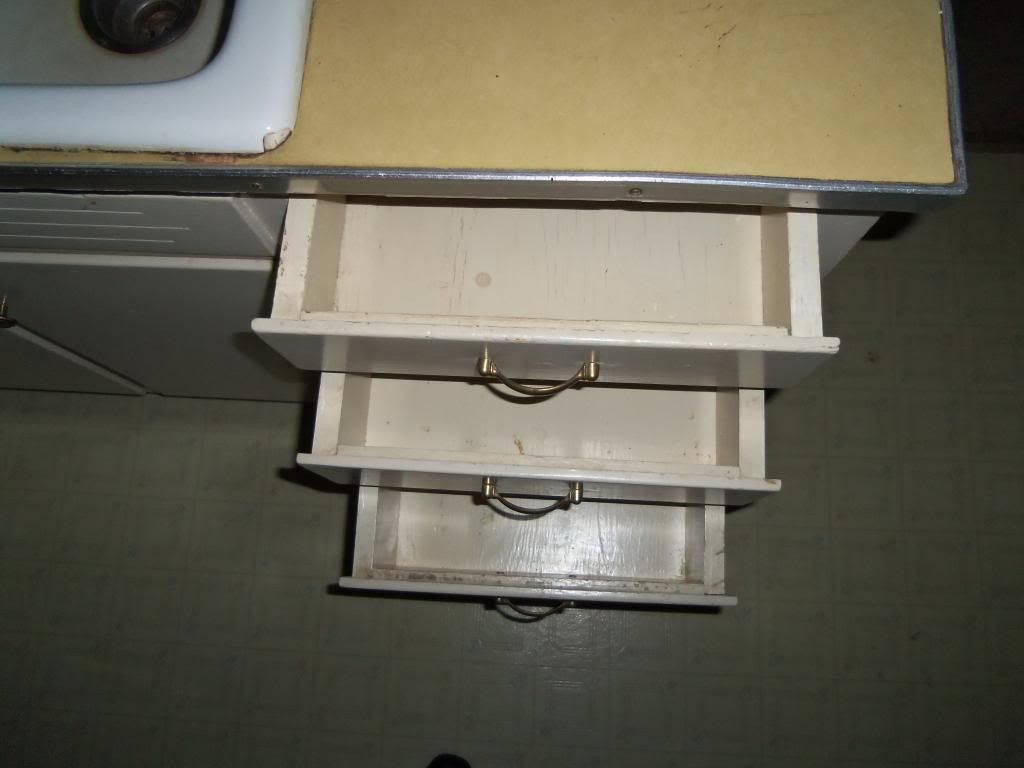 This sink cabinet is skanky enough it just needs to go.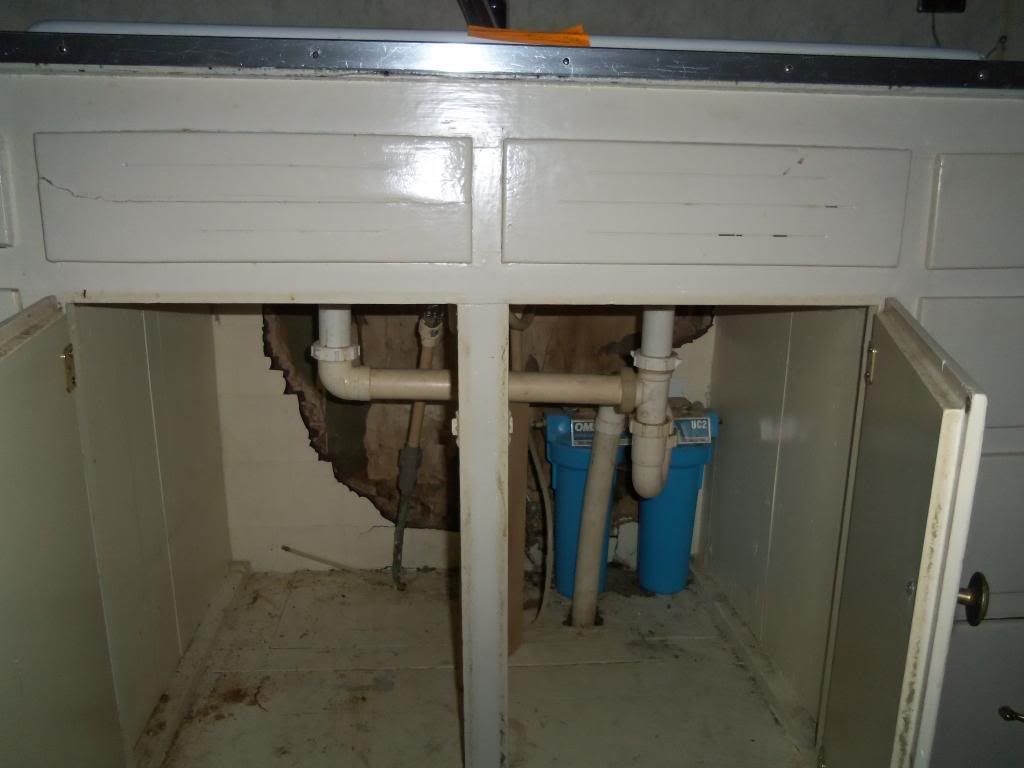 I also don't particularly care for the doors/drawer fronts. I'm thinking about adding shaker-style trim around them, or just buying replacements and thus having a consistent look.
Please advise!