Got him!
cheryl_p
September 4, 2009
Last week I was looking for help finding a breed rescue to take a neglected GSD kept on a 5 ft chain in a back yard (oh, enough food but no human contact!) First of this week I "secured" Jake's freedom! I hope this picture of him comes through - all 8 months and 80 pounds of him! Whew! (He's much taller than appears here.) Beautiful, huh? href="http://s678.photobucket.com/albums/vv143/cheryl_p_photos/?action=view¤t=Jake1.jpg" target="_blank">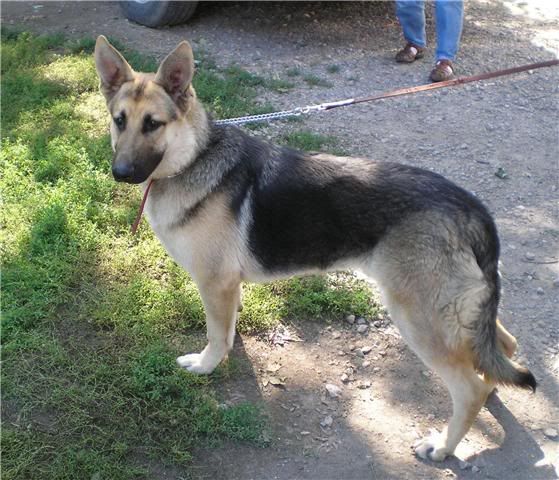 Last Chance Rescue took him and I am going nearly daily to work with him. Is he smart! He made my day today when upon my shutting the kennel door to leave him a great outbreak of barking on the other side of the sancuary caused him to start running to the opposite end. I commanded him to come and danged if he didn't stop dead in his tracks, and do just that - wow! I don't feel yet that I can walk him outside of the fenced yard area because he was initially pulling me over with the greatest-of-ease. Much better now. I was told he has also jumped the fence once. He is so socially retarded, some would say "undisciplined" but how can you say that when he doesn't even know ...? At the end of each visit I try to get him to play which he has absolutely no clue about, poor guy. He also gets a little grooming too.
What a lover he is -I hope, hope, hope he goes to a good family. Thanks to all who offered advice and please keep fingers crossed for Jake's successful adoption!
(p.s. How do I get rid of that irksome coding around my posted pic???)
-Cheryl