Sofa and fabric selections- vintage looking?
WDYT of this fabric (the one on the left)?

For a sofa? Will be the main living room sofa. I have a 2 yr old and 4 yr old. Fabric is supposed to be durable.
**************
I could use some help selecting a sofa and the fabric for it. I posted last week about my house, a 1920's brick bungalow, and how I'm going for a vintage sort of look. More 40's than 20's, with colonial revival furniture.
Here are a few overall inspiration photos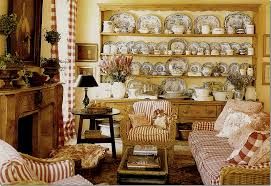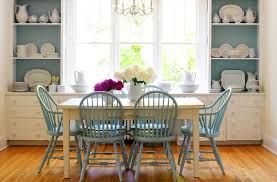 Here is the living room

I'm planning on this for kitchen wallpaper (praying that there's enough). I will be painting the kitchen cabinets (maybe a cream/pale yellow or white) new white vintage looking appliances, and some sort of marmoleum floor.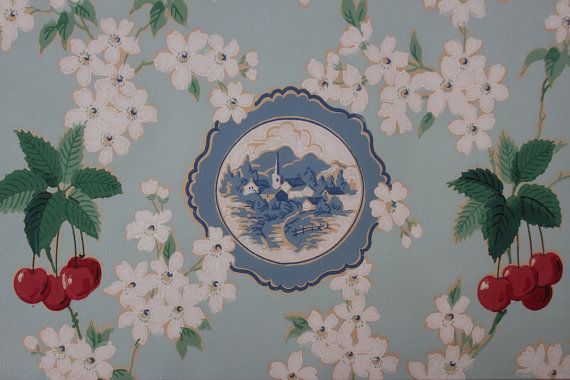 In the living and dining rooms I will be refinishing the floors, will go with a very light (maybe no stain) with a more matte finish. I may strip the baseboards and trim and refinish.
I was planning on painting the walls cream or maybe using wallpaper. In the dining room I planned to hang some transferware, heavy on the blues.
I am in the process of buying vintage Ethan Allen Heirloom Maple colonial revival furniture. I just bought these: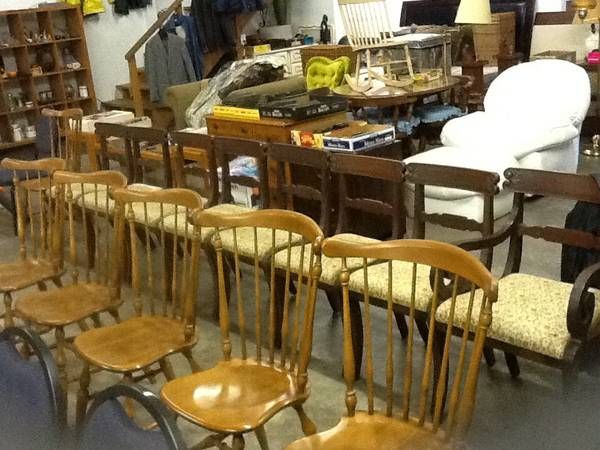 and a matching drop leaf table
I am considering refinishing the hutch and table. I am going to post over on the woodworking forum, but my plan is to maybe lightly sand and apply a liming wax to soften the orange hue and give a slightly aged look. I have no idea if that will work.
So that's what I have so far. And now I'm looking at living room seating. I'd like a three seat sofa and one or two wingback chairs. I haven't ruled out something slipcovered, like the PB basic, but I'm not sure it's right for what I want. I really think a patterned sofa is what I need, plus the slipcovered sofas can look a little sloppy.
I do like these two styles from Flexsteel:
The Danville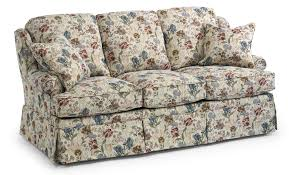 The bungalow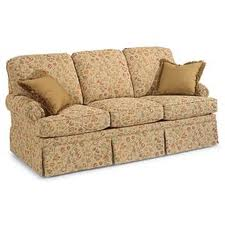 I did consider buying one used and recovering, but once I learned how much quality upholstery fabric costs it seemed to make more sense going new.
I went to a furniture store today to look at the Flexsteel sofas. They didn't have either style on display, but I did try out other models and I was able to look through all the fabric selections. Overall I wasn't wowed by the fabric options, but I happened to love this light tan plaid w/blue.

It is light, but the fabric is rated quite durable. I am nervous about committing to a patterned sofa. My current setup is a brown leather sofa with pottery barn bench wright style tables, etc. This new furniture will be quite a departure for me, but I'm ready for something new. I'd like a cheerful, homey look. Vintage-y, with a little country (English country). What do you think about the fabric selection? And what would you do for the wingback chair(s). I like the blue stripe (1st photos), not sure though.
I worry about the kitchen having red there will be a banquette I need to recover and was thinking of a red gingham oilcloth. The kitchen is visible (through doorway). And then I have no idea what to do on the living and dining room walls, not sure a buttery cream will work with the tan fabric. And drapes?
The price I was quoted was fairly expensive to me. Probably because the fabric is one of the more expensive choices and I'm used to buying cheaper furniture I guess. I'm willing to spend the money on a quality sofa that will last, but I worry about kids and upholstery (we do not eat on the sofa, but sippy cups make there way onto it).
What do you think? If you're not a fan what would you suggest? Thanks.
Here is a link that might be useful: Previous thread RE: house and furniture
This post was edited by Lady_West on Tue, Mar 11, 14 at 1:10