Warning re Walker Zanger Gramercy Park Tiles!
We are completing the finishing touches on our kitchen remodel. Our backsplash is one of the last things to be installed. We picked out some beautiful Gramercy Park crackle glaze field tiles in Wedgwood Blue (they're really grey) as well as filagree tiles for behind the range from a different manufacturer.
We received 5 boxes of 100 tiles/box of the field tiles. EVERY tile in every box was covered in a black soot-like material. Thank goodness we opened the boxes before installation. That stuff was difficult to come off and got all over everything. It took us an entire weekend to clean up all of those tiles washing, drying and cleaning out the boxes so that we could store them again until installation. What a mess! I brought a box to the tile store in Greenland, NH where we purchased them and was thanked for my patience and handed a bottle of tile cleaner. They took a picture and were going to complain to Walker Zanger, but I've haven't heard a word.
If you decide to order from this company anyway you might want to make sure to give yourself plenty of time to clean up the mess on the tiles. Really, no exaggeration, it took us a whole weekend to clean them up. Time we really couldn't afford to waste like that. Needless to say, we were very disappointed.
**UPDATE** We were contacted by the Technical Supervisor from Walker Zanger. He was very apologetic for the condition of the tiles that we received and couldn't do enough to resolve the issue. He updated me daily throughout the process and was very attentive to the issue. They reimbursed us a considerable portion of the purchase price. They are also sending us the MSDS information on the stain/ink that was on the tiles so that we know what we were handling for 2 days. In addition we were offered a discount on a future project. Most importantly I felt that they really cared, understood the effort on our part to clean the tiles and felt very badly about the whole thing. I also feel that they will do everything that they can to make sure that this doesn't happen to someone else. I feel much better about this company now and would do business with them again.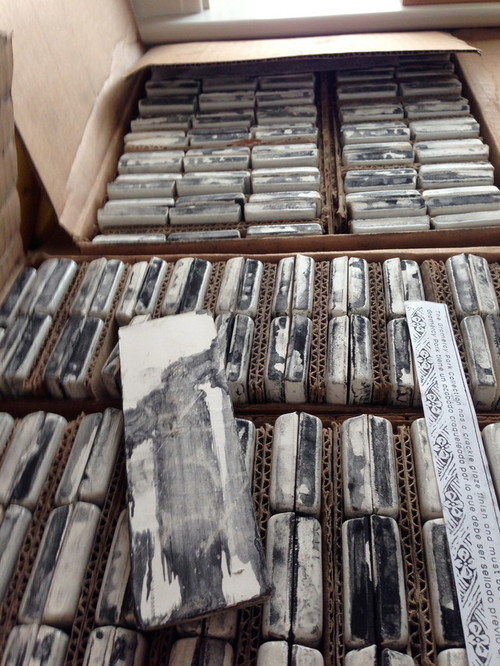 This post was edited by AJinNH on Fri, Apr 4, 14 at 11:55