When to intervene/ call authorities?
quirkyquercus
August 20, 2006
Sorry for all the posts lately. I guess I haven't been given enough kongs to keep me busy.
Have this little situation that's bothering me. My cul-de-sac has a lot of dogs. There was just one house remaining that seems to have jumped on the bandwagon last week and they have a new puppy.
They keep their puppy tied to a tree (a small tree) in the backyard and there is a doghouse, a free-feed device (had some kibble) and a waterbowl. They do not have a fence and their house backs up to a road where people go way too fast. There is a fence from the subdivision but it's one of those split rail fences and anyone/dog can go through/under/over it.
I know some people keep their dogs outside. I wouldn't, but that's not what I have a problem with. I walk behind their house on the sidewalk a lot with the boys. Never see anyone interact with the puppy except once there was a young girl there.
As of yesterday, 8:30 pm, it was getting dark, no lights on in the home and kept checking all night, still no lights on inside. The exterior flood lights are on but that's it. There's a car in the driveway but it hasn't moved since yesterday. It's gearing up to be another unbearably hot day. I don't see how this puppy is going to stay alive in this heat like that.
It has dug an enormous mote around the tree. Out of boredom I guess. It doesn't seem right and I'm concerned for the puppy. I don't know who these folks are. I think they're renting there. They had their Christmas lights up until March so I have no reason to believe these folks are diligent in giving the dog what it needs to be well-rounded, nevermind vaccines... I can promise you this puppy won't be getting those.
I have a new personal policy where I don't stick my nose in neighbor's business. But this is a puppy that I don't think will be alive in 2 weeks if I don't do something. I guess it's not illegal to tie up a puppy in the backyard and ignore it but my water bowls for my boys empty out quickly enough in air conditioning, I can't imagine there being enough water for 90 degree weather. And how long will it be before he chews through the tree? I almost want him to.
Am I making too big of a deal out of this? I don't know. So I have some pictures to show you.
Warning, these pictures are heartbreaking to see.
Are you sure you want to look at the pictures?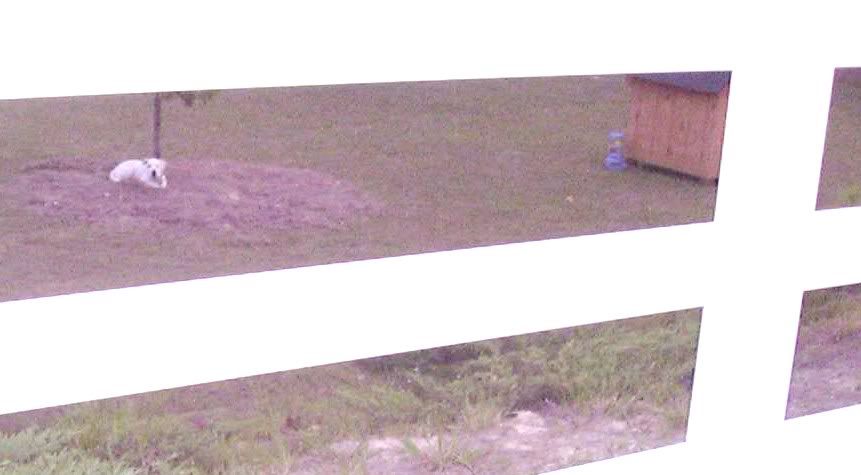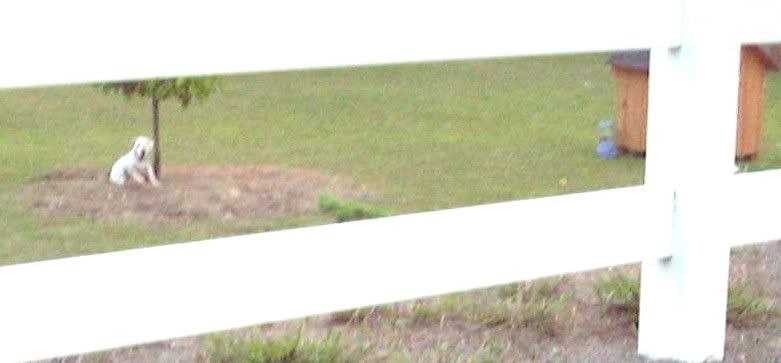 water bowl lower right corner of photo 3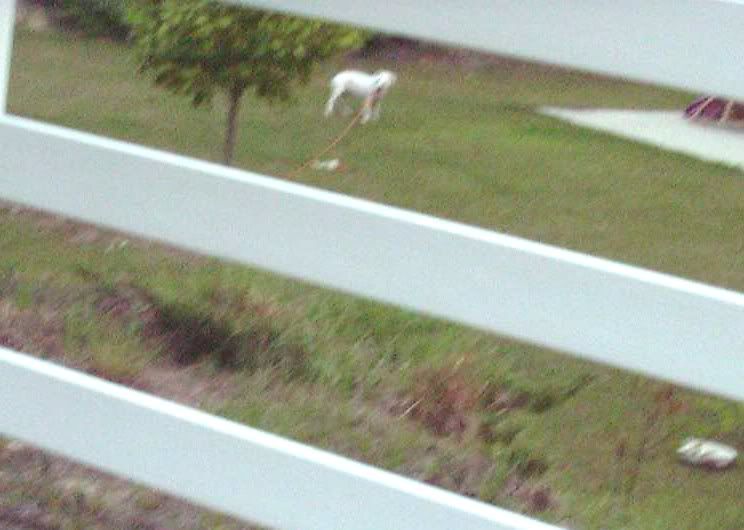 Like I said I don't think anyone is home. I'm not sure if I should bring water to the puppy or call the authorities or what. I don't even think we have animal cops here. I don't know what to do. If anything. Should I mind my own business?