need suggestions for backsplash
Hi everyone,
Been lurking for awhile, my first post to seek some advice, evidently I erroneously posted in the Gallery the first time:
http://ths.gardenweb.com/forums/load/kitchbath/gal0222111613849.html
We are in the middle of a kitchen remodel on a small to medium sized kitchen.
The CAD drawing is attached in the other post.
Cabinets along the wall are Antique white, Island cabinets are Cherry (was hoping for darker, close to black, but that's what my installer showed up with).
Countertop along the wall is Crema Marfil in quartz, Island is Black Speckle in quartz. (going in today)
Kitchen floor is medium travertine, rest of the house is dark cherry wood floor.
All appliances are stainless steel including the sink which is an apron sink.
At this point, we're unsure with what to use as the backsplash and behind the range (color/material/pattern) that would be match the color scheme, timeless and low maintenance.
I will post some photos as soon as the countertops go in...
Any suggestions are appreciated. Or if anyone has similar color scheme in their kitchen, please share your photos...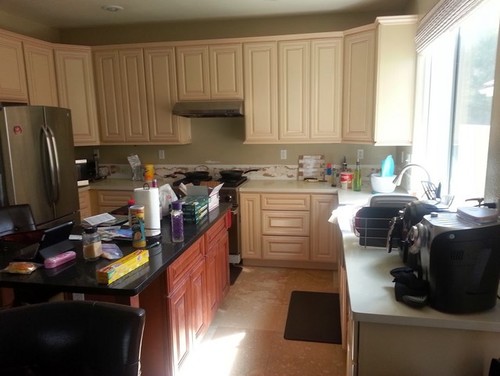 Here is a link that might be useful: Link to my first post in gallery
This post was edited by stuckwi on Sat, Mar 8, 14 at 18:05