Our new addition, Louie
We lost our elderly cat Asia late last summer and have had 1 housecat since. DH was offered a kitten at work & brought him home. The lady said he was 9 wks old, which I thought may be a bit young, but then when the vet saw him, he said he was more likely 7 wks old! He was only 1.7#.
Well, he's a sweetie & has done just fine with us, though I wish he'd had a few more wks with his mom & littermates (DH was told all the kittens had homes & momma cat was already at the vet getting spayed when he got her). We're calling him Louie & he's a real pistol. He has to be in the middle of everything, & is generally a little busybody. When his timer runs out & he has to sleep, he curls up with anyone, dog, cat or person & recharges his batteries.
Louie surveying his kingdom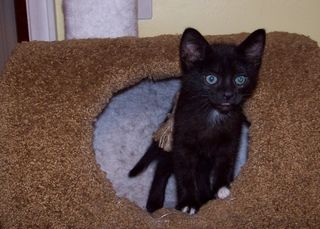 ">
Sammy & Louie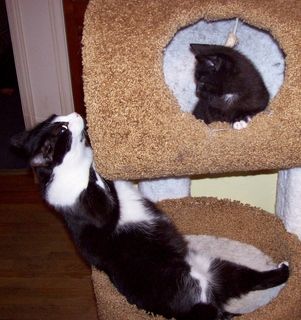 âÂÂ>