My Craigslist doozy ...
mama goose_gw zn6OH
March 18, 2014
... or deal? I've been wanting to try painting an upholstered chair, ever since seeing one that shades_of_idaho did a few years back. I found this chair on my local Craigslist, along with what would prove to be a rather optimistic description:
"Nice chair---perfect for living room :) - $25"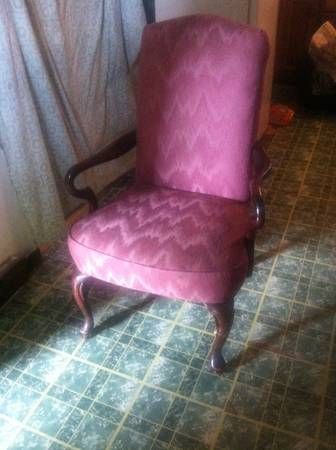 "Hello, I have a nice older pink chair. I'm not sure how old it is but it would be a great fixer upper or just leave it as is for the vintage look. I don't use it so I would like to find someone to put it to good use. It's a really comfy chair and it's also very pretty. I can deliver it for 10.00 extra."
*******************
It had been listed for a while, so I emailed and offered $20. I rec'd an immediate reply, then a phone call, accepting my offer. The seller was heading my direction, and offered to deliver it for nothing, if I would meet him at a location that was 5 minutes from my house. I was going to give him $5 for delivery, until I actually saw the chair. Ewww. Since it was only $20, and had 'good bones', I paid him and loaded it into my pick-up, but kept it in quarantine for a month, on my front porch. Here are a couple of pics of the filthy seat, and dog-chewed leg: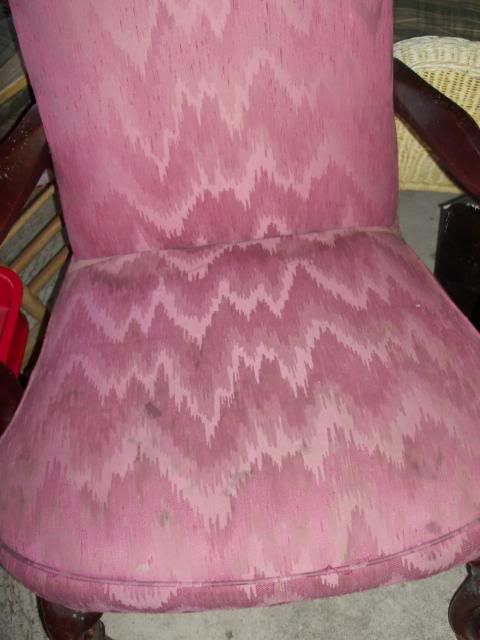 After finding cracker crumbs between the arm and seat, I felt better about the stains--I think (hope) they were food stains. I gave it a good vacuuming and scrubbing, and wrapped the arms and legs in plastic film, to protect them from paint: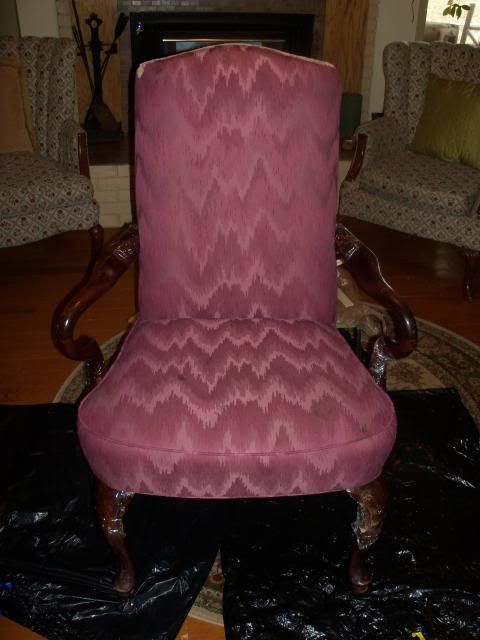 Here it is after one very thin coat of a mix of latex paint that was left over from my kitchen cabinets, fabric medium, and water. (Directions in the link.) The fabric absorbed the first two coats like a sponge, barely changing color: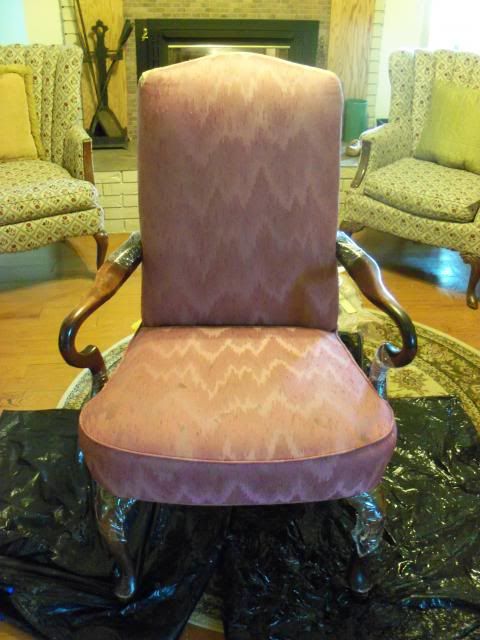 Finished, it looks and feels like the naugahyde that was popular in the 1960's. The texture is still visible, but more so in pics, because of the flash on the semi-gloss paint. I used some left-over stain to cover the scratches and dings in the wood, and I'm considering adding some brass tacks: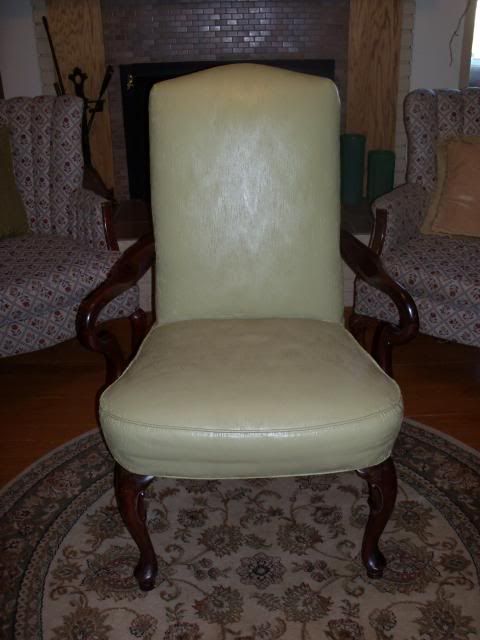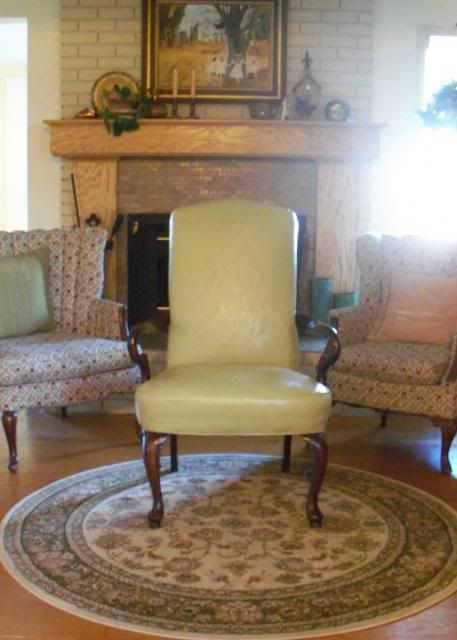 The upholstery didn't appear to be original, or of the best quality--I think it would be easy to replace, if I grow tired of the color. (Although at this point, I'd probably need a tin snips to remove it. ;) Has anyone repainted a painted chair?
I plan to use the chair for extra seating in the LR, when we have family gatherings. I had the paint and stain, so my only investment, other than the chair, was fabric medium, 3 8oz. bottles @ $5.00/each, from Hobby Lobby--total $35.00. The chair is very similar to a leather Hickory Chair (also a Craigslist find), that I paid $35.00 for several years ago. It was time-consuming, but I enjoyed this mini project. :)
Here is a link that might be useful: Blog with instructions.