Daybed on screen porch?
We have a raised ranch with a walkout basement. Last summer, we screened in our lower deck and added cold-hardy vinyl inserts. We are absolutely thrilled with the results and use the room frequently, even in the winter. The room contains our hot tub and dh's Christmas present to me this year, wicker furniture.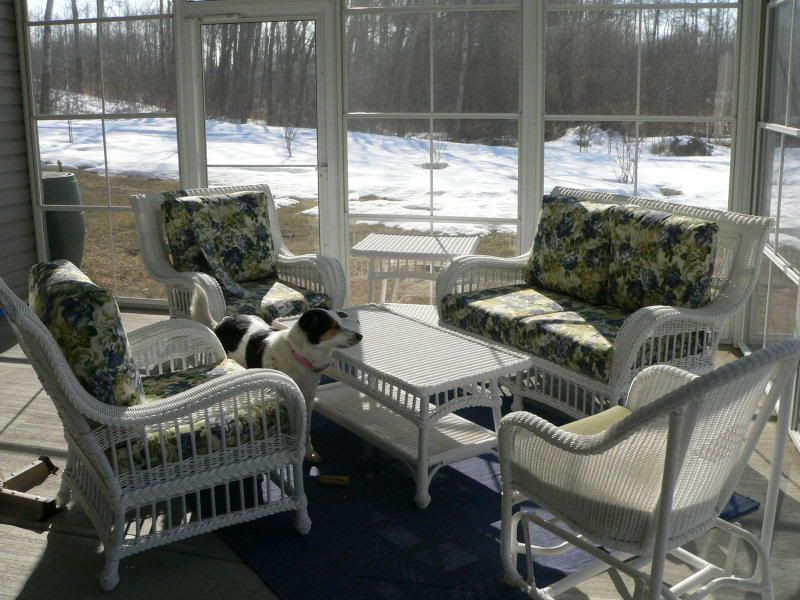 (Apparently Bandit was feeling photo-friendly today, LOL).
We had really wanted a sofa or longer piece that would facilitate a lovely snooze in the summertime. Unfortunately, it would have been an expensive custom order with this set, so we decided against it.
What would you think of putting a daybed out there? DH initially vetoed it - he thought it would look a little redneck having a bed on the deck, LOL. However, yesterday at Walmart, of all places, I found the exact outdoor fabric that matches the cushions (you can just see the sample on the far chair). I was thinking that if I made a mattress cover/sheet out of the fabric and put it over the daybed, it would look less like a random bed and more like a coordinating piece of furniture.
After the amount of money we spent on the furniture already, our budget is maxxed out. This daybed is at Ikea for a very reasonable price:
I already have a spare mattress that would fit nicely.
Any thoughts?
Carrie