Painting a refrigerator
Hello all,
I am in the middle of a kitchen remodel and my fairly new **white** refrigerator is not going to go with my new kitchen colors. My KD wanted me to buy a new panel-ready fridge but I decided to paint the fridge instead.
This is the second one I have painted (Rustoleum Appliance paint if I remember correctly) and since the first one turned out so well (was a dirty beige that I painted white), I decided to do another one.
The custom cabinetry will box-in the fridge so that only the front will show. I will add appliance pulls as soon as I decide which ones I want.
When I googled 'painting a refrigerator gardenweb' I did not come up with much so I thought I would add to the GW database and post some pictures.
The counter will be Cambria Dover and you can see the sample piece at the bottom of the 'After' pictures. It matches very well!
The color is Martha Stewart Brown Alpaca and was mixed at Home Depot.
The holes from the original pulls were patched with Bondo from PepBoys.
After washing the fridge with a bit of soap and water, I **very lightly** sanded it with 150 grit sandpaper. I did another very light sand (went over the surface with just one quick swipe) after the first coat. 2 coats were applied.
I used a 3" nap roller (not a foam roller) that was about $2 with its own tray from Home Depot.
As noted above, the first refrigerator that I painted a few years ago was done with regular white appliance paint but I wanted a paint that I could tint to color match. See below for the paint that the guy at Home Depot suggested.
Unfortunately, I let him talk me into the semi-gloss and if I had to do it over again, I would get the high gloss.
The whole project took about 2-3 hours.
I hope that this helps someone else who may be on a budget or, like me, rebels against spending money when there are other options.
Before:

After: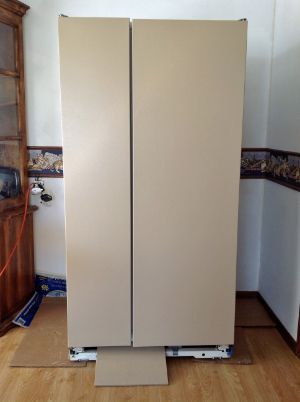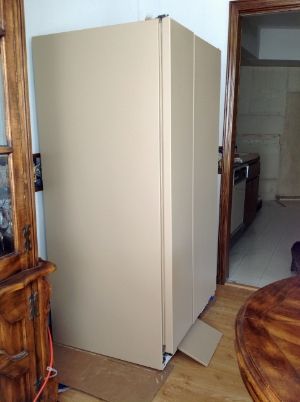 Paint used - if I had to do it over again, I would use high gloss, not semi-gloss but the semi-gloss really is fine and may actually be preferred by some people: