Just sharing a technique
With the weather beginning to turn cold I decided to work on something that I could do indoors throughout the winter.
I have been looking at those table top studio light boxes on Ebay, but instead of ordering one, I decided to try my hand at building one with materials that I had on hand around the house.
I ended up with a light box that is 26" wide, 32" high and 32" deep, with a total of five lights. Its large enough that I can easily photograph a doll or household object that is 18" high. After I got it all set up and working I did some research to see what the material cost would be to start from scratch. To my surprise it can be built in about 1 hour for less than $50 with parts and materials that are all readily available.
I then moved to the testing phase to see how it works.
My GF does a little horse trading on Ebay so she was very anxious to see how advertising type product photos would come out. I'll admit there was a bit of a learning curve to get it working but not nearly as difficult as one might expect, and so far I am well pleased with the results.
If anyone would be interested in trying their hand at making one, send me an email and i will send you complete construction instructions.
I thought I might share a couple of the early photos to show how its working:
While shopping yesterday I stopped by a jewelry counter in a local department store and talked to the salesgirl. I told her what I was doing and asked if she knew where I could get one of those display stands they use for necklaces. She didn't have a clue where to buy one, but she did give me one that they no longer use.
When I got home I hung a black backdrop, set the display stand in, then hung one of Jan's old costume jewelry necklaces on it to test the effect.
The shot came out great, but while editing the photo in post processing I got a bit carried away with myself. First I added the two lens flares on a couple rhinestones to give a bit of bling to the photo, then I decided to add a little text to make a "Spoof Ad"..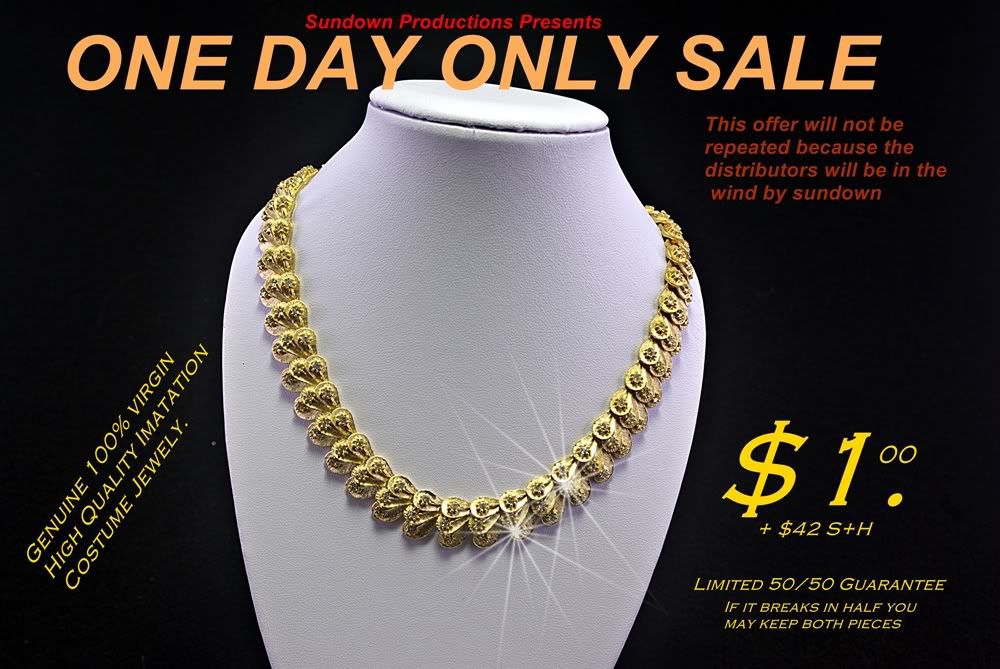 Email to: LazyPup@Yahoo.com