Start date approaching! Help me make a hood decision
My cabinets are arriving, the rooms are getting cleared and my start date approaches! I've made most of my decisions, but I have a major decision on the hood we're still waffling on. The room is rather long and narrow, and the hood is visually centered on one end -- we're trying to highlight some features on the short walls to help visually foreshorten the room and make it appear wider.
Anyhow, the range is a stainless-brushed chrome Cornufe, the cabinets white, the counters grey. We really only have space for a 36" wall-mount hood (up to 40 inches of space).
We're stuck decided between three options. The default, non custom choice is this Kobe:
Eclectic Kitchen design by San Diego Design-build Jackson Design & Remodeling
To be honest, it is the least expensive but it is well reviewed. It just leaves me a bit cold and puts a lot of stainless in one area.
We are also considering some customized Vent-a-Hood options (Prizer and Abakka are probably too expensive and I don't like the local Modernaire dealer):
Something that might look like this, except perhaps with a solid white or grey body instead of all stainless: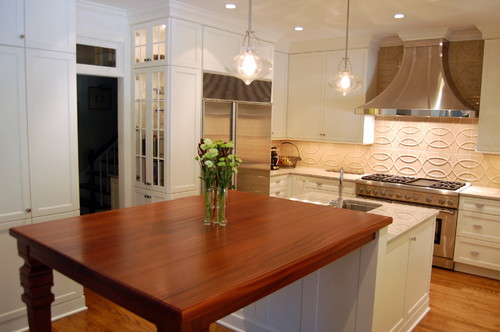 Modern Kitchen Tile design by Charlotte Walker Zanger
That backsplash tile was our original choice but the color in the end reads too creamy for our cabinetry.
Or something simpler, like this except with a grey or white body:
Traditional Kitchen design by Chicago Kitchen And Bath Kitchen Classics - Charles Heller
I like how the polished stainless lip real ads an element of shine that will play on some other design elements.
Here are the three in mockups:
Sorry this image is no longer available.
This post was edited by gooster on Sat, Mar 2, 13 at 12:35