Two dollars worth of turnips....
annie1992
November 19, 2012
It was a hot and dry summer here. I grew turnips but they got so strong and bitter frm the heat that I fed them to the cows and shrugged it off.
That's why I was surprised that the "deer bait" sellers were doing so well. Here deer hunting is a big deal, kids get the first day of deer season off school, it's like it's a holiday. A month or so before deer season you see roadside stands selling apples and carrots and sugar beets, there are bags in front yards with hand painted signs everywhere. I didn't think there'd be much this year.
My cows and horses like the carrots and apples as treats, so although I don't bait the deer (they eat enough of my hay, thank you, without me BUYING food for the darned things) I do buy the bags of root vegetables for my own animals.
Right outside of town is the farm where the 4H has their greenhouse and I try to support them, so I stopped for carrots. They didn't have any carrots, but they had turnips, from a little town just down the road. $2.00 for a 50 pound bag. Also parsnips which were a bit more pricey, $3.00 for a 50 pound bag! I stopped at the local farm market for potatoes and found rutabaga for $4 a half bushel.
Well, you know I just had to: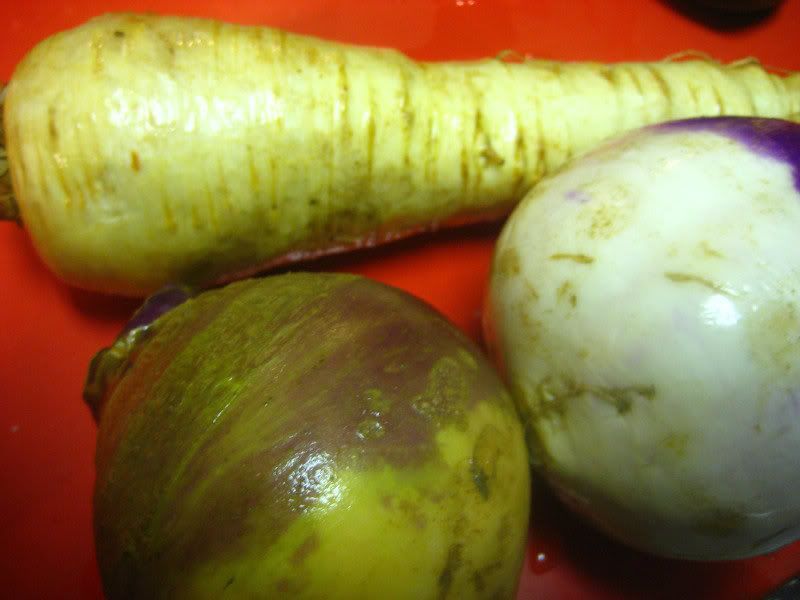 The turnips, though, were pretty big, I put them in front of a Diet Coke can for reference: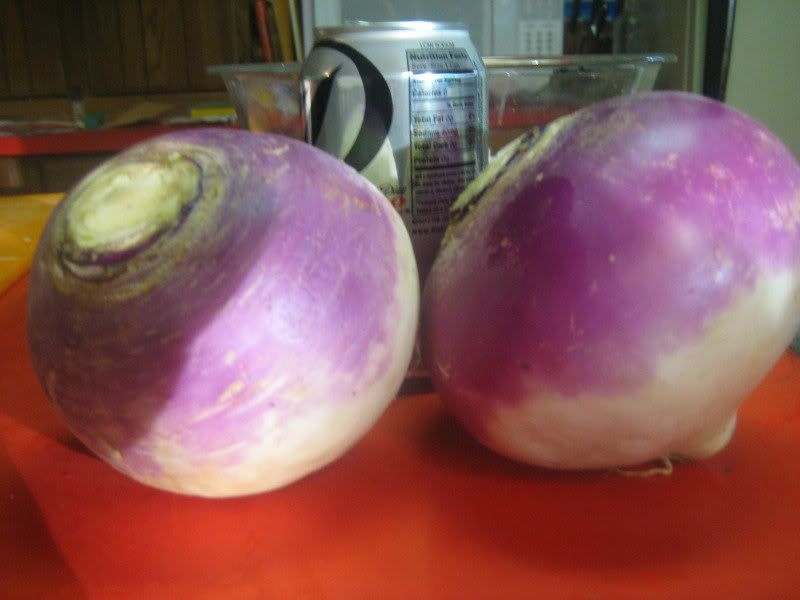 Well, I sure wasn't going to use them as cattle fodder if they were perfectly good otherwise, so I peeled and cooked one of each. I don't know how they did it, but the turnips were sweet and tender, not strong at all. The rutabaga was even better than the turnip and the parsnips had clearly been treated to some cold weather because they were also sweet and good.
I promptly cut up a few of each and oven roasted them to go with a nice ribeye steak for supper:
I cubed and blanched a bunch of the turnips and put them in the freezer, the rutabaga will go there another night.
Dang, I love it when I get a good deal, but I forgot to buy potatotes...
Annie