Pot Lights Not Centered
I cross posted this in the Building forum and March building thread. And would really like your opinions on what we should do.
Today our house was supposed to be finished, but our possession is not till the 24th of next month. Which is a very good thing as there are so many things left to do and the mistakes continue. Shakes head, it's getting to the point of being ridiculous.
This weeks first issue is the pot lights in kitchen are not centered above the island and in front of the stove. When the kitchen had to be reworked due to a mess up we lost 12sq ft of kitchen space and cabinets had to be moved over. The electricians were supposed to move the lights for new kitchen configuration and didn't. Our non-existent site sup never bothered to make sure they were moved before drywall. We never noticed as we've been so busy with all the other mistakes and it was not noticeable until the island and cabinets were in place.
When I called the owner of our building company he said it was our fault for not mentioning it before drywall, we were told it had been moved and I told the builder it was not our job to constantly find or prevent their mistakes or make sure things are done right, it was his. Now we are at the position to fix this, the ceilings would have to be scraped, lights moved and ceiling retextured at this late stage and worry the ceilings won't look worse. Or leave the lights alone off centered. Grrrrr
We've had our ceilings scraped and redone before in other builds and the outcome has not been good. You could see the drywall seams, uneven stipple.... I'm really scared to take that chance again. Are the lights off centre enough to risk a bad scraping and retexture job? I'm so scared it might be worse? What would you do? Thank you so very much for any help or comments.
Just want to add: We were supposed to have an electrical walk through before drywall went up. The builder never arranged it and we have had a couple of issue because of it.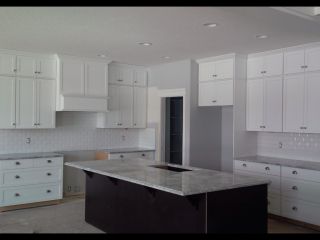 Not so bad at this angle. ;)