Ann T, I made Julia Child's scrapple recipe!
Ann posted this recipe a while ago, but since I always make scrapple from a Thanksgiving turkey, I didn't try until this week. I think adding the eggs and baking the scrapple makes a big difference. It was much firmer than the all cornmeal version I usually make -- much easier to slice and flip over in the frying pan.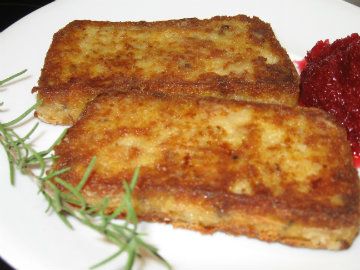 I doubled the recipe and did not add salt. But I seasoned heavily with thyme, rosemary, pepper, and poultry seasoning. And I used my homemade turkey stock and all the bits of meat left on the carcass. I cut the slices about 1/2 - 3/4 inch thick and dredged them in flour. All in all, I'm really pleased with the results and will continue to add the eggs & baking step. So, thanks, Ann, for the recipe.
Here is a link that might be useful: Julia Child Scrapple Post