swee' pea's recovery
pea had her acl surgery last friday. when the vet got in there, he discovered the ligament was 90% torn. x-rays showed a bit of arthritis in her knee, no big surprise there since she is a 7 year old great dane.
her recovery has been nothing short of remarkable!! saturday was a rough day but by sunday, she was beginning to navigate pretty well considering her entire leg from thigh to toe is in a bulky fiberglass cast.
she is still taking pain meds but i removed the fentanyl patch yesterday as it had run its course. she is now able to get up and down on her own without my help.
i've had to use a lot of cookies and a lot of coaxing to get her outside to do her business. yesterday afternoon, i decided to leave her to her own devices and see what she would do if her brother, bentley, and i went out to feed the piggies and left her behind. i propped the back door open. about 25 minutes later when i turned to walk back to the house, pea was down at the end of the ramp. she had gotten up, out of the house and down the ramp all on her own! she finally pooped and then wandered around for a bit till she found the perfect spot to pee.
all in all, she has been a real trooper and hasn't missed a beat! she's eating well and last night even grabbed a stuffy out of their toy box and did a play bow.
she has the staples removed in a couple of weeks and the cast will be reapplied. she'll wear it for another 4 weeks or so and then she will slowly begin normal activity.
i am doing a big **happy dance**!!!!!

she can still do the "dane sit"! LOL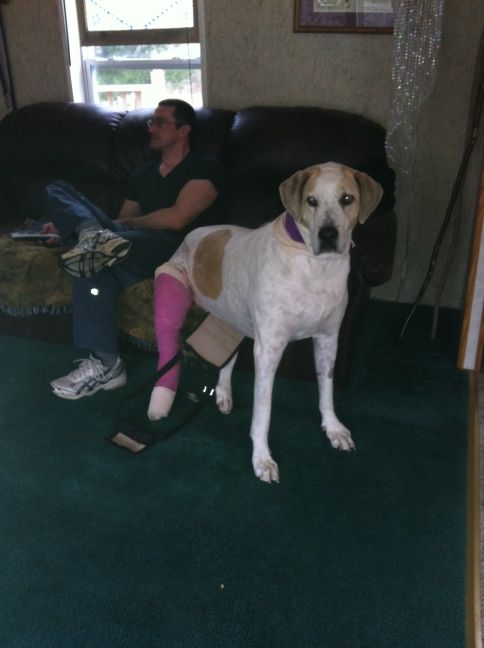 This post was edited by ninapearl on Tue, Apr 16, 13 at 8:07