Terrazo-type counter too busy with backsplash?
wi-sailorgirl
February 4, 2013
I'm hoping I can get a few early opinions on some countertop options. Specifically I'm wondering if you think if a terrazo-type quartz countertop (with larger "particulates," as the countertop guys like to call them) is too busy with a 1x1 backsplash.
This photo, unfortunately, does not show color very accurately because I just quickly snapped a picture when I got home tonight. I will get a better one in daylight (and I'm looking forward to seeing the various samples in "real" light). I set the samples upright so you can see them a little better but I'll make sure to check them out in the right orientation.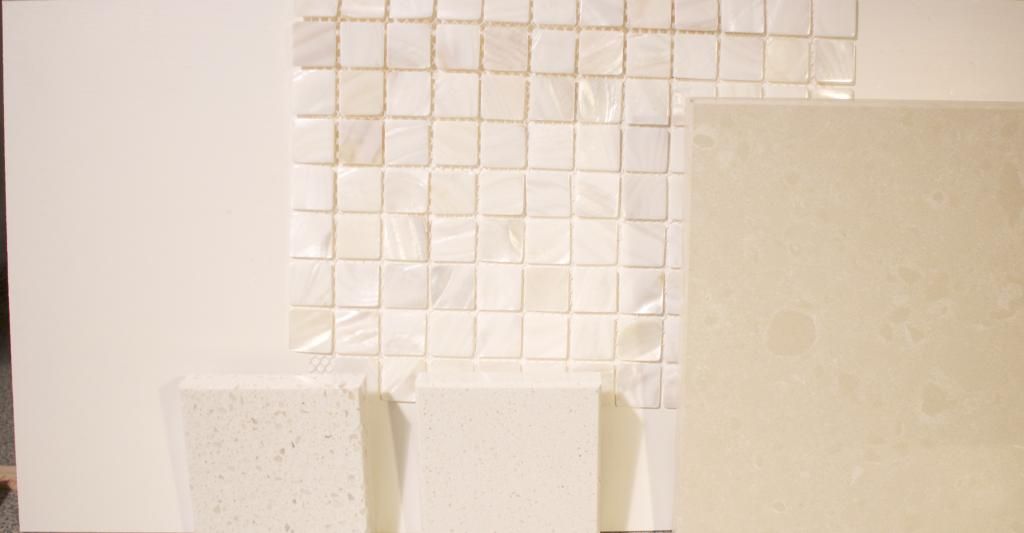 What you're looking at is a background of the cabinet color (BM Cloud White), the mother of pearl mosiac backsplash (where this whole journey started) and a few quartz countertop samples. Hard to judge much yet but the large Caesarstone sample on the right (Buttermilk) is looking too yellow in some light, but I love the visual texture of that line of Caesarstone.
The colors of the sample to the far left (super close to Caesarstone Nougat, but a different brand) look to be perfect (almost as though you took the backsplash and crushed it up), but I wonder if there might be too much going on with the terrazo-type counter with a small scale backsplash. I thought I didn't like countertops with "chunks" in them, but now I'm thinking maybe I do. Most of the pictures I can find with similar countertops read as a solid vs. a texture, but photos can be deceiving.
The middle sample, by the way, is basically the same colors as the one to the left but with smaller particles, and it's feel boring and borderline too contemporary for me ... I think.
Here is a photo of a kitchen that uses the exact backsplash we will use and I would intend to do a grout treatment that matches what they did as closely as possible.
Anyway, enough mumbling. Thoughts on the busy-ness factor very appreciated. Thanks!