Where to position faucet and soap dispenser
I have free rein to position these 2 items for countertop-mount - the faucet only needs a single hole and the soap dispenser will be on the right off to the side somewhere (since it will also be my air gap hole).
The sink is unfortunately off center to the kitchen window (to the left about one foot) and I can't reposition it without ripping out and replacing cabinets and messing with the plumbing a lot. So, with the sink to the left of center of the window, should I consider an off center position for the faucet? Or would that just be awkward to use?
The soap dispenser needs to be on the right because it will be my air gap hole, and all the air gap plumbing is on the right. However, how far to the right - between the wall and the sink, at the corner angled in?
The countertop will be poured concrete I am putting it in tomorrow so I need to position the faucet knockouts first... I should also mention that there will be very little drillable space between the sink and the wall, because of the bracing for the countertop, but there should be just enough for the faucet to fit with about 1" between it and the opening of the sink. The drain for this sink is towards the back as you can see, and the faucet will project out past the drain. Normally I see the faucet aligned over the drain, is there a potential problem with it not being aligned?
This is the Faucet - Delta Leland.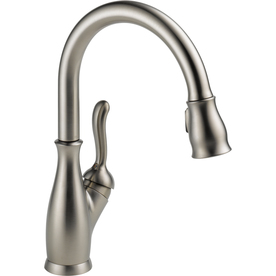 ANd the matching soap dispenser
This is the sink - Ikea Domsjo the inset not the apron sink, but it will be effectively undermounted (sandwiched between the plywood substrate and concrete over top)