Arranging difficult room(s)
I need help with possible ways to arrange furniture in my difficult living area, and how to possibly remodel it.
I have a fifties tri-level with a ... unique floorplan that involves an angled wall between kitchen and living area that has an opening/pass-though. It's original to the house (amusingly, I found the plan online: http://www.midcenturyhomestyle.com/plans/national-plan/1955/55nps-e605.htm - it's unmistakably my house). There's also a fireplace (NOT on the original plan) that limits furniture placement.
Right now, the only possible place for a couch seems to be under the window - the side wall would make it block the fireplace, the other side wall is too short, and having the back to the kitchen pass-though in the angled wall just seems like it wouldn't work.
With that in mind, when we start renovating, do you think it's a good idea to wall off the fireplace? We never use it. And we'd like to make that whole wall built-in bookcases (believe me, I can fill them - there are already 3 bookcases on that wall, completely packed. Plus one under the pass-though). And the angled wall has got to go. Any other suggestions are welcome - we were thinking some kind of island to replace the wall.
Does anyone have any suggestions for room arrangement, with and without the fireplace (and angled wall)? This is our first house, and most of our apartment furniture is probably due for replacement or upgrading, so I'm open to purchasing about anything.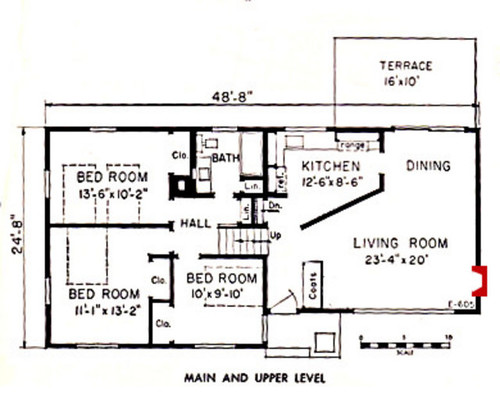 Here is a link that might be useful: Original house plan from National Plan Service