2LittleFishies Yellow Kitchen Reveal- Part DEUX!!!
2LittleFishies
February 10, 2013
***THIS IS PART 2 OF MY REVEAL THREAD IN CASE THERE ARE OTHER QUESTIONS AND IT HAS ONLY BEEN A COUPLE OF DAYS SINCE THE REVEAL... Also, I can add pics of the banquette when it is done : )
HERE IS PART 1 if you want to read other comments/questions answered:
http://ths.gardenweb.com/forums/load/kitchbath/msg0209074917427.html?19038
OK, here is my finished yellow kitchen thread! Can't believe it is here!
I can't thank ALL of you enough (or at least those who shared in my vision!) for all the help. Like most of us I really spent so much time on every decision. I joke that nothing happened by accident.
There are so many of you that contributed your thoughts and ideas but I want to especially thank lavender_lass and marcolo for all of their wise words and helping me find and stay true to my vision.
I found the hardest part of renovating is not going off track every time you have to make a decision and not letting others sway you to do things you really don't want to do!
What is NOT finished:
*Still waiting on banquette bench for between the 2 built-ins
*New Dining Table
*2 ends of the Backsplash Tile are not installed yet b/c they were sent back to manufacturer to get a bull-nosed edge.
*Custom light switch cover to match BS tile.
*Deciding on window treatments-whether or not to do them...
Specifics:
*GC- Merrick Construction, NJ
*Custom Cabinetry- Gilreath Cabinetry- PA
Perimeter is 36" finished, island is 34" high, baking area 33" high
*Wall Paint- Kitchen- BM Elephant Tusk OC-8
Dining Area/Living Room BM Woodlawn Blue HC-147
Living Room BM Putnam Ivory HC-39
*Countertops- Vermont Imperial Danby Marble 3cm (purchased from PMI in NJ); Black Walnut 2" Thick Island Top finished with Satin Waterlox (constructed by our Cabinet Maker)
*Island Size is 9 feet x 51 inches *We keep 5 stools at the island but 6 fit fine (2 at the end)
*Appliances-
Thermador CIT365GM 36" Induction Cooktop (mirrored finish)
Electrolux Icon Double Ovens- Professional Series E30EW85GPS6
Electrolux Icon French Door Fridge- Professional Series E23BC68JPS5
Bosch 800 Plus Dishwasher- SHV7ER53UC
Miele H4080BM Speed Oven
Marvel 60RDEBBO Fridge Drawers
*Floors- Red Oak finished with Minwax Provincial Stain and Vermeister Commercial Finish Poly. Matte
*Hardware-
Renovation Hardware Gilmore Cup Pulls in Chrome
Top Knobs Cabinet Latches in Chrome
Emtek Old Town Clear Knob in Chrome
Schaub & Company 6" Chrome Pulls and 12" pull for Dishwasher
*Lighting-
UCL & In Cabs- Seagull LED lights 3000K temp
Drum Pendants- Lamps Plus
5 light Chandelier- Visual Comfort- Michael S Smith Eiffel Chandelier in Polished Nickel
*Sinks-
Main- Kohler Whitehaven K-6489 36" Apron Front Cast Iron Sink
Prep- Kohler K-6584 Iron/Tones Cast Iron Sink
*Faucets-
Main- Moen Woodmere in Chrome S7208C
Prep- Moen Woodmere Prep Faucet in Chrome S6208C
Soap dispensers- Moen
Pot Filler- Moen Showhouse
*Insinkerator Evolution Essential Disposal
Insinkerator Instahot Faucet F-HC2215 Chrome
Insinkerator SST-FLTR
*Backsplash by Wizard Tile
Design is Ribbons & Feathers with Crackle Glaze in Custom Color
*Stools- Counter Height from Grandinroad
BEFORE: This project included pushing out the entire back of our 1950 Cape 7 feet. Also, removing about 5' of our living room wall which involved moving the basement steps over. Removing a wall between the dining room and kitchen, adding a covered porch. We also did all new siding and other exterior things but I'll stick to inside.
Kitchen was originally a galley measuring about 19' x 9 1/2'. Dining Room was about 8 1/2' wide. Now it's really one large room 28' x 16 1/2'. Kitchen side alone is 16' x 16 1/2'
Choosing reveal photos was worse than narrowing down pics for our Wedding Album! SO sorry in advance for the quantity! Hopefully you'll never have to ask me for more pics : )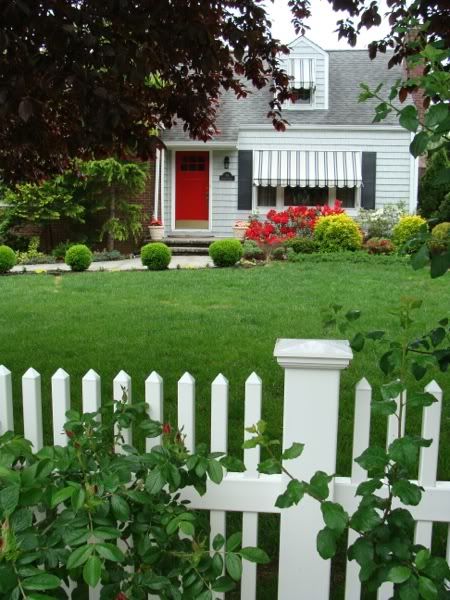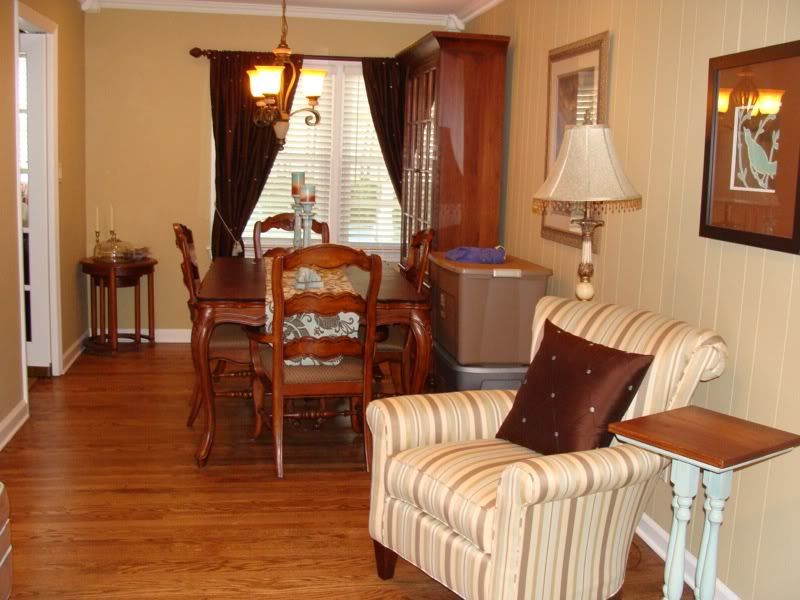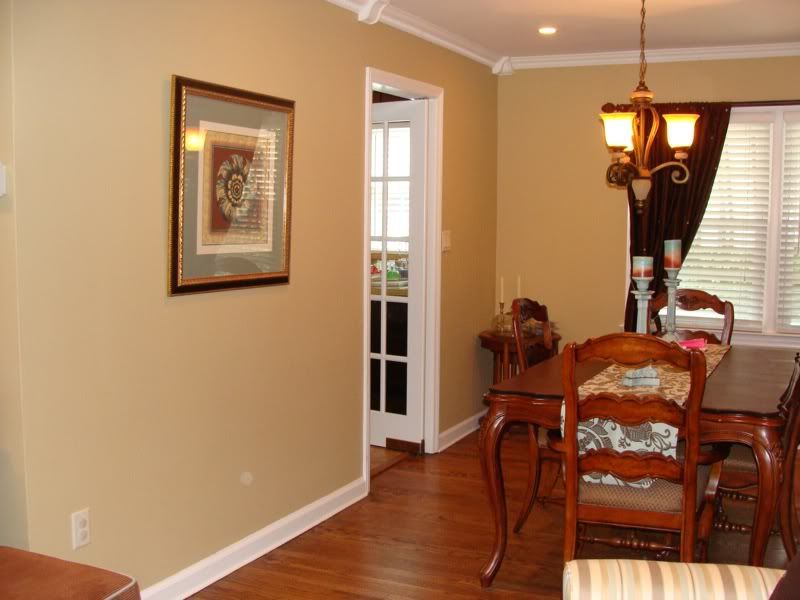 AFTER: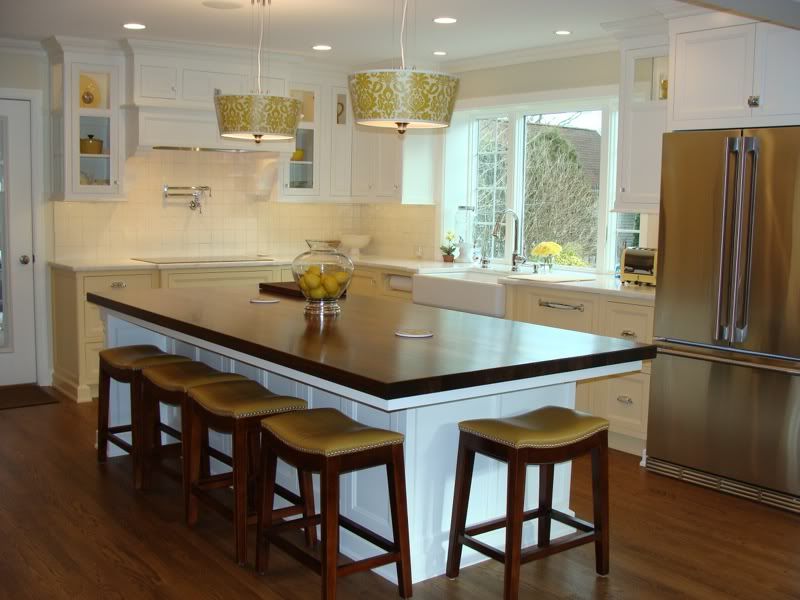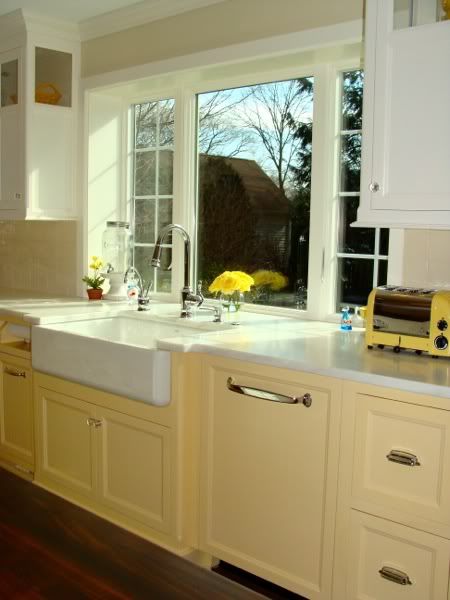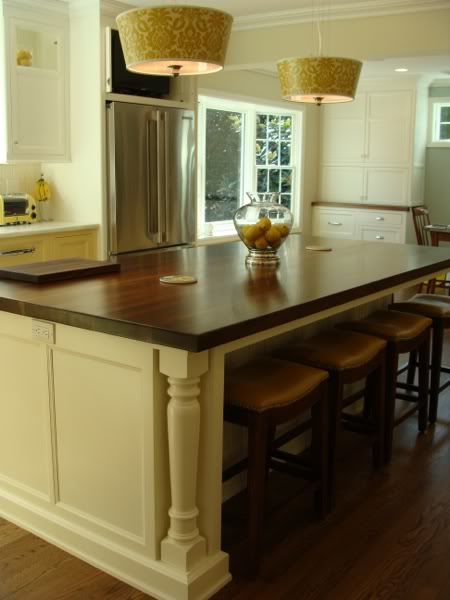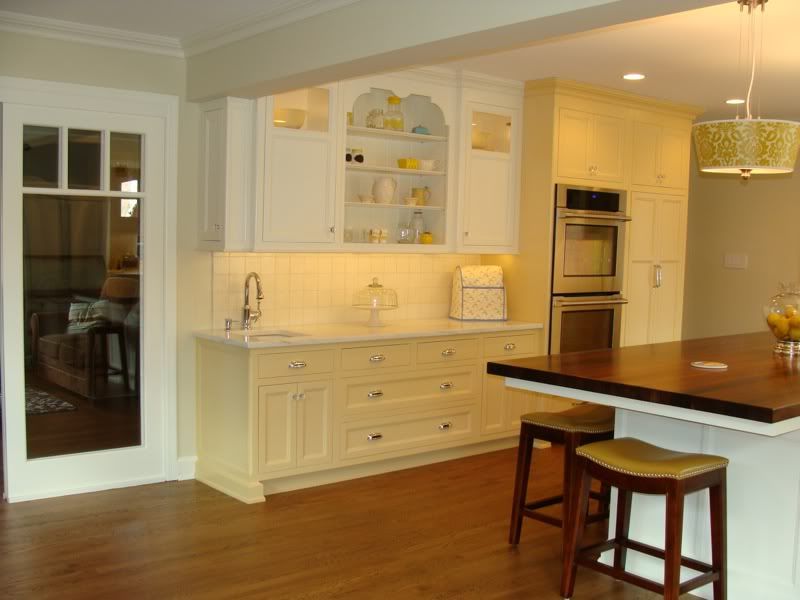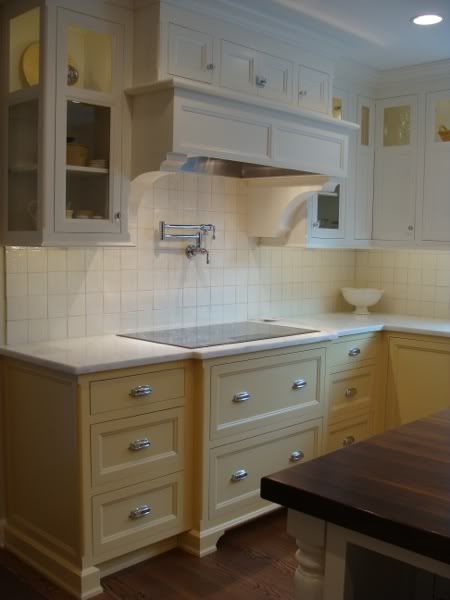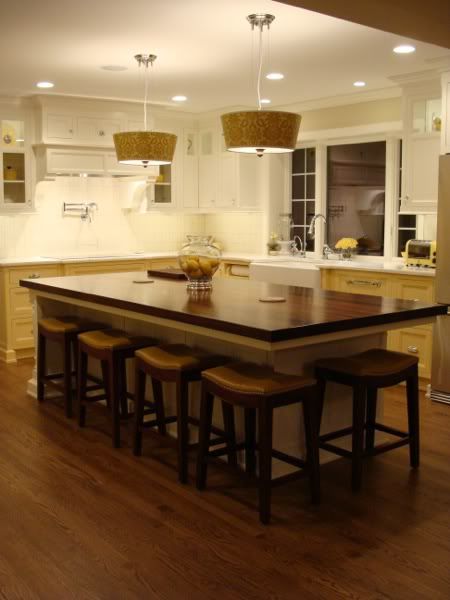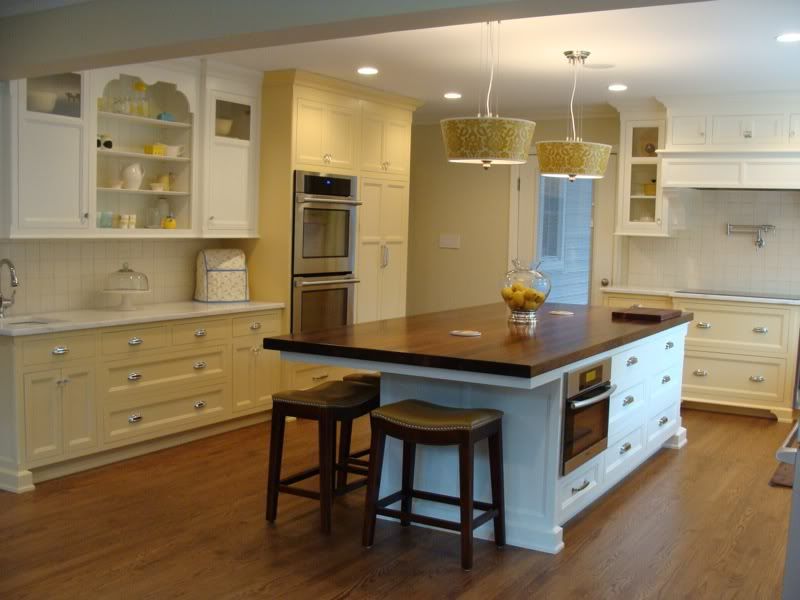 WITH FINISHED BANQUETTE
BAKING AREA SIDE OF KITCHEN: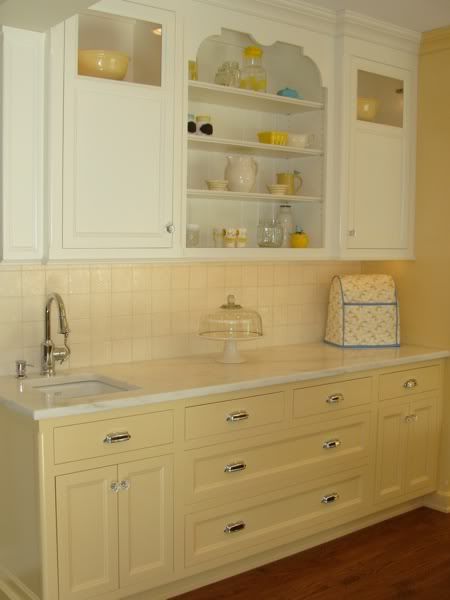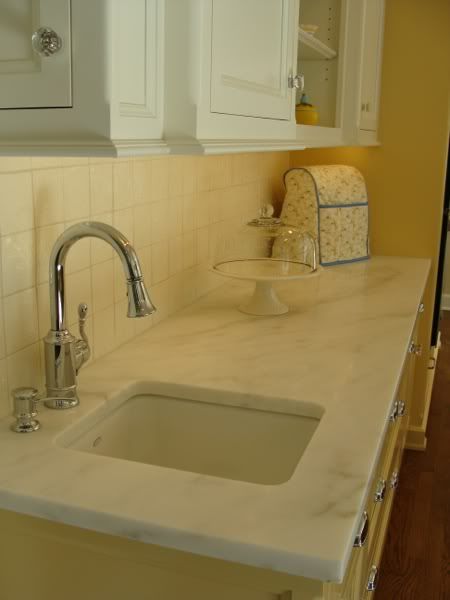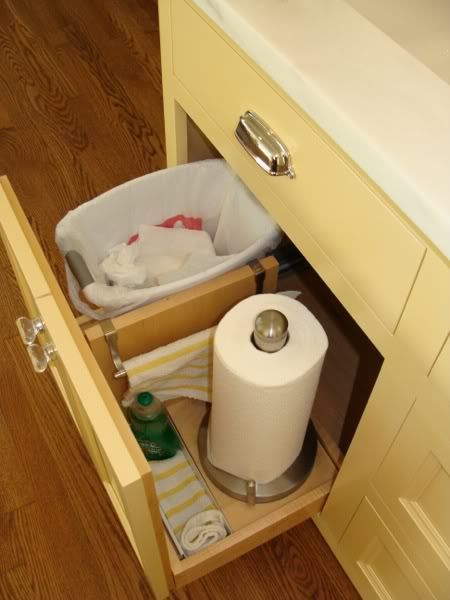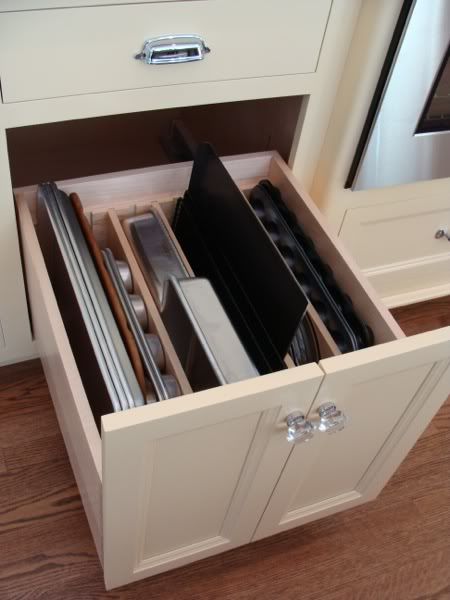 Most of my drawers like these are adjustable which I'd highly recommend. If they weren't I wouldn't have been able to remove partitions to fit taller pieces.
Key Cabinet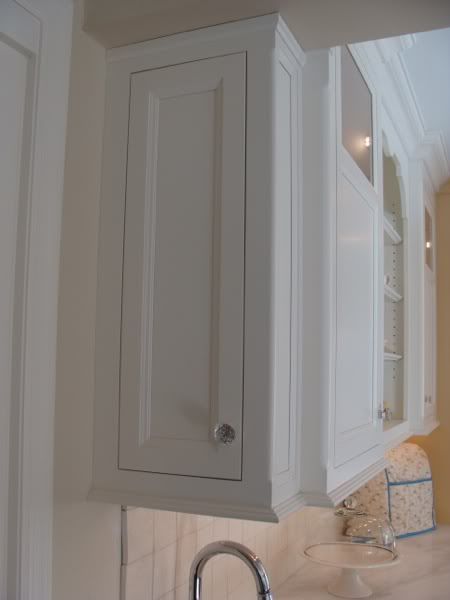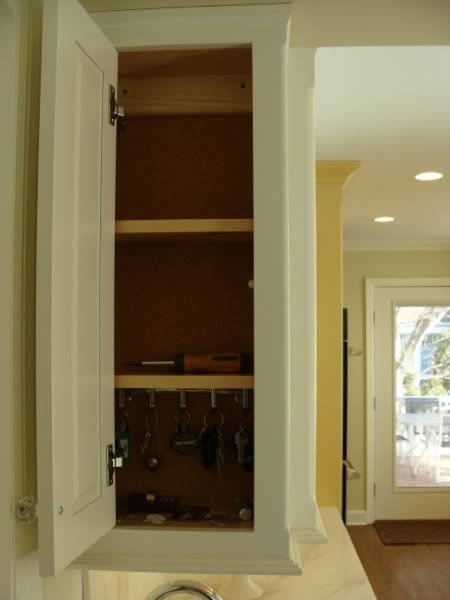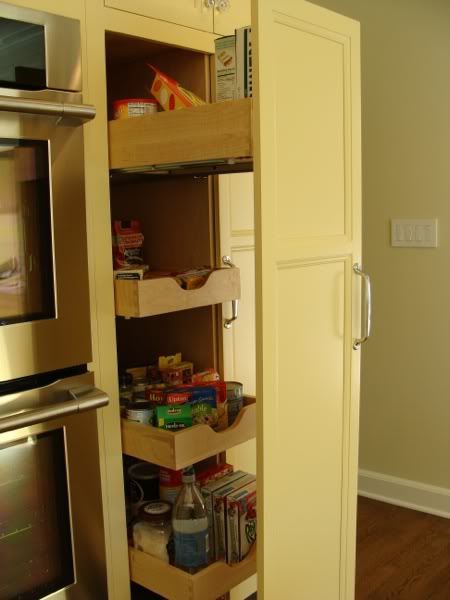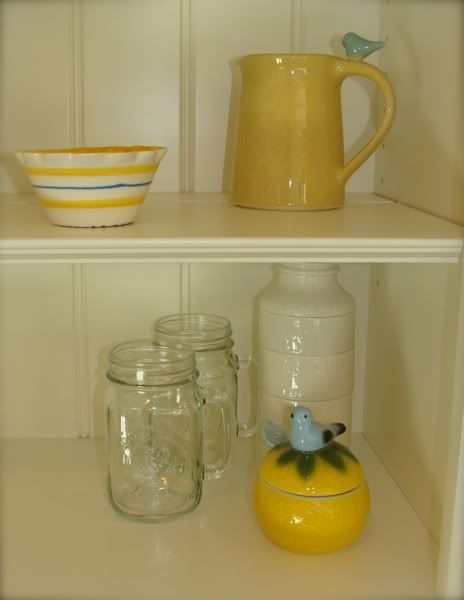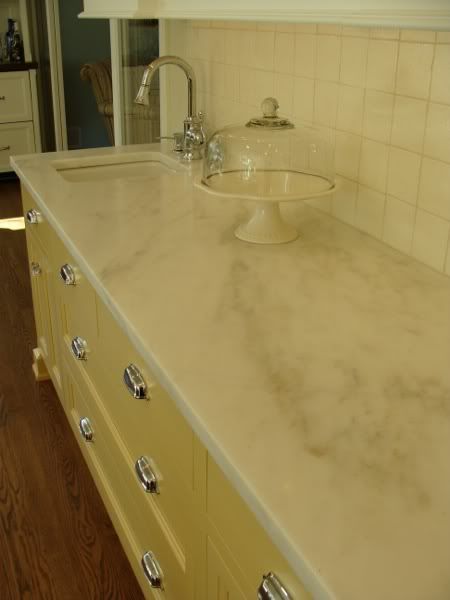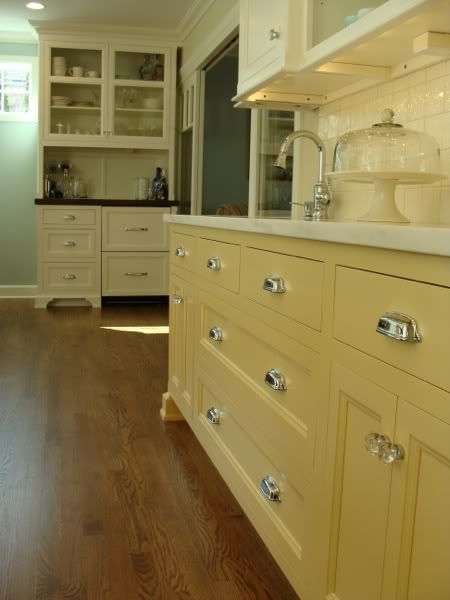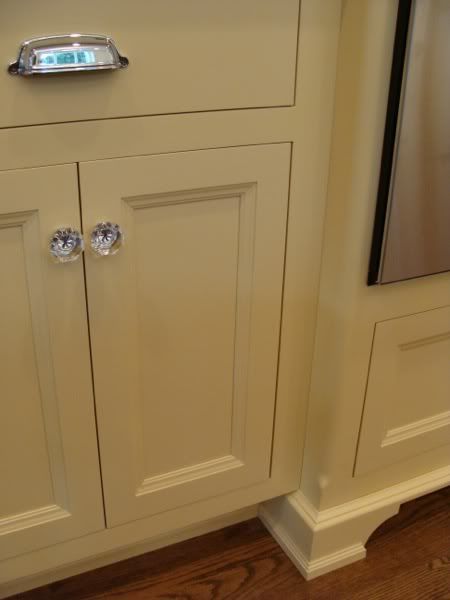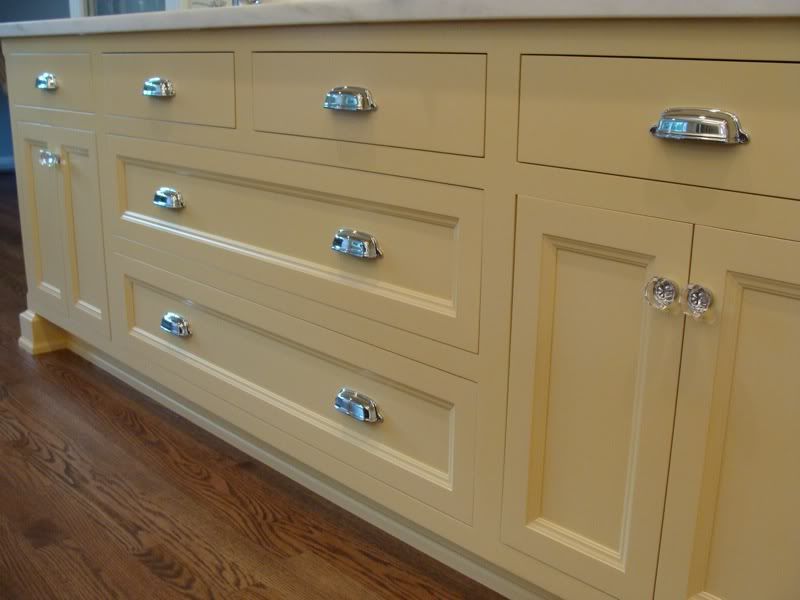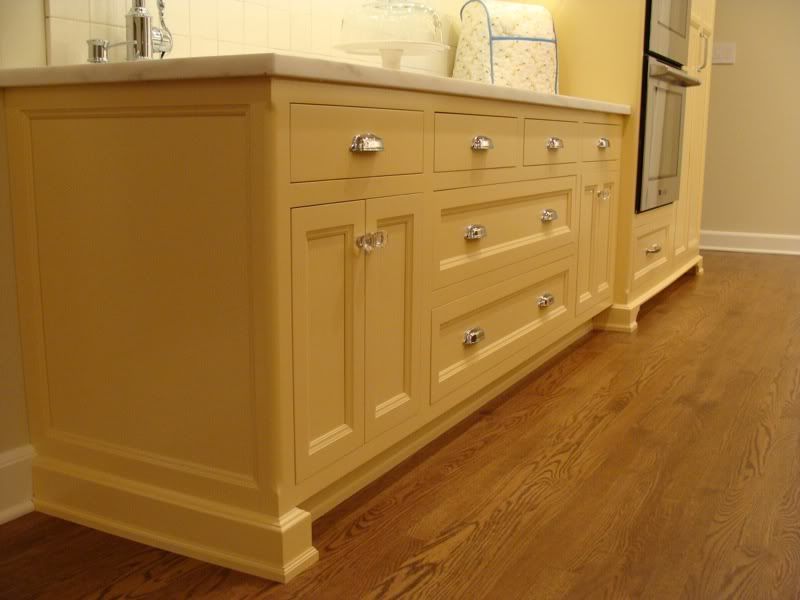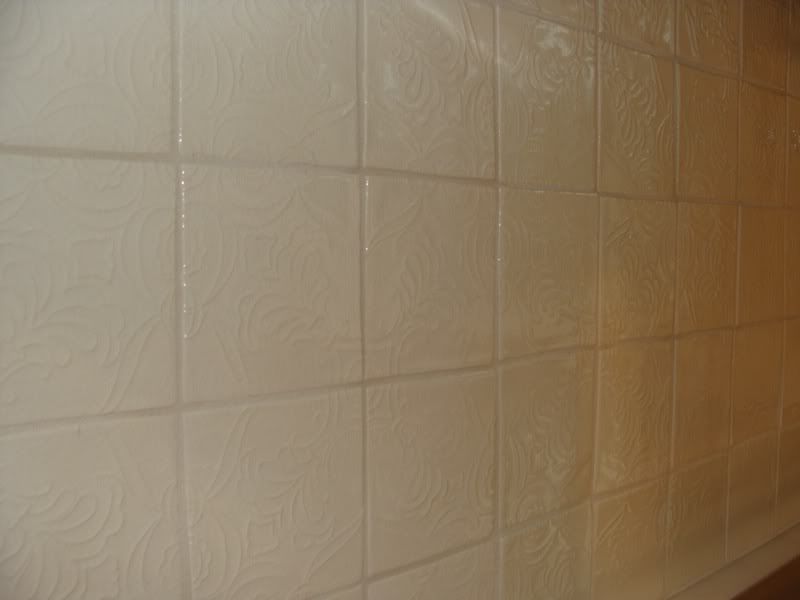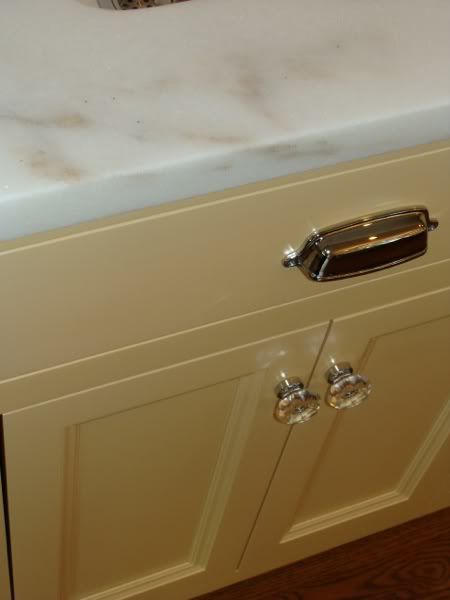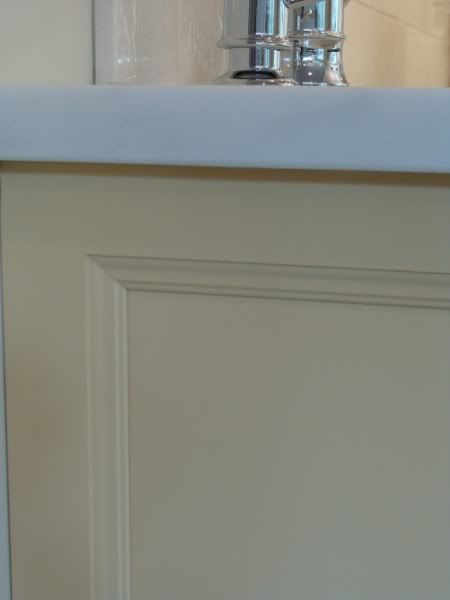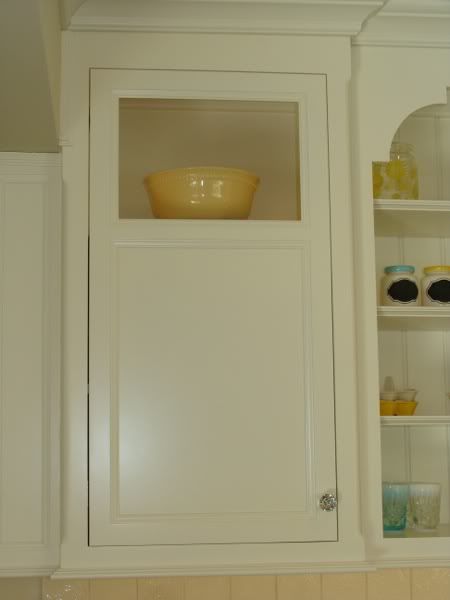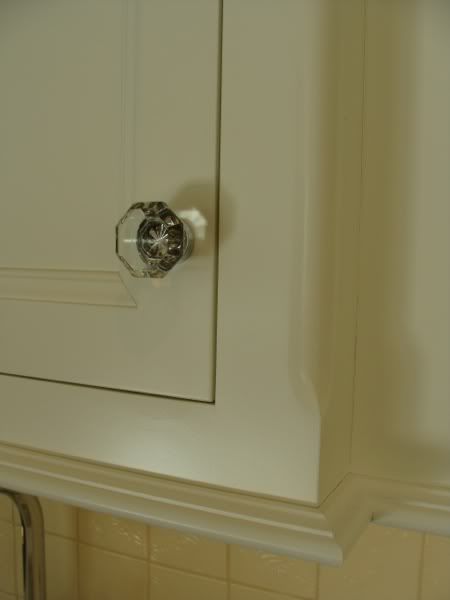 My KitchenAid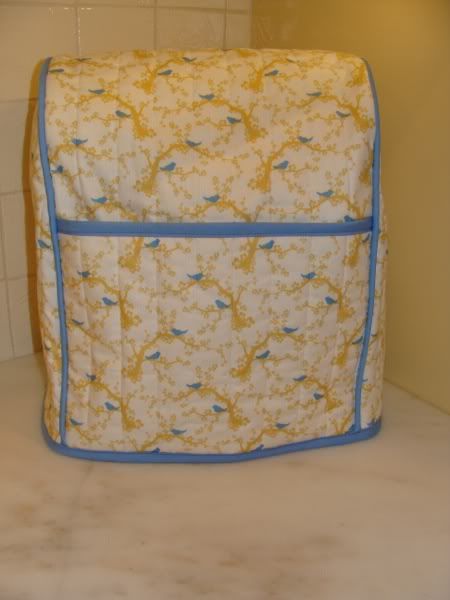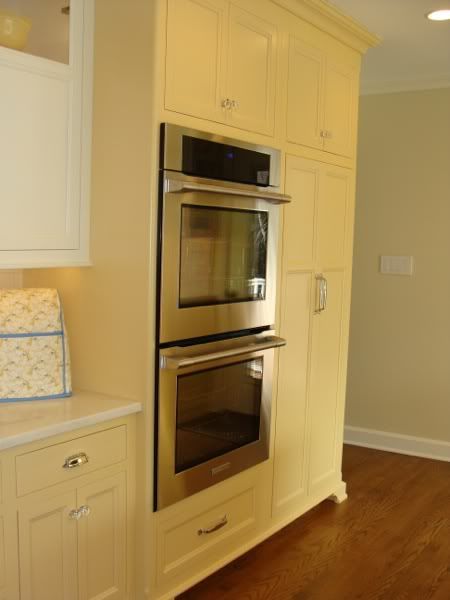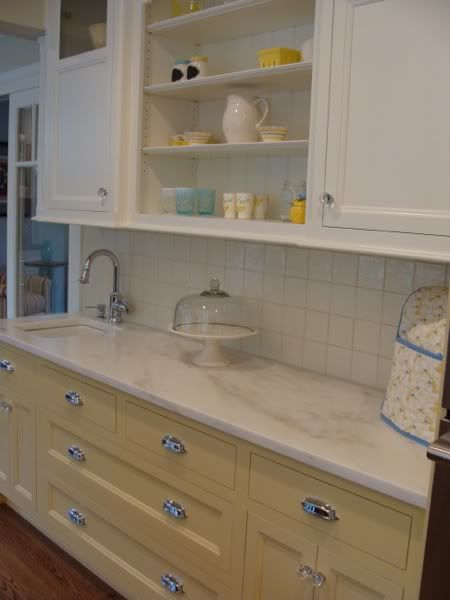 COOKTOP SIDE OF L: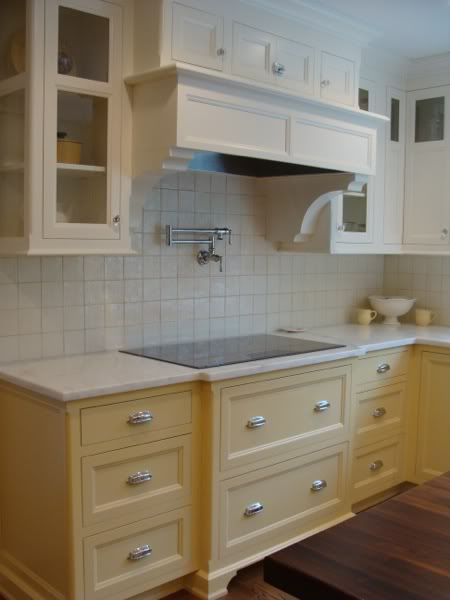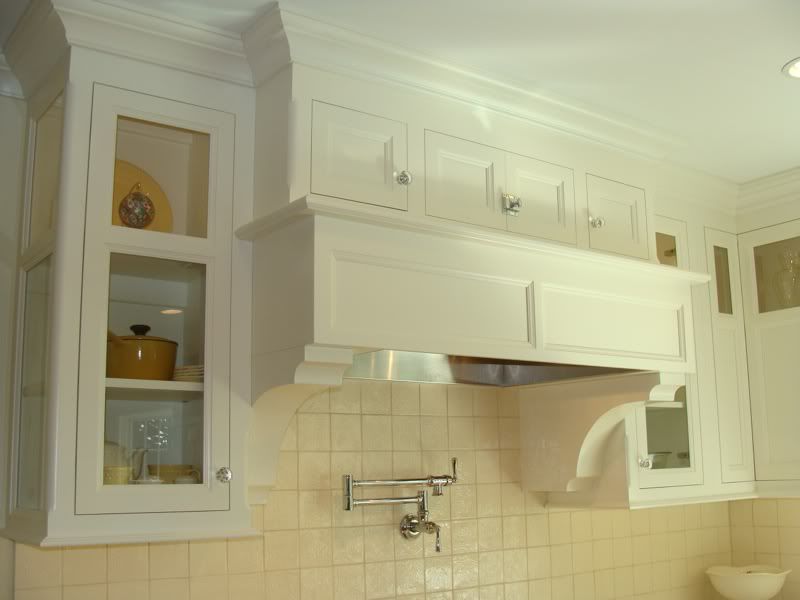 THERMADOR INDUCTION COOKTOP--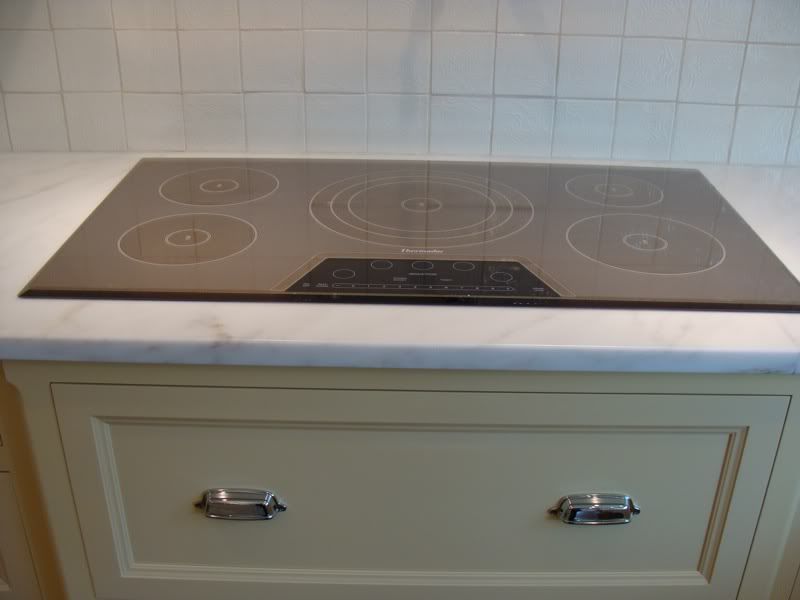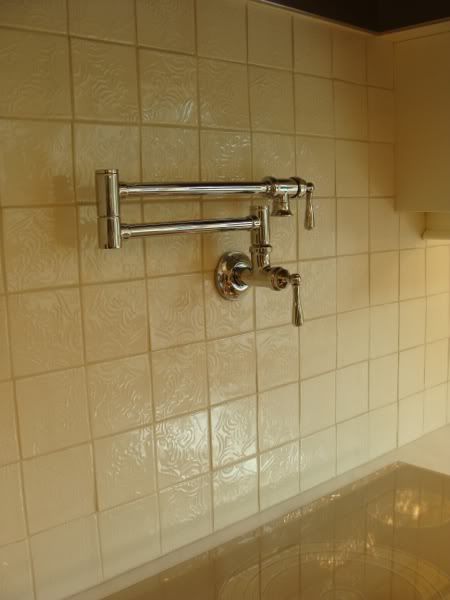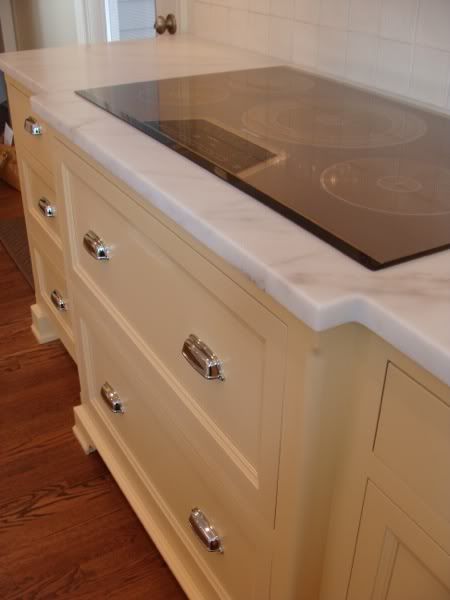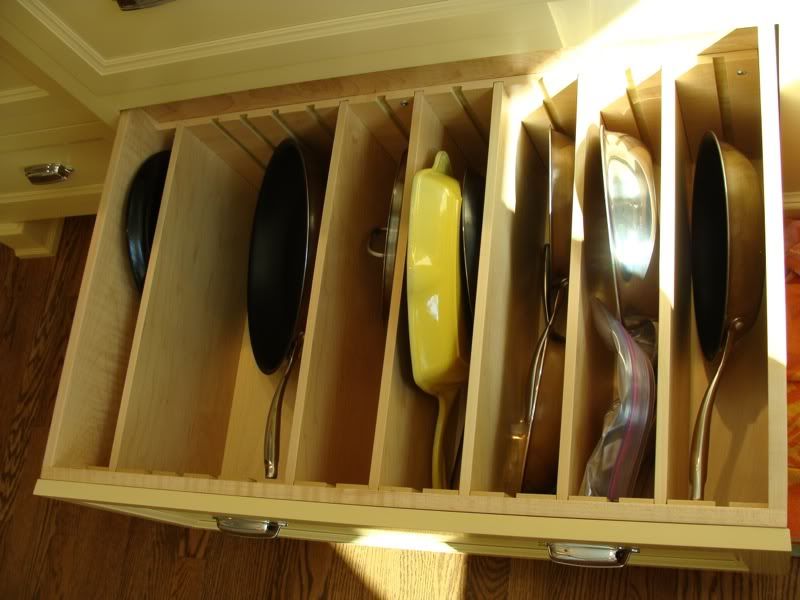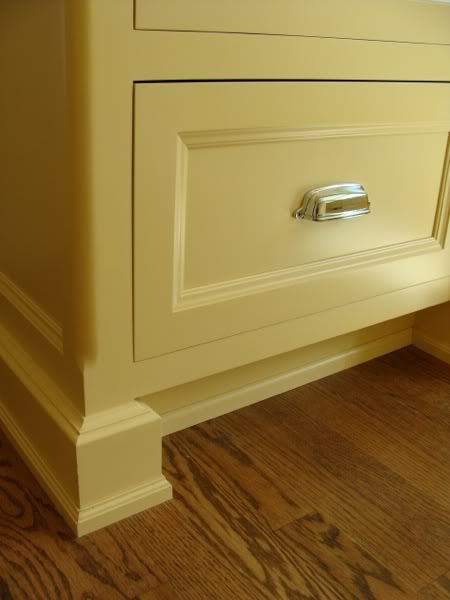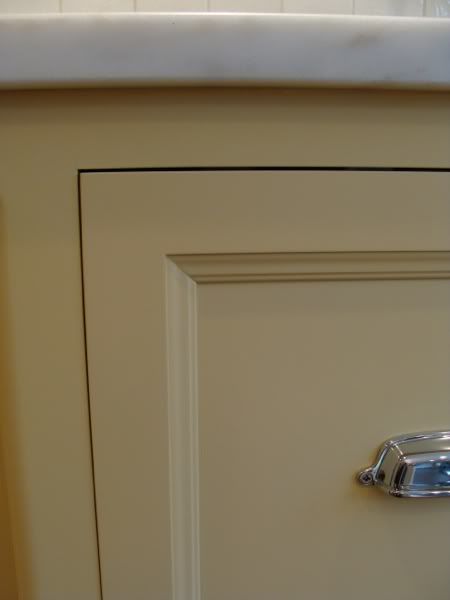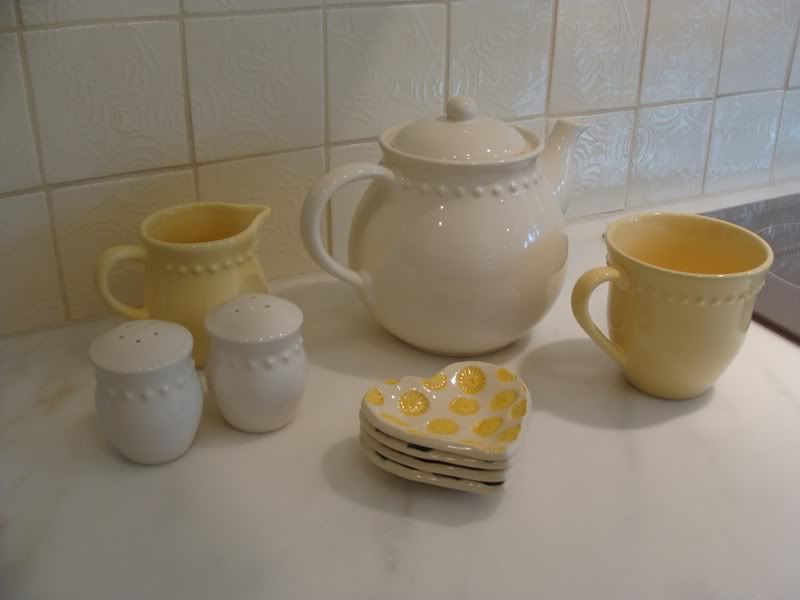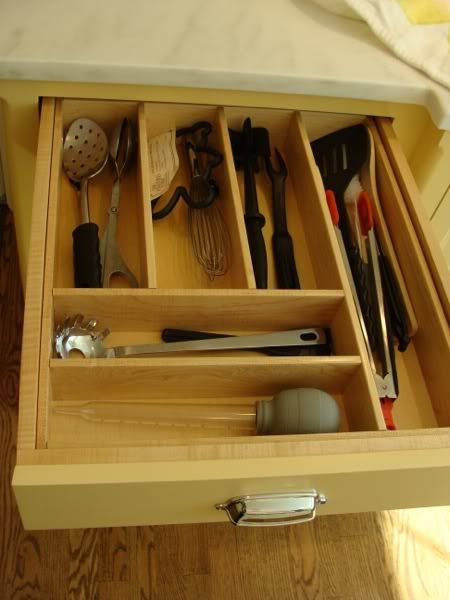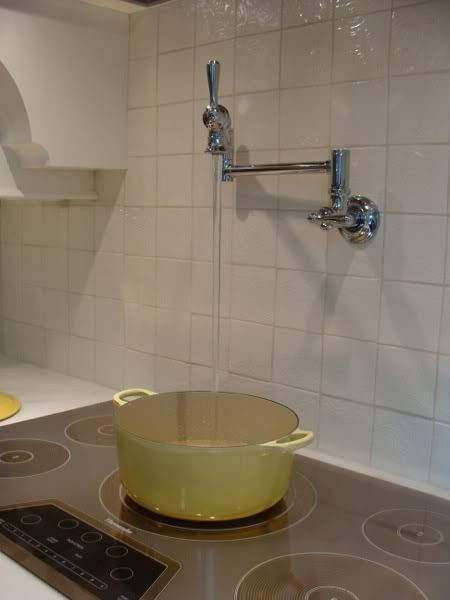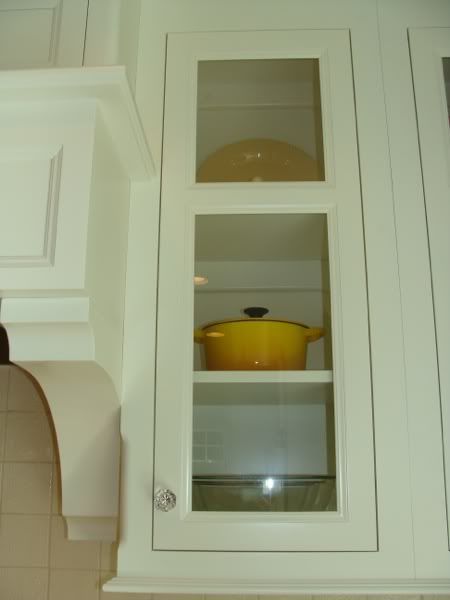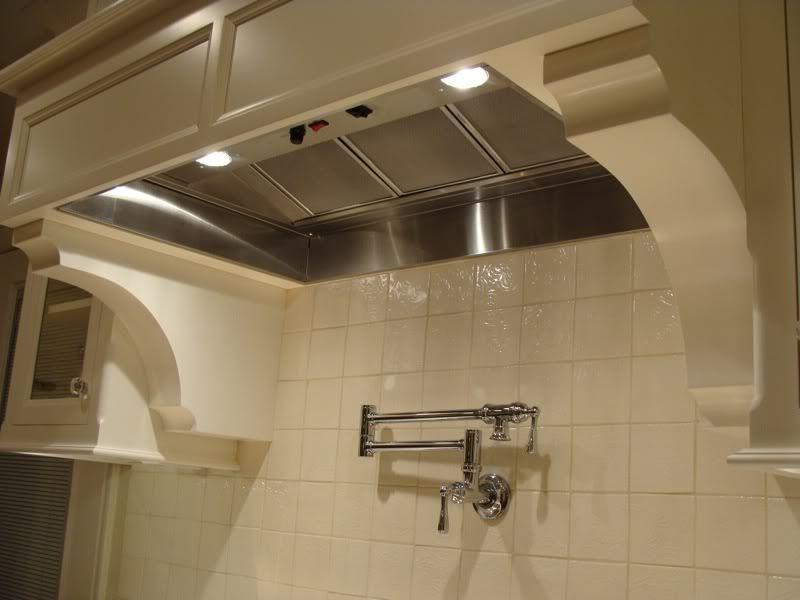 CORNER: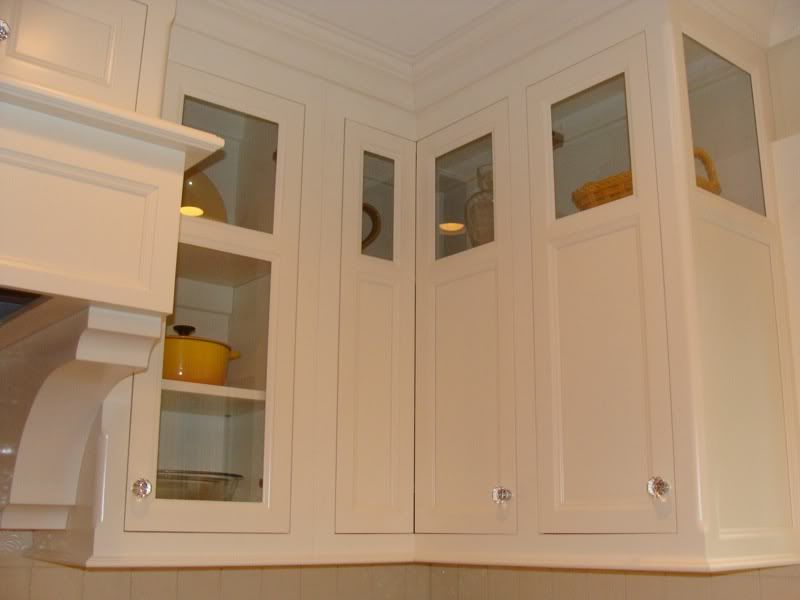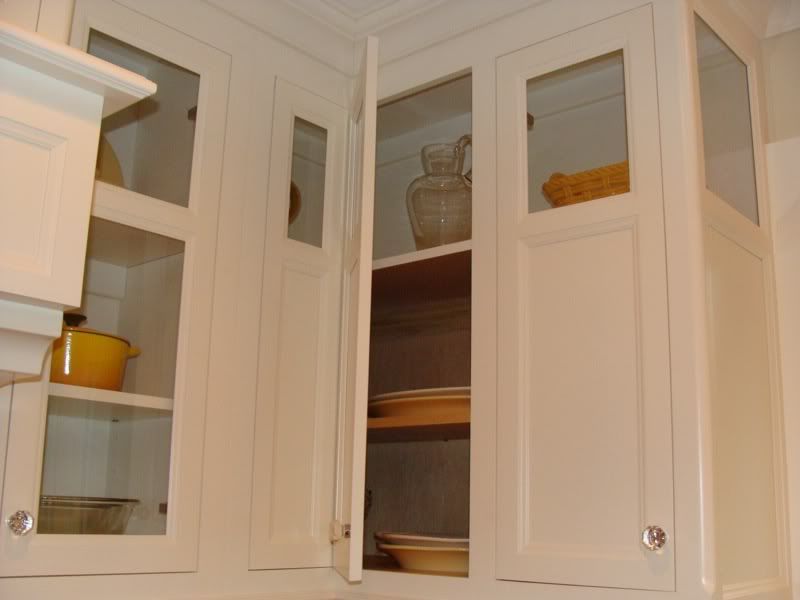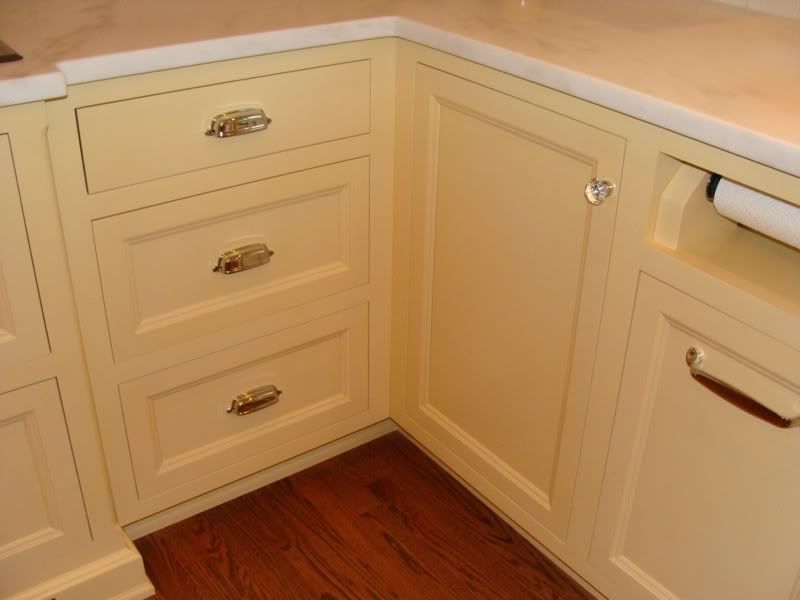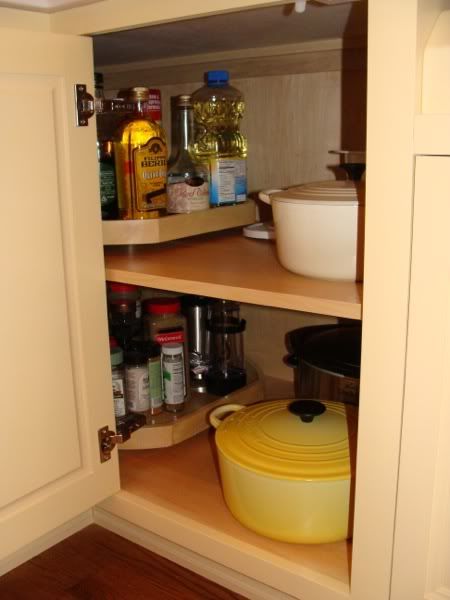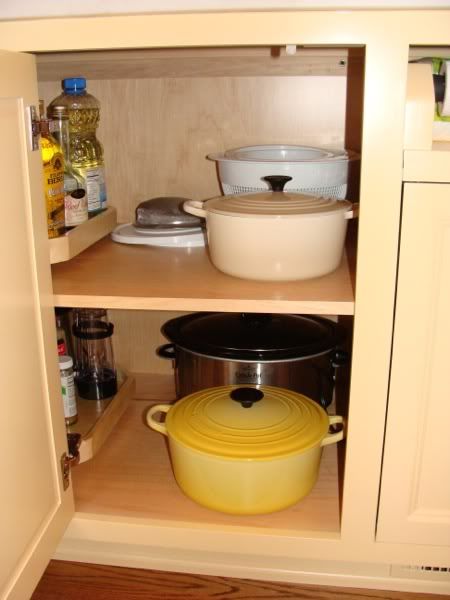 SINK WALL: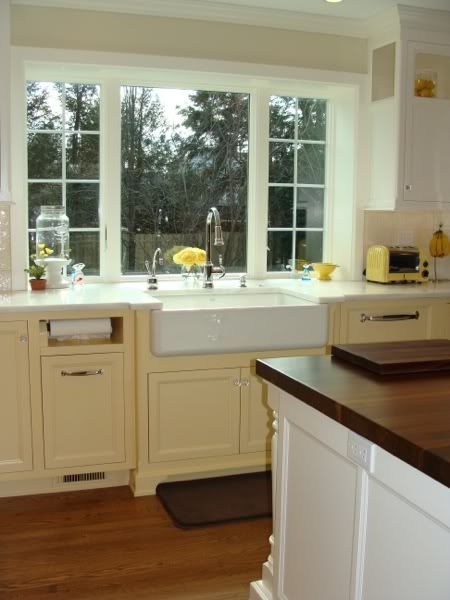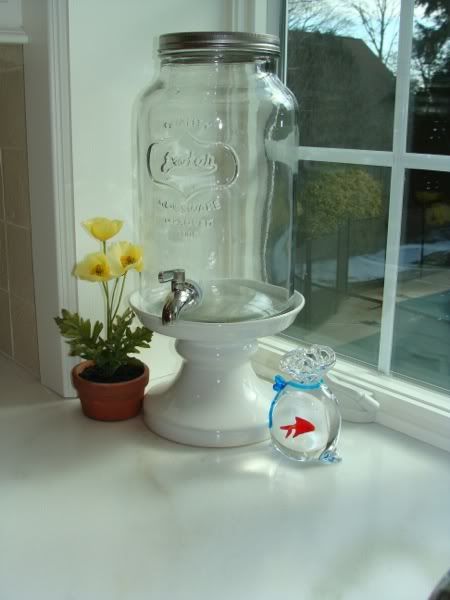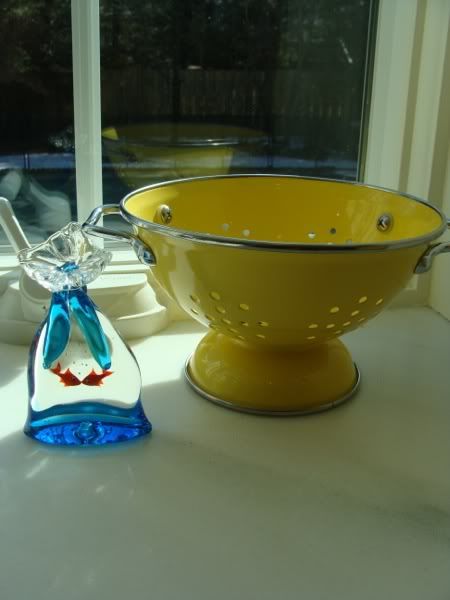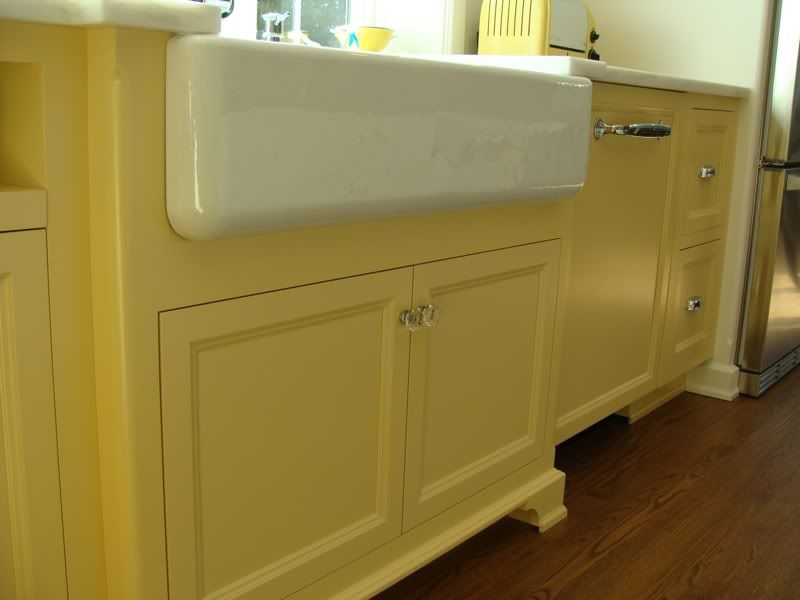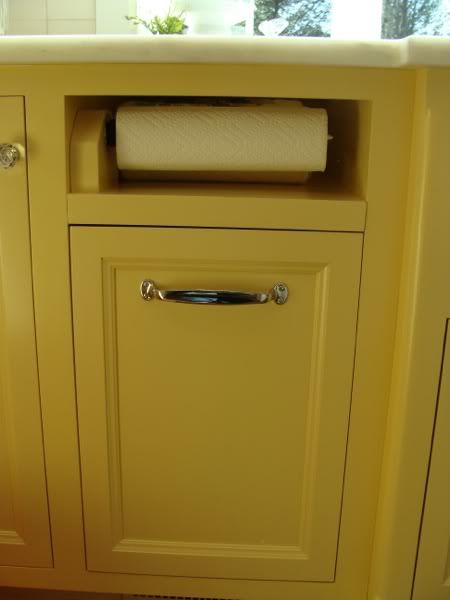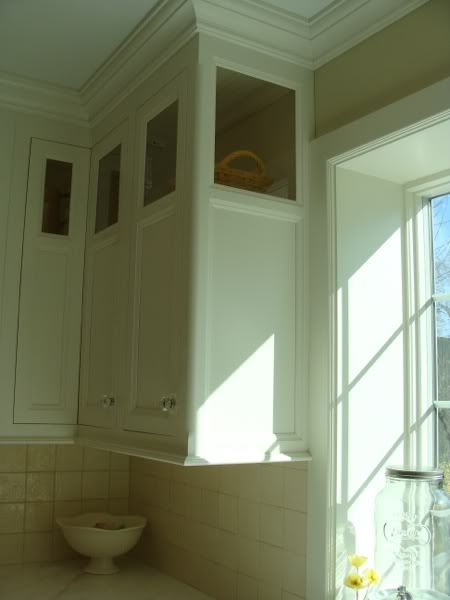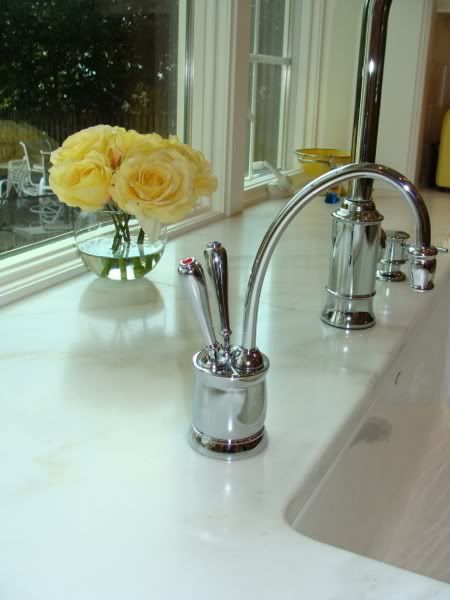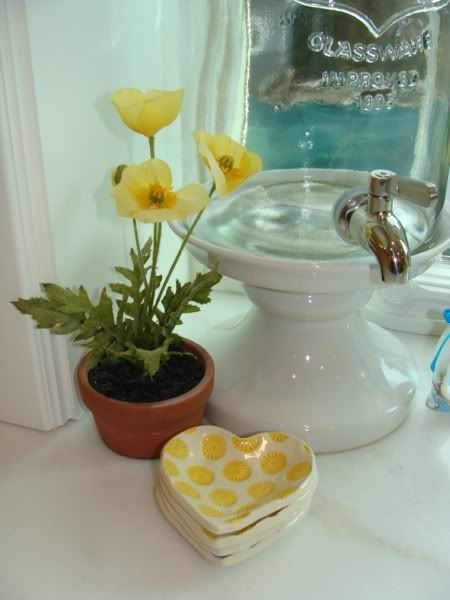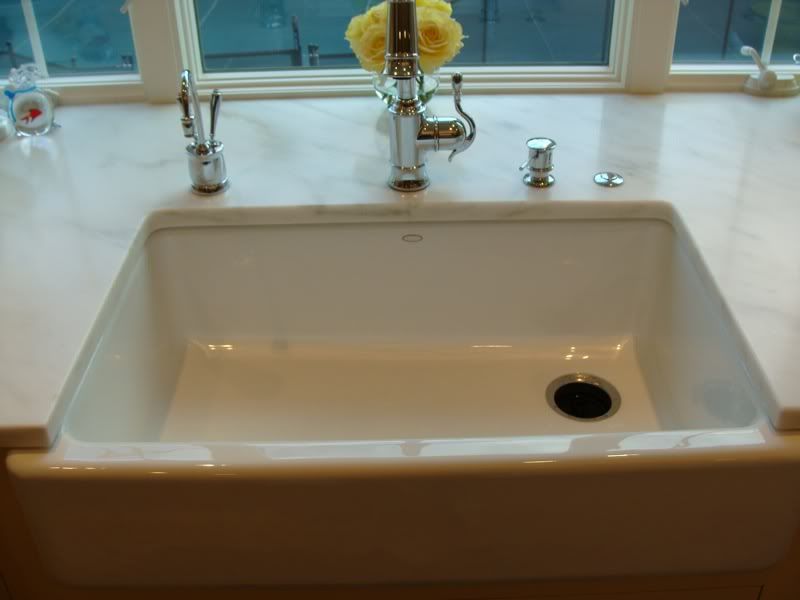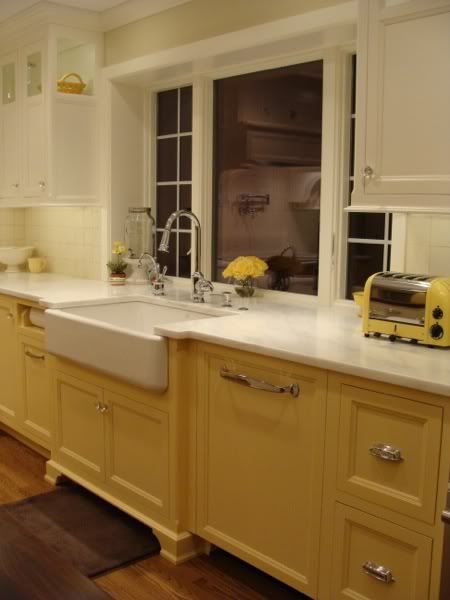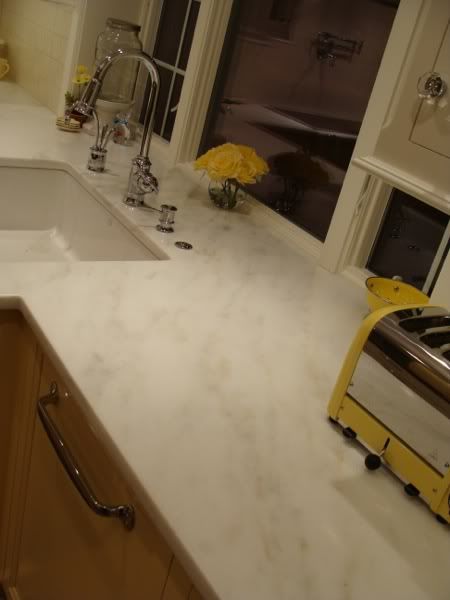 DISH DRAWERS & DISHWASHER: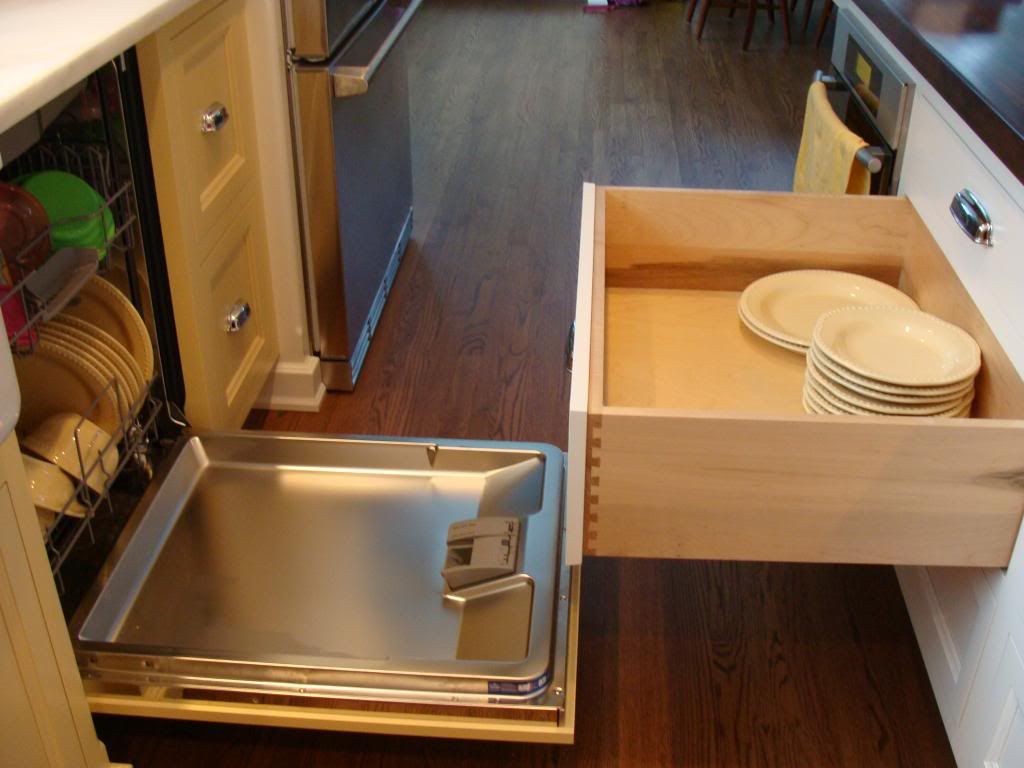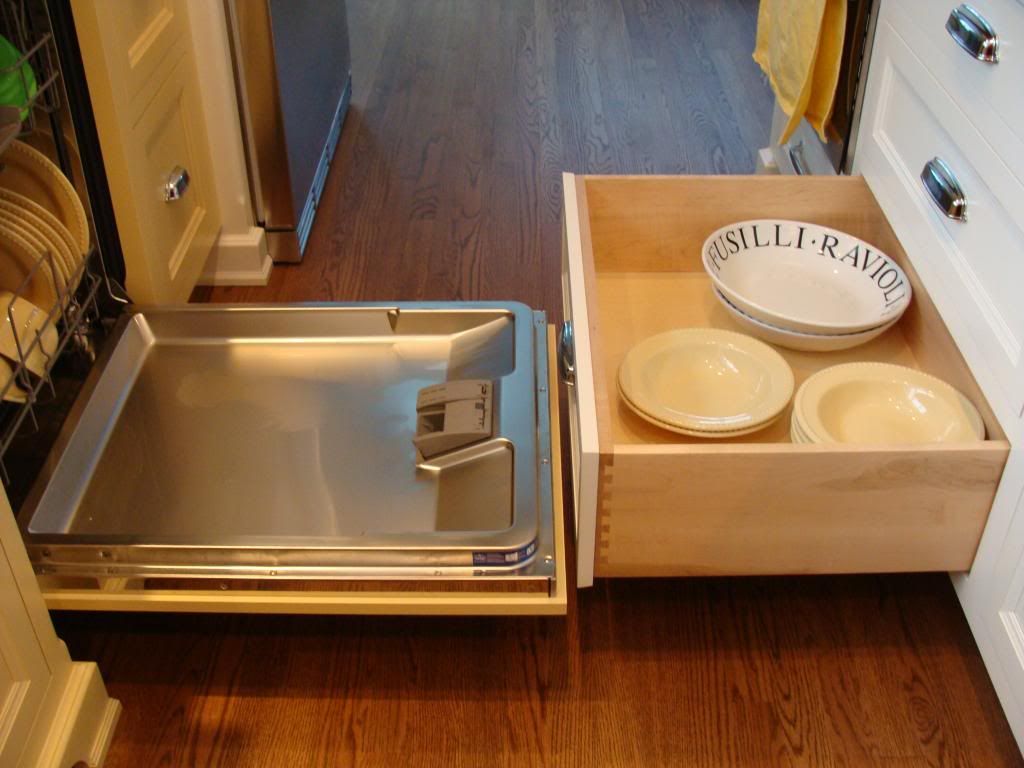 COUNTER HEIGHT WINDOW BUMP OUT: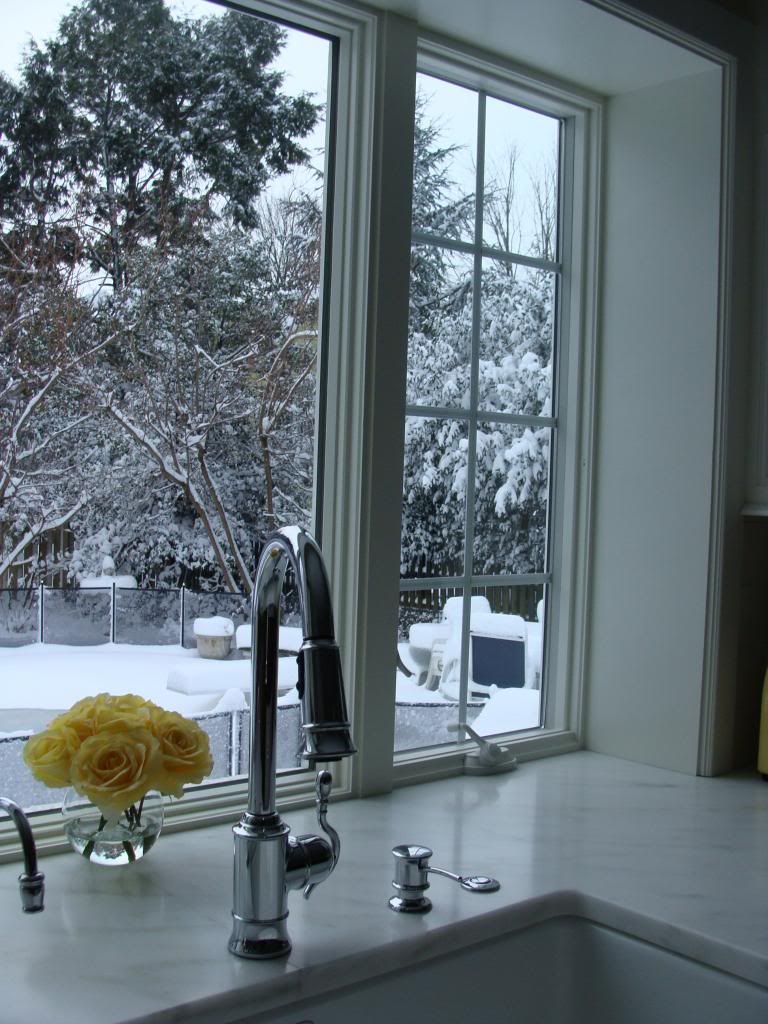 TV Pocket Doors Over Fridge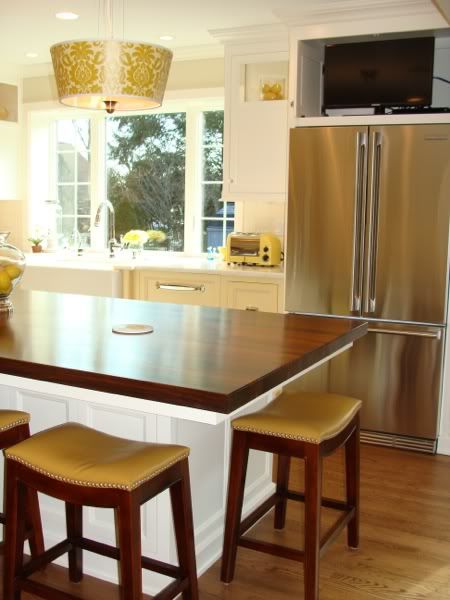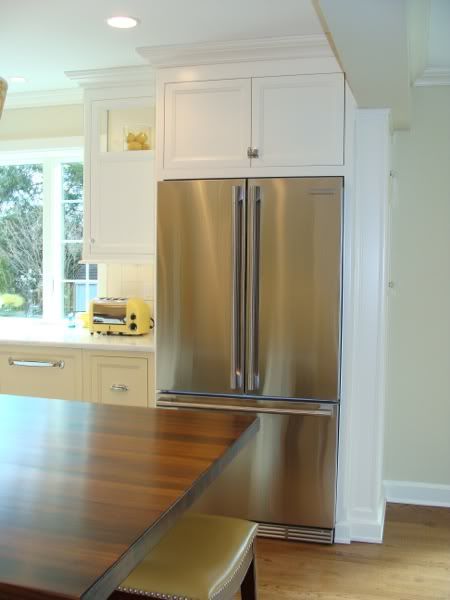 ISLAND: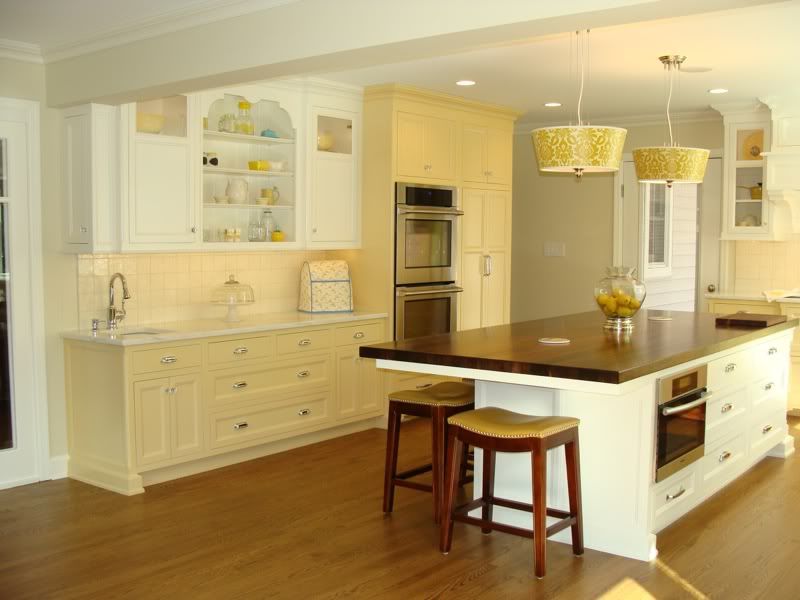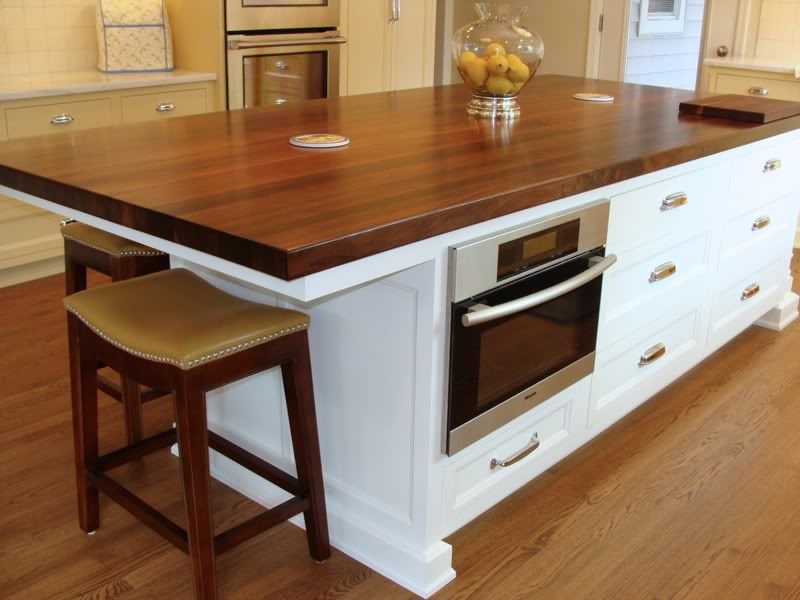 Thanks, Breezy : )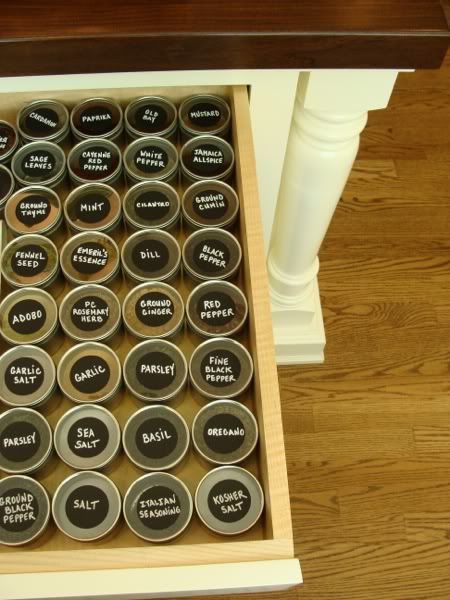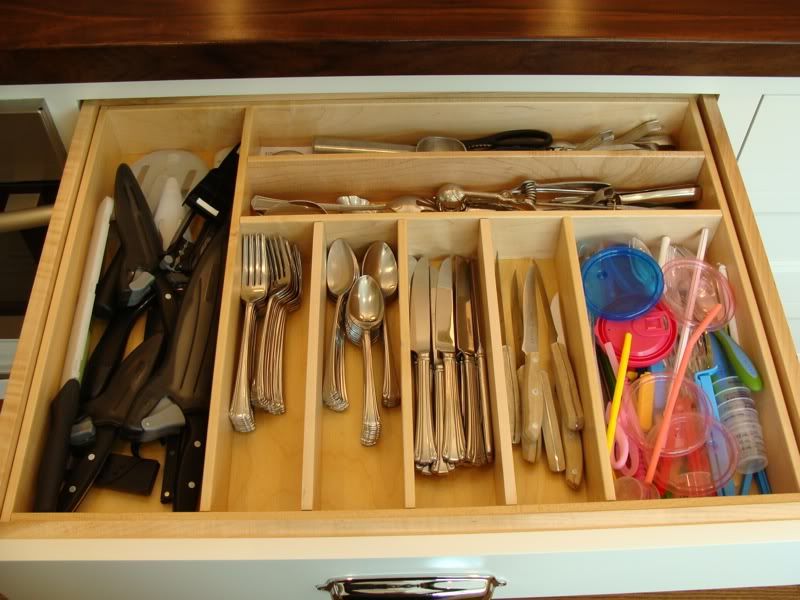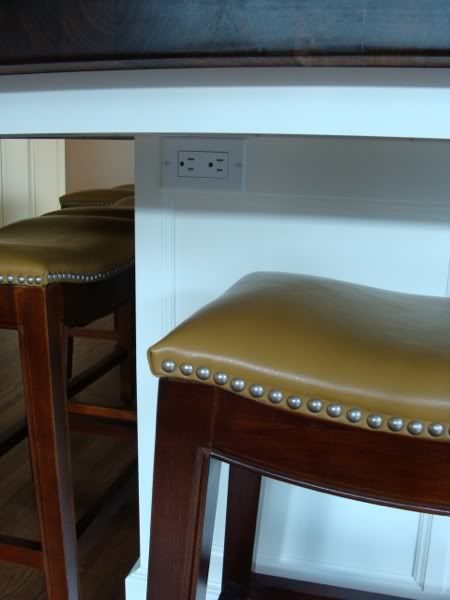 Storage at Back of Island (Shelves are 9 1/2" deep)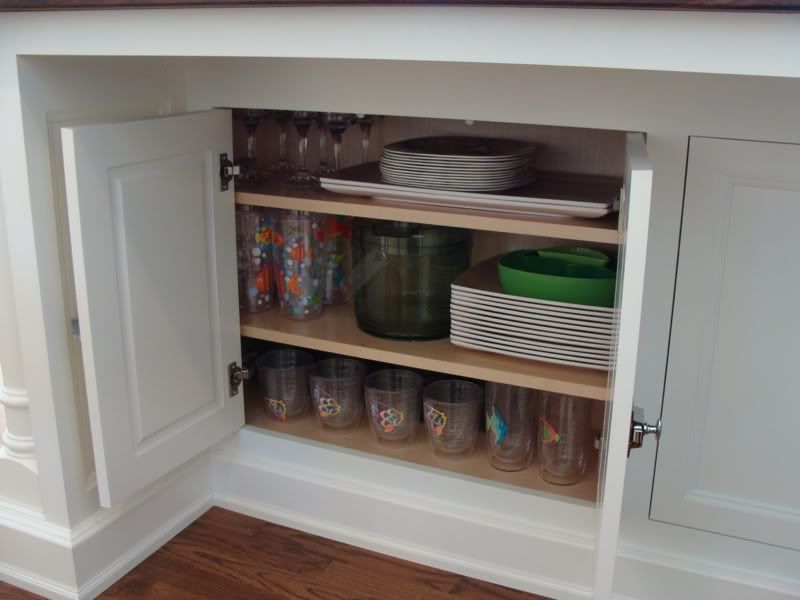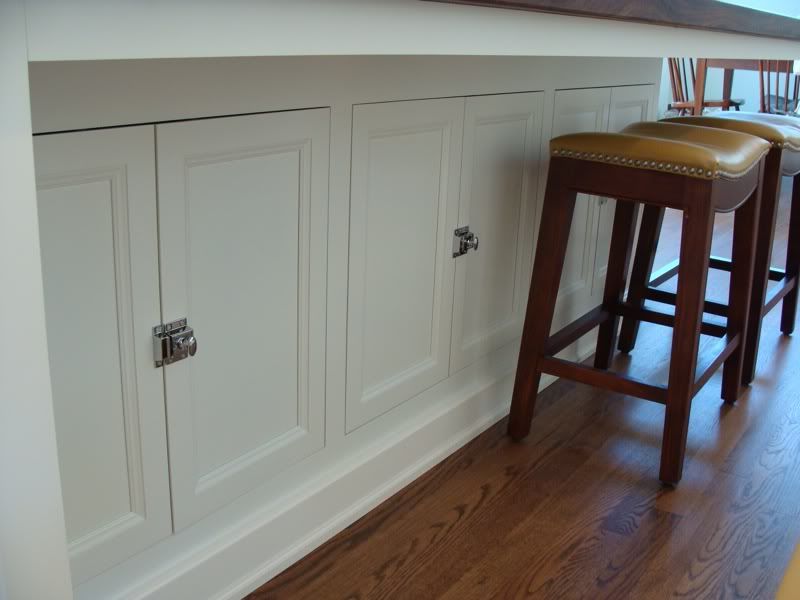 NOW GOING TO THE RIGHT OF THE SINK/FRIDGE WALL into Dining Area: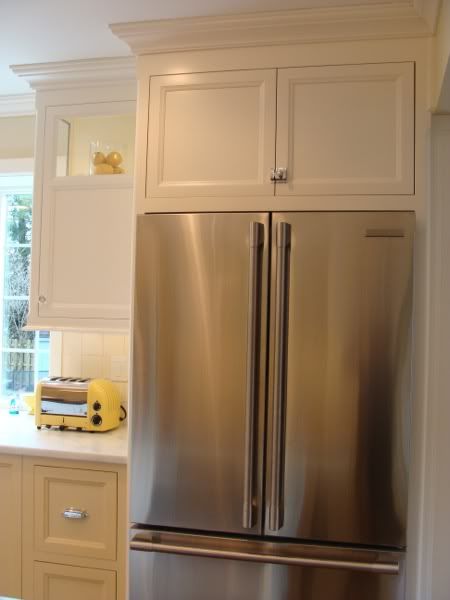 6" DEEP BROOM CLOSET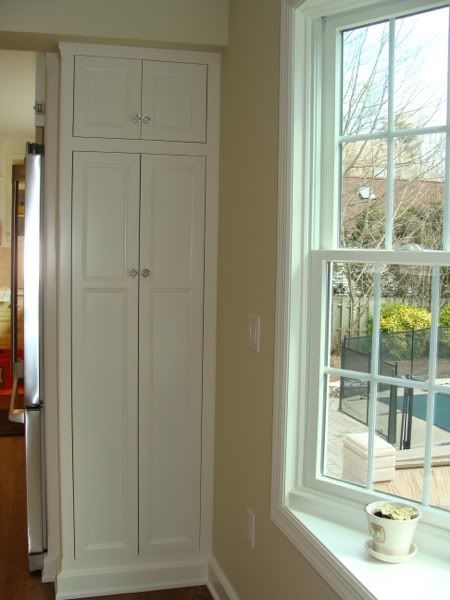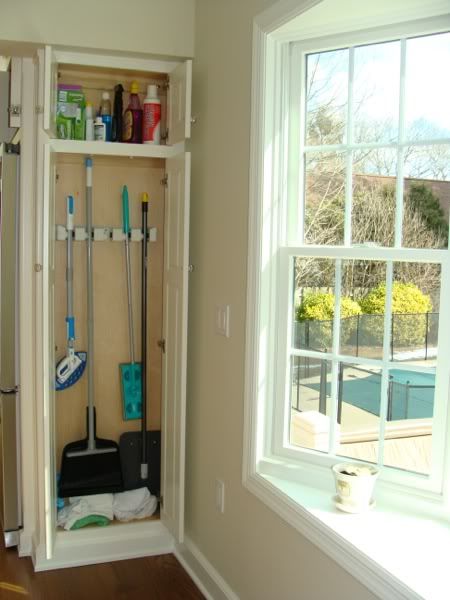 LOOKING FORWARD TO SPRING/SUMMER VIEWS:
MY ORGANIZATIONAL SPOT (cork back, file drawer, printer, BluRay player, desk items, charging drawer)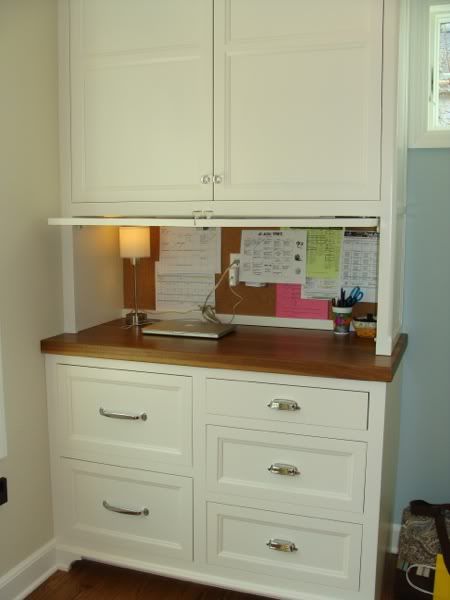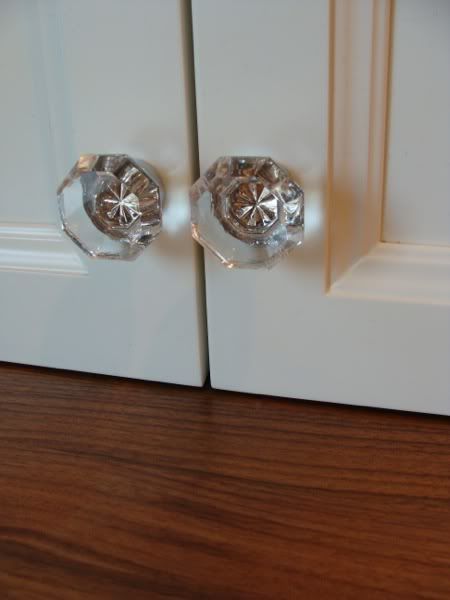 WHERE BANQUETTE BENCH WILL BE: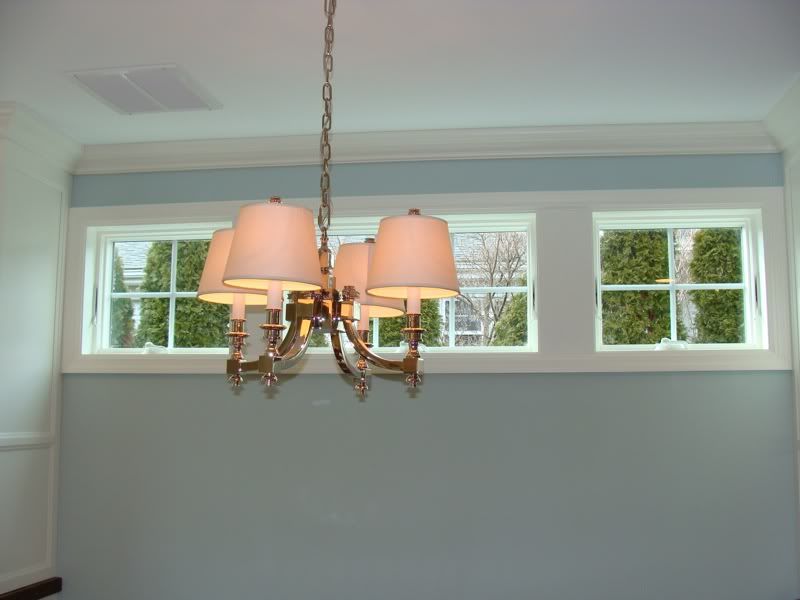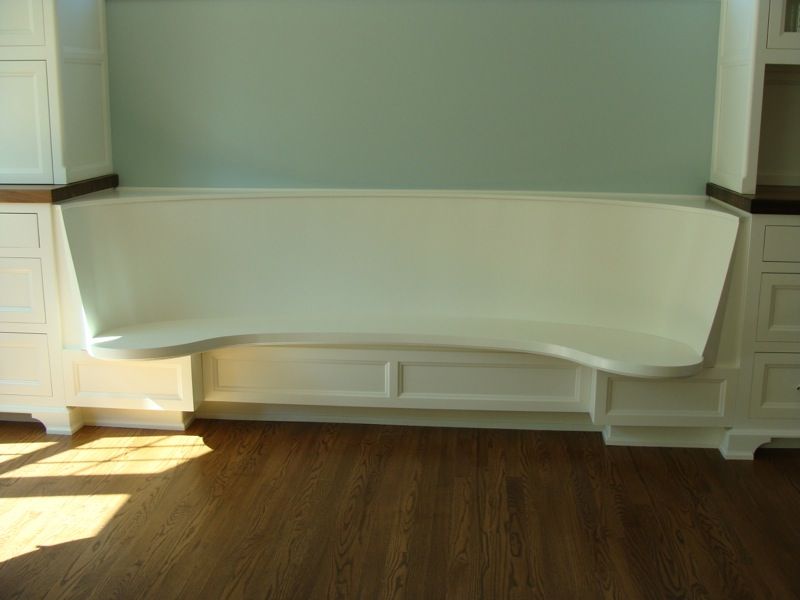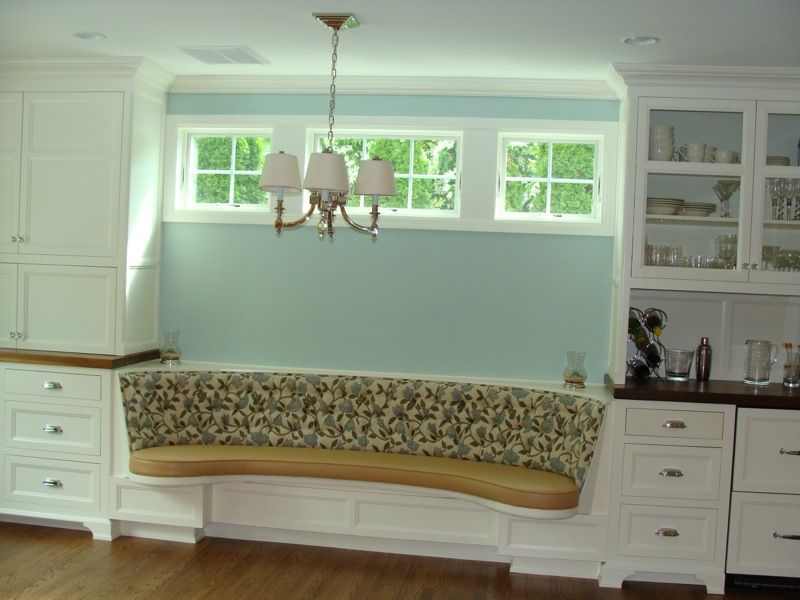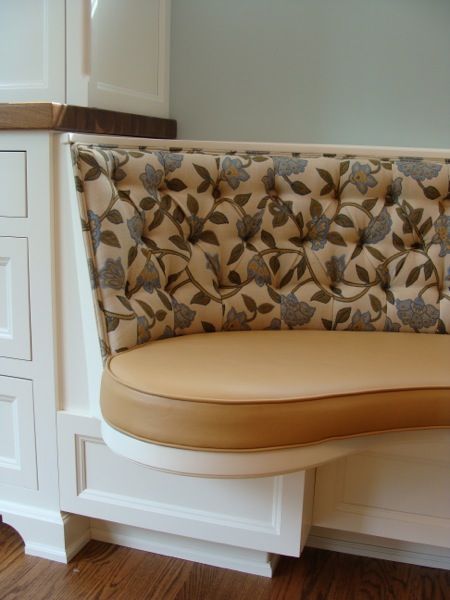 BAR AREA: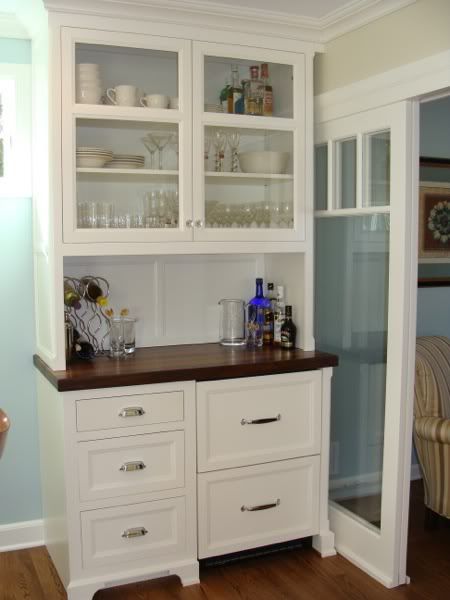 REFRIGERATOR DRAWERS: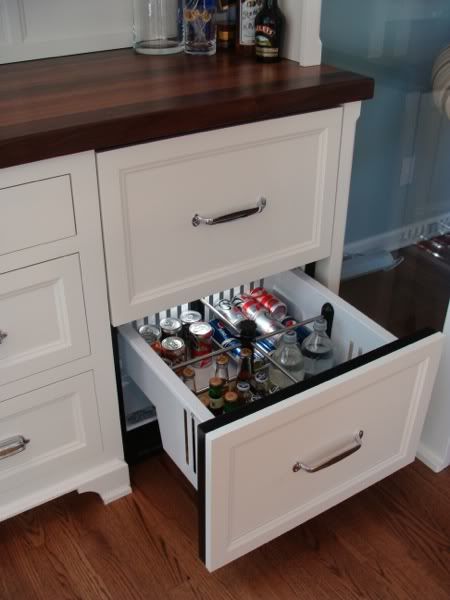 CUSTOM SLIDING DOORS-- These were at one point supposed to be pocket doors but I didn't want to close off views by having 3' of wall pocket on either side so came up with this which is working well at blocking sound but still gives an open feeling to the space.
I also love the 3 lights on the top so it's less busy and easier to clean!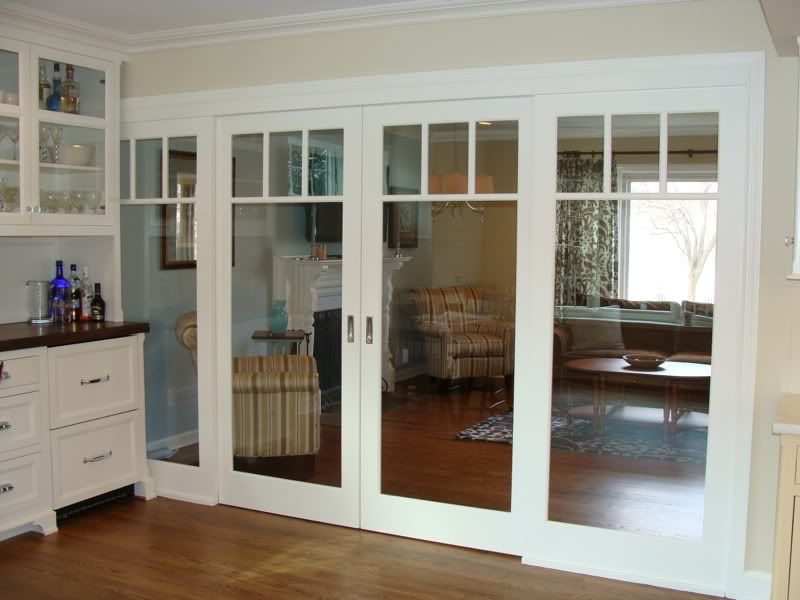 INTO LIVING ROOM: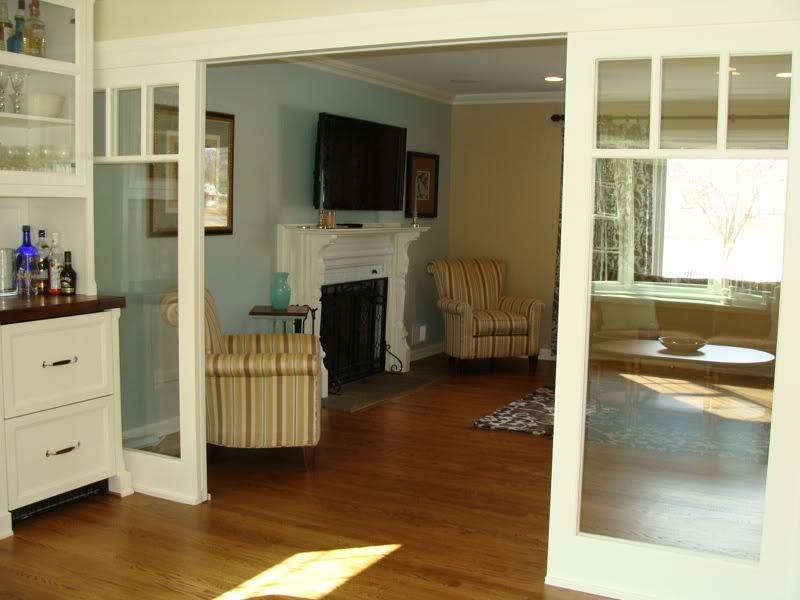 LIVING ROOM LOOKING INTO KITCHEN: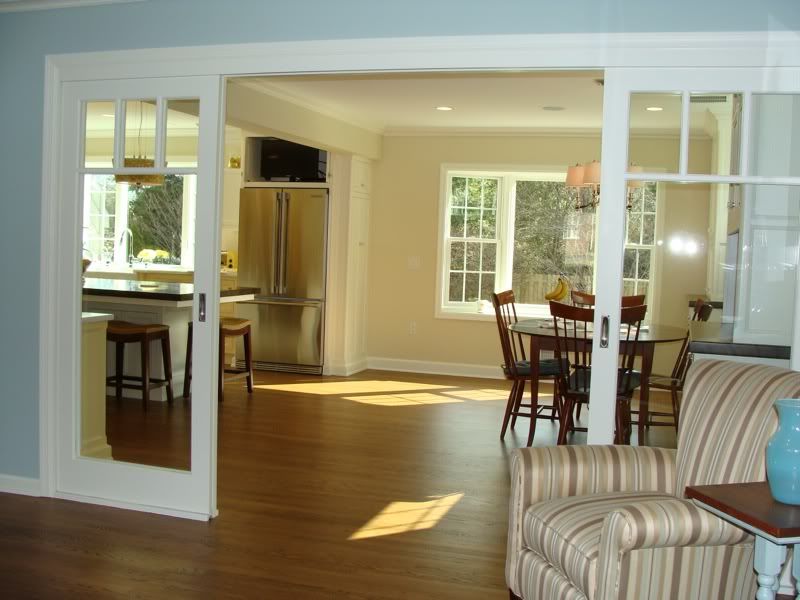 The blue looks brighter than it does IRL: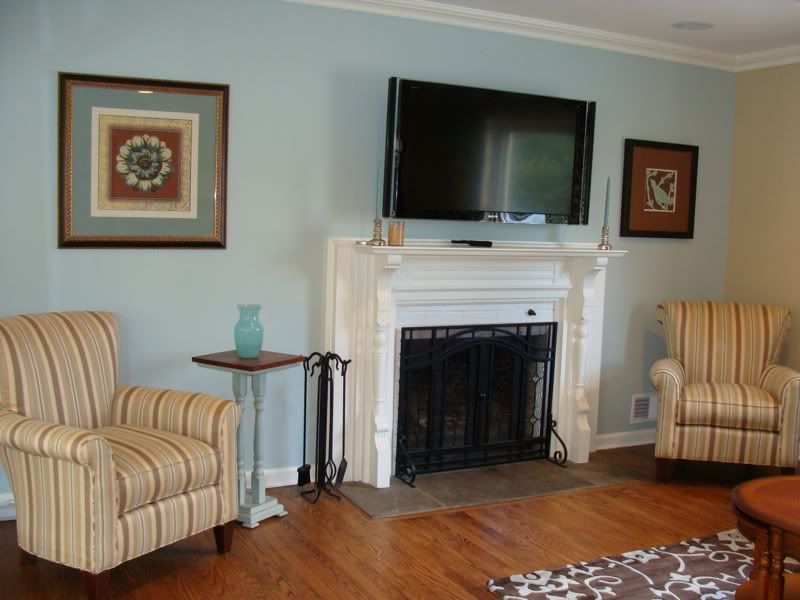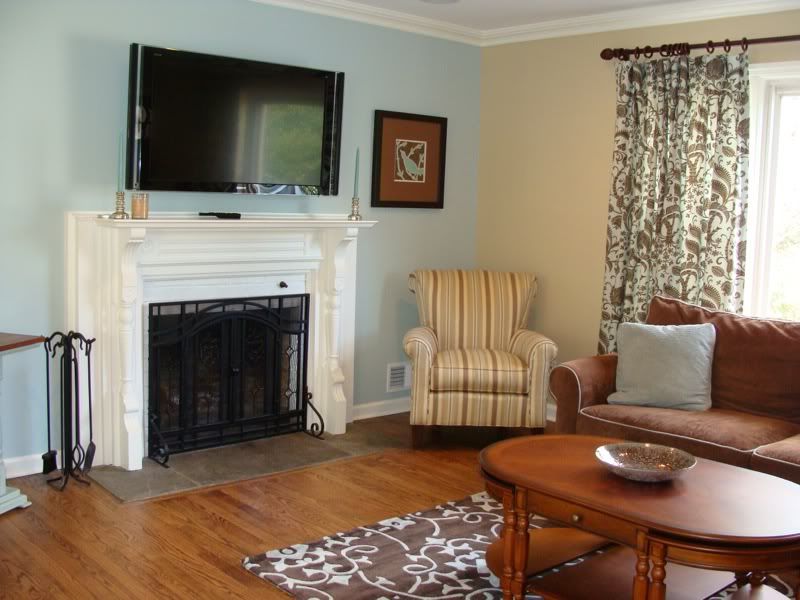 A FEW LAST SHOTS...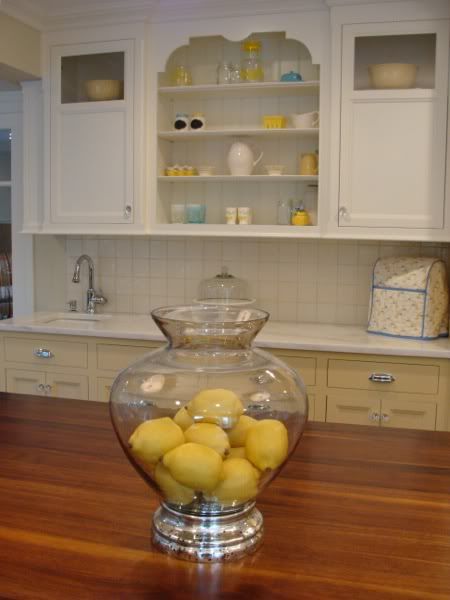 EXTERIOR BEFORE:
EXTERIOR AFTER: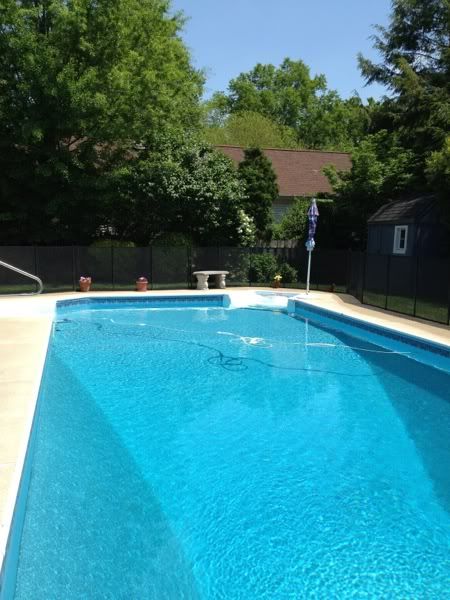 THANK YOU GW for this FUN, FULFILLING, (and often STRESSFUL) Experience : )
Fishies
Finished Table and Chairs..
Here is a link that might be useful: PART 1 of REVEAL
This post was edited by 2LittleFishies on Tue, Sep 30, 14 at 8:00